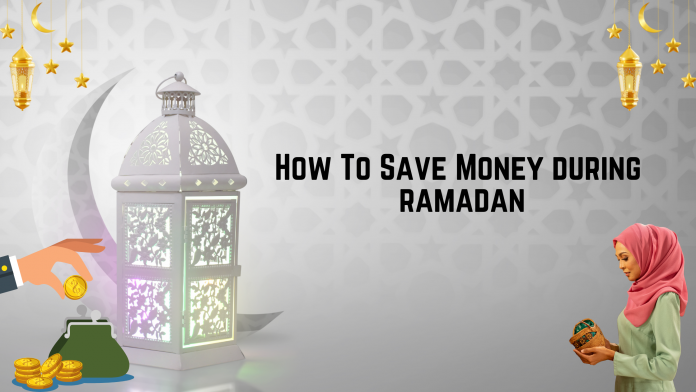 Ramadan is the ninth month of the Islamic calendar and celebrated as the month of fasting by Muslims worldwide. This year, it began on the 2nd of April and will continue till the 2nd of May. This month, people organize Iftars (community dinings) in their houses as they break their fast every day. In general, it is a month of prosperity and togetherness of the religious community. They also exchange gifts and decorate their houses during the Hari Raya as a form of both tradition and social function. While the month sounds expensive, you can easily plan your way through methods to save money even during this time. 
Simplicity is Key
The best way to save money and still have everything you want is by keeping it classy and simple. Be it decorations or gifts, the extravaganza is not the only thing that sets you apart from others. Follow the latest trends, try out minimalist designs, and astonish everyone. Elegant but straightforward lifestyles are being accommodated by most youngsters these days, and you will be at the top of the trend. Moreover, there is nothing better than combining your religious, cultural, and fashion choices with one another. 
Coupons and Discounts
There is no better way to save money than to keep an eye on the Ramadan special coupons and discounts that every company will inevitably offer. These can be easily used to shop for everything, from food necessities to gifts and fashion. Among the various ways to save money during Ramadan, using discounts is the best because no matter what, you can not afford not to buy the necessities during Hari Raya. Moreover, with the rise of late capitalism, every company launched huge discounts and provisions for mass sales as there was a massive boost in stocks and sales. 
Minimalist Personal Gifts
Gifting friends and family is a traditional exchange of love, respect, and affection that the month of Ramadan brings. If you wish to teach money-saving tips into this without leaving out on gifting, the best way is to make minimalist personal gifts for everyone you want. According to many surveys, people prefer personalized DIY gifts over store-bought ones as they send a message and reflect the effort you put into gifting the people you love.
Budget Planning
Budget planning is essential anytime you want to save money during the festivities. Everyone needs to have an idea and plan about their earnings, savings, and estimated expenditures. Preparing a budget well beforehand helps you remember all the items to be purchased and defines a specific limit for every purchase so, at the end of the day, you can buy everything you need with your own money. 
Pre-planning Vacations
Many families have a tradition of going for family vacations once the religious duties are over. So, while buying things for the festival is important, keeping aside money for your annual trips is also important. But, just maintaining your budget target might not be enough. You must also ensure you can find the best deals while booking bus online tickets or hotel reservations as they help you save money. 
Booking Tickets Online
Booking bus tickets online will help in finalizing your tour plans. You will also be able to access unbelievable discounts on online bus ticket booking companies like redBus. Often companies price bus tickets based on demand and supply, so try to book your tickets as soon as possible to avoid extra charges and surge prices. Similarly, if you are travelling via flights or trains, the bookings should be made beforehand. 
Pre-plan Iftars
Iftars are an integrated part of the month of Ramadan, and the bigger your social circle, the bigger Iftars you would have to hold. But in the same way, you get invited to more Iftars and therefore, the number of Iftars you organize goes down. All of these logistics need to be sorted out before the month starts. You should pre-plan the Iftars you will hold, send out the invites, and shop beforehand to ensure you buy in bulk and save more. 
Reusable Decorations
Decorations are important and expensive during the Ramadan month. Being a necessity, the prices of this sky-rocket can burn a hole in your pocket during this time. The best way to not fall for this is by purchasing them during the off-season when the prices are low and affordable. It is also extremely wise to buy decorations that will last for a few years. These might come as costlier than the use and throw decor items, but they are more reliable and beneficiary in terms of expense in the long run.
In Conclusion
Ramadan is not just the time when people celebrate togetherness and spend time dining and exchanging gifts, they also spend a lot of money on charity. This is both due to social and religious beliefs that the privileged share their assets with the underprivileged. It both gains social capital and a feeling of contempt and is believed to be an act of serving the god by doing away with impurities and therefore purifying the material deeds. Thus, it is indeed a month of immense expenditure, no matter its cause or effect. Hence, everyone must plan their finances well beforehand and follow the framework to ensure no deficit. And spend the holy month without worrying about money and expenses. 
One can book online bus tickets with redBus to travel to any market in Malaysia for cost effective shopping. Shop for Hari Raya 2022 and gift your loved ones now!
To know about online bus booking in Malay, please visit – Tiket Online Bas
You may be interested in- Best Places in Malaysia for Hari Raya Shopping