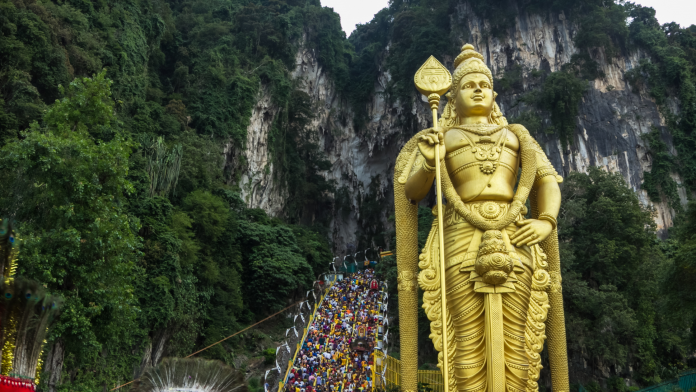 Around a million Hindu devotees celebrate the auspicious occasion of Thaipusam every year. Thaipusam 2022 was observed on 18th January in Malaysia. According to the lunar mansions, the festival started at 04:37 AM and ended at 06:42 AM on the next day. Every year, Malaysia has a national holiday on Thaipusam and nationwide celebrations.
The festival is popular among the Tamil community. Since Lord Murugan used his divine Vel to defeat the demons, Thaipusam signifies the victory of good over evil.
The term 'Thaipusam' is derived from a combination of Thai and Pusam. According to the Tamil calendar, Thai is the tenth month, and Pusam is the name of a lunar mansion.
Besides Malaysia, the festivities were also observed in Sri Lanka, Singapore, India, Mauritius, Myanmar, Indonesia, Thailand, and many other nations.
History and Significance of Thaipusam in Malaysia
Thaipusam is a Hindu festival dedicated to Lord Murugan or Lord Kartikeyan. He was the son of Lord Shiva and is an important deity in the Hindu culture.
There are numerous mythological stories associated with Thaipusam. According to these, Soorapadman was a powerful demon who once waged war against the gods. All Devas were unable to control the powers of Soorapadman and asked Lord Shiva for help. As a result, Lord Shiva created Skanda/Murugan to defeat the demons. Lord Murugan then led the gods to victory and marked the origin of the Thaipusam festival. As per legends, Lord Murugan was given a divine javelin (Vel) by Goddess Parvati to defeat the demons.
While some mark Thaipusam as the birthday of Lord Murugan, some consider it the day when he defeated Soorapadman. Some mythological sources suggest that Lord Murugan was born in the month of Vaikasi according to the Hindu calendar.
One should know the significance of Thaipusam if they plan to join the celebrations in Malaysia. Apart from celebrating his victory, people thank Lord Murugan for protecting them and seek his blessings during the festival. Not to forget, the festival involves some extreme rituals and is not for the faint-hearted. Lord Kartikeya is associated with war, and devotees show their courage to the Lord during the celebrations.
How is Thaipusam celebrated in Malaysia?
Thaipusam celebrations start 48 hours from the festival by fasting. Hindu devotees keep their bodies clean and fast by eating only satvik food.
Many devotees pierce their skin with Vel-shaped spears on Thaipusam as the Lord defeated the demon using that weapon. Body mortification is a common ritual that you will observe during celebrations in Malaysia. Hindu devotees usually dress up in orange/yellow clothing during the festival.
During the festival, Hindu devotees walk barefooted to any popular temple of Lord Murugan. There are numerous temples of the deity in Malaysia that observe huge gatherings. Some devotees walk for more than a week to reach a temple.
Many devotees also carry a Kavadi (decorated wooden rod) on their shoulders to the temple during Thaipusam. Kavadi consists of food offerings to be presented in front of Lord Murugan. However, if someone cannot bring Kavadi during the pilgrimage walk, they get a pot of milk. Also, not everyone that comes undergoes self-mortification. People believe that the energy of Lord Murugan flows in his devotees that helps in absorbing pain during self-mortification.
Where was Thaipusam celebrated in Malaysia?
Thaipusam 2022 was celebrated by many Hindus in Malaysia. However, the celebrations were observed under strict SOPs in Malaysia due to the covid pandemic. For example, the Batu Caves was only open to fully vaccinated devotees.
Some of the places in Malaysia where Thaipusam 2022 was celebrated are:
• Batu Caves
• Sri Mahamariamman Temple, Kuala Lumpur
• Arulmigu Balathandayuthapani Temple, Penang
• Sri Maha Mariamman Temple, Buntong
• Kallumalai Arulmigu Subramaniar Temple, Gunung Cheroh
• Sri Subramaniya Swamy Temple, Sungai Petani
How to reach?
During the Thaipusam 2022 celebrations in Malaysia, Kavadi yatra was not allowed at several temples due to the pandemic. Therefore, many devotees reached the temples by bus for the festivities.
Buses are the best mode of transportation for getting around in Malaysia. Be it Batu Caves or Penang, you could easily reach your destination by bus. By booking bus tickets online using redBus, people could safely book their desired seats on any bus in Malaysia.
Some of the top bus operators that help people reach the various temples are as follows:
• Jasmine Express
• Maraliner
• Pancaran Matahari
• KPB Ekspress
• Kesatuan Express
• StarMart Express
• Mayang Sari Express
• UBT Liner Express
Conclusion
Thaipusam observed many devotees from different parts of Malaysia and was celebrated under strict covid protocols. Buses were the safest means of transportation.
To know about bus booking in Malay, please visit – Online Tiket Bas
You may be interested in reading – Best Places for Skiing in KL (Kuala Lumpur)