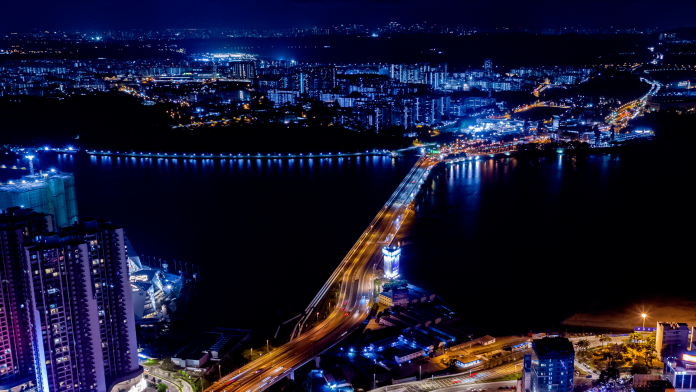 One of the best tourist hotspots in the state of Johor, Desaru is known for its exquisite beaches. But, in addition to beaches, there are many other fun things to do in Desaru, Johor. The state government of Johor is investing heavily in developing an integrated tourism hub in Desaru. Read on to know some exciting and fun things to do in Desaru, Johor.
Visit Desaru Beach
One can visit Desaru Beach to catch a mesmerizing view of the South China Sea. The calming sound of ocean waves at Desaru Beach will offer you a sense of tranquillity. Unfortunately, swimming in the South China Sea isn't promoted due to solid oceanic currents. However, you can play and unwind near the coast at Desaru Beach.
Walk around Desaru Coast Riverside
Desaru Coast Riverside is a vast waterfront developed by the state government. Apart from the scenic view of the waterfront, you can also walk around the lifestyle village. While taking a stroll around the lifestyle village, one can find many eateries and shops. It is the best place in Johor to taste the local Malay flavor. One can also shop for souvenirs while taking a stroll around the Desaru Coast Riverside.
Enjoy water sports
Try some water sports activities once you are done with places to visit in Desaru. Desaru is a heaven for adventure buffs in Johor. One can enjoy several water sports activities in Desaru like body boarding, jet skiing, knee-boarding, and wakeboarding. You will get all the equipment required for water sports activities in Desaru on rent.
Visit Adventure Waterpark
Adventure Waterpark Desaru Coast is one of the best places to visit in Desaru with friends and family members. From thrilling to splashing rides, one can find it all at Adventure Waterpark. There are five different zones at Adventure Waterpark, consisting of a wide range of water rides. In addition, you can enjoy the Tidal Wave Beach, which is among the most significant wave pools in Malaysia.
Visit Desaru Fruit Farm
Spread across 180 acres, Desaru Fruit Farm consists of different varieties of fruit. Many students visit Desaru Fruit Farm to learn how to grow different types of fruits. The farm also offers a guided tour to visitors coming from other states. Apart from fruits, one can also find a petting zoo, fish pond, and agricultural gallery inside Desaru Fruit Farm.
Ride on a Desaru Firefly Cruise
Once you explore the Desaru Fruit Farm, you can book a seat on a Desaru Firefly Cruise. Cruise rides start in the evening and take you through the Bujang River. During your ride, you will see thousands of fireflies flying around. Firefly Cruise ride is a magical experience that will not cost you much.
Ride an ostrich
Are you looking for some fun things to do in Desaru during your trip to Johor? Then, you need to visit the Desaru Ostrich Farm for a thrilling experience. You can see the world's most giant birds closely at Ostrich Farm. From feeding an ostrich to riding an ostrich, one can do many things at this farm.
Stay at a beach resort
Apart from things to do in Johor, you also need to know about the best accommodation facilities. The best option is to stay in a beach resort in Desaru. For example, you can choose the Lotus Desaru Beach Resort & Spa for a relaxing stay. From world-class amenities to scenic room views, you will get everything at resorts in Desaru.
Take some golf shots
Els Club Desaru Coast is one of the best places to visit in Desaru for golf buffs. The Ocean Coast inside the Els Club offers a quaint place for golf enthusiasts. From 9 hole-loops to a clubhouse, Ocean Coast provides many things to visitors.
Enjoy the vast seafood platter
During your stay in Desaru, don't forget to try the local seafood dishes. Desaru offers a wide seafood platter with something for everyone. One can find many food stalls near the beaches in Desaru to taste the local flavor. The fishing villages in Desaru also offer affordable seafood dishes to visitors. Resorts in Desaru also offer exquisite seafood dishes to visitors. Have a memorable gastronomic experience in Desaru!
Thus, now you have a list of fun things to do in Desaru- Johor for a memorable trip.
If you're opting for land travel by bus, then you must know Larking Bus Terminal of Johor Bahru. Learn more.
Many buses are available from the Larkin bus terminal. From here, you can travel to any part of Malaysia and even to Singapore. Book online bus tickets today to travel to/from Larkin Bus Terminal.
To know about booking bus online in Malay visit – online tiket bas