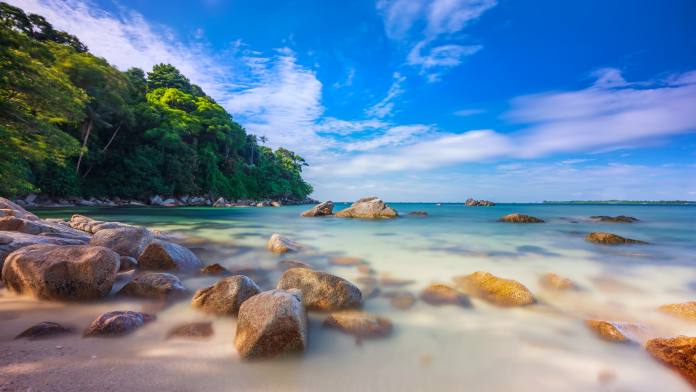 Located within the boundaries of the Riau archipelago, Bintan Island is among the most-popular Indonesian islands. Spanning 450 square miles, people from all parts of the world travel to Bintan Island. What makes Bintan Islands a hit among tourists is their exotic beaches and majestic resorts.
Aside from that, these beautiful islands are so close to Singapore and Malaysia and are easily accessed by ferry services. In Indonesia, Bintan Islands are the next major tourist destination after Bali. One can go on a heritage walk in Bintan or choose to follow a nature trail. Read on to know some essential things before planning a trip to Bintan Islands.
How to Reach Bintan Island from Malaysia?

There are no road transport services to reach Bintan Islands because of it surrounding waters. One will also not find any air transport services from Malaysia to Bintan Islands. However, Bintan ferry is the only option for people to travel from Malaysia.

Ferry rides to Bintan Islands are available from several ferry terminals in Singapore and Malaysia. From Malaysia, ferry rides to Bintan are available from Johor Bahru. People from Kuala Lumpur can book bus tickets to reach Johor Bahru and take the onward journey to Bintan via ferry ride. It can take more time to reach Bintan from Malaysia than from Singapore.
In Singapore, ferry rides to Bintan are available from the Tanah Merah Ferry Terminal to Bintan's Bandar Bentan Telani Ferry Terminal. One can reach Bintan Island in less than an hour from Singapore via a ferry.
Read more about Singapore to Bintan Travel
Places to Stay in Bintan Islands
Since many tourists arrive at Bintan from different places, the island has abundant accommodation services. The island has a perfect blend of resorts and first-class hotels for visitors. Some of the best places for accommodation in Bintan are as follows:

Bintan Lagoon Resort is the first choice of most visitors coming to the Bintan Islands. It is the largest integrated resort on the island, with many rooms, suites, and individual villas. From high-end WIFI to barbeque pits, several things are offered in the rooms of Bintan Lagoon Resort.
Natra Bintan is another themed accommodation facility on the island. It offers themed luxury tents to visitors for a memorable stay. You will get WIFI, a private garden, a jacuzzi, and many other amenities inside the luxury tents. The themed resort also offers ample space for water sports to visitors.
Grand Lagoi Hotel is another popular place to stay in Bintan Islands. Its modern onsite restaurants set it apart from other Bintan hotels. One can enjoy the rooftop infinity pool at Grand Lagoi Hotel for a memorable experience. Lantern Park, located close to the hotel, is a major attraction among tourists.
Places to Visit and Fun Things to Do in Bintan
There are several cultural and natural spots in Bintan for tourists. Some of the best places to visit and things to do in Bintan are as follows:
One can head toward Crystal Lagoon in Bintan to enjoy water sports activities. It is a giant artificial lagoon in Southeast Asia that consists of saltwater. One can enjoy kayaking, cable skiing, boating, and more at Crystal Lagoon.
One can take some time to visit the best Bintan resorts. From golf clubs to water sports, resorts offer tourists several things. Many resorts provide stargazing spots, infinity pools, and more to make your trip memorable.
Located close to Grand Lagoi Hotel, Plaza Lagoi is the best place for shopping buffs in Bintan. Here, you can shop for Indonesian artworks, souvenirs, and many other things. Many Bintan Island resorts offer shuttle services to and from Hotel Plaza.
Bintan has abundant eateries and restaurants for tourists. Nelayan, Bar 7 Rooftop Bar & Grill, and The Kelong Seafood Restaurant are some top places to dine in Bintan.
For an exhilarating experience, one can visit Rumah Imaji in Bintan. It is a trick museum that offers several eye-catching 3D settings. One can find everything from inverted rooms to 3D illustrations at Rumah Imaji.
One can plan a trip to the Panglong Village in Bintan Islands. It is also referred to as the village of sea gypsies in Bintan. Sea gypsies living in Panglong Village still follow the customs and rituals of their ancestors. History buffs love seeing the fishing culture of sea gypsies at Panglong Village.
One can plan a trip to Pulau Penyengat, an island next to Bintan Islands. One can easily find water taxi services to reach Pulau Penyengat from Bintan. In addition, tourists also visit ancient palace ruins, mausoleums, and temples in Pulau Penyengat.
One can explore Rumah Arangs, located around the Bintan Islands. Rumah Arangs are dome-shaped structures that have been around for a long time. These structures were earlier used for preparing the charcoal in the 90s. However, its production was stopped as it severely affected the environment.
Bintan has an extensive seafood platter and many local Malay and Indo dishes. Some of the local delicacies to try during a trip to the Bintan Islands are Black pepper crab, Sea snails, Stir-fried butter prawns and Grilled meat.
Transportation in Bintan Islands
For reaching the island, booking Bintan ferry tickets is the right choice. For local transportation in Bintan, one can book a car/taxi. Car rental services are widely available in Bintan for tourists. However, most locations in Bintan are close to each other. One can also choose to walk to several tourist destinations in Bintan Islands. Many Bintan Island resorts offer shuttle bus services to their guests and help with local transit.
Book Bintan Ferry Tickets Online
Instead of waiting in line at the physical ticketing counter at the ferry terminal, one can easily book a ferry to Bintan from Malaysia/Singapore online on redBus. The availability of Bintan ferries can change from any particular terminal at times. Many reputed ferry operators provide services to Bintan and when you book ferry tickets you can also get amazing discounts on redBus. One can explore ferry services from Sindo Ferry, Seven Seas, Mieha Holidays, and many other operators on redBus.
One can check the Bintan ferry schedule on redBus and pre-plan their trip. Ferry rides to Bintan Islands are available at economical prices on redBus. So, don't wait. Plan a trip to Bintan Island right away!