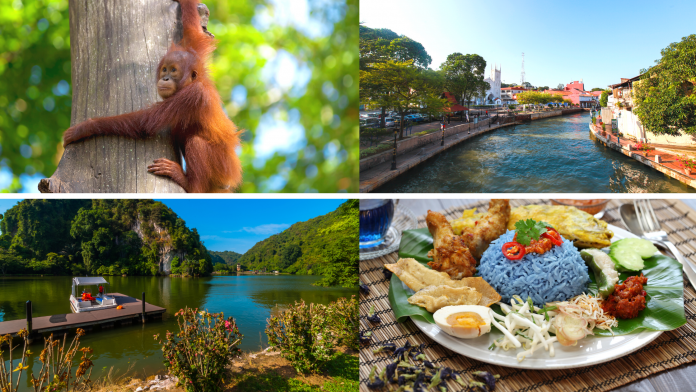 The two years everyone spent in isolation and lockdown are finally over, and people are trying to catch up on lost time by planning family vacations. A family vacation in Malaysia is the right mix of fun and leisure with all the country has to offer. Even though it is a small Asian country, it is filled with rich history, culture, cuisine, religion, and infrastructure. Be it local travel or international, Malaysia is undoubtedly an excellent location to plan your family vacation.
Top Things to Do During Your Family Vacation in Malaysia
While there are too many places to be and things to do in Malaysia, some of them are more important ones that you can't afford to miss during your family trip. This includes activities that the children and adults would love, while others are classics that are a must-visit when you are in Malaysia. Let's check out the top places that you must add to your itinerary during a family vacation in Malaysia-
Lost World of Tambun: Lost World of Tambun is a travel hotspot with almost a hundred attractions to visit. There are theme parks, night parks, adventure sports, more than a hundred species of animals, and so on. Guests are provided accommodations inside the premises, and tickets can be quickly booked online or on the spot. However, tickets can be hard to get during peak tourist seasons if not previously booked. 
Kuala Gandah Elephant Sanctuary: Located in Temerloh, this Kuala Gandah Elephant Sanctuary is a preservation and conservation center for elephants. Guests are allowed to watch the elephants, learn about the country's elephants, and hand-feed some of the trained elephants during their meal time. 
Local Cuisine: Malaysia is famous for its food, especially the local Malay cuisine. Ranging from fruits and dried nuts to seafood and various kinds of meat, the country has it all. The street food joints in Malaysia are also known for their unique and affordable tasty treats. Many Asian restaurants offer Malaysian fine dining options as well. 
Kuala Lumpur Bird Park: The Bird Park located in the capital city of Malaysia is a major tourist attraction not just because it is home to various exotic species of birds but also because many migratory birds travel to this sanctuary during the winter months of the year. The place is a treasure for birdwatchers and anyone interested in enjoying the beauty and grace of these extraordinary creatures. 
Melaka River Cruise: Melaka, the 15th century City, is among Malaysia's most popular tourist destinations. Tourists mostly frequent the city due to the river cruises it has to offer. The cruise is the only river journey in southeast Asia that takes the tourists back through over six hundred years of history and culture. 
Legoland: Legoland is the top favorite destination for all children and fun-loving adults. The Malaysian Legoland is very famous, and people love spending some hours to a day there enjoying the fun activities and explorations the place has to offer. 
Orangutan Island: The country is home to the world's best rehabilitation and conservation center for orangutans. The place offers fascinating safaris for tourists. It also helps people learn about this rare species of mammals, their lifestyle, history, and their sad journey into becoming an endangered species. 
Also, read about other family holiday destinations you can explore in and around Malaysia.
Final Thoughts
Malaysia is home to some of Asia's most picturesque palm-laden beaches, and people often spend weekends or more at private beaches, resorts, and hotels. From five-star hotels and resorts to reasonably-priced accommodations, a family vacation in Malaysia is possible for all kinds of budgets. 
The bus routes in Malaysia are extraordinary, and there are a plethora of bus operators frequenting the popular routes all day, every day.
Tourists with a tight budget often choose to travel by these readily available public transport options as they not only take you from one place to another but also offer day tours and packages for your Malaysia trip. You can book bus tickets online and check all the details related to buses in Malaysia while enjoying various discounts and benefits on the redBus app. Visit the Malay page bas tiket online for more info.