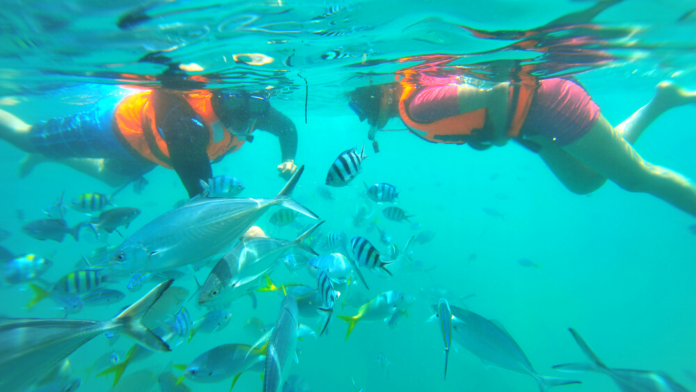 Tioman Island is famous for diving and snorkeling spots, coral reefs, and underwater life. The gateway to Tioman Island is Mersing Jetty. Ferry service from Mersing Jetty to Tioman Island is available from 8 am to 5 pm. A ferry to Tioman Island is also available from Tanjung Gemok Jetty, but the Mersing jetty is the most popular. Let's deep dive to understand how to reach Tioman islands via Mersing jetty. We have also covered the top tourist attractions in Tioman Island to help you plan your island getaway.

Best Way to Reach Tioman Island
The only way to reach Tioman Island is to take a ferry ride from Mersing Jetty, So you may not find a direct route from KL to Tioman. You can arrive at the Mersing Jetty via bus or cab and then take the blue water ferry for your forward journey to Tioman islands.
Apart from the ferry to Tioman Island from the Mersing Jetty, there is another ferry from Mersing Jetty to Paya Beach Resort. So you can decide the ferry route depending on your choice and accommodation.
How to Reach Mersing Jetty
A bus to Mersing Jetty will arrive at the Mersing bus station, close to the ferry terminal and within a walkable distance. Buses from Kuala Lumpur, Seremban, Muadzam Shah, etc connect to the Mersing bus terminal. You can take a taxi to arrive directly at the ferry terminal for a more comfortable trip. You can book the ferry tickets with redBus Ferry. The ferry service is operated by Blue Water Ferry, which offers economy class tickets for the ride to the island.
How to Reach Mersing Jetty from Kuala Lumpur
Buses from Kuala Lumpur depart from KL Sentral and TBS bus stations. You can book bus tickets online to save some time. The journey will be 5 hr 51 mins, but the buses will have comfortable amenities. From the bus terminal, the jetty is at a walkable distance. Alternatively, you can take a taxi from TBS to Mersing Jetty.
How to Reach Mersing Jetty from Singapore
If you are traveling from Singapore to Tioman Island, the direct bus from Singapore can take you to the Mersing bus terminal. Then, you can walk to Mersing Jetty, where you can board the ferry to Tioman Islands. The bus journey from Singapore to Mersing will be 3 hr 15 mins, and the ferry to Tioman Island takes nearly 40 mins.
Accommodation near Mersing Jetty
If you want to take a break on the way to Tioman Island, you can find accommodation in a hotel near Mersing Jetty. Mersing Hotel is a budget hotel near Mersing Jetty, as are OYO Hotel, Riverside Hotel, etc. You can stay a night here before heading towards the island. WHile you are in Mersing, make sure to visit Fushun Temple, Masjid Jamek Bandar Mersing, Kuil Sri Subramaniam and Pantai Air Papan.
If you plan to explore Mersing before setting off to Tioman islands, read about Things to do in Mersing.
Accommodation in Tioman Island
As for accommodation on Tioman Island, there are plenty of hotels and resorts under different budgets. Tioman Dive Resort is one of the prominent resorts, and Cheers Chalet, Sri Sentosa Chalet, ABC Beach Tioman, etc., are some of the popular Tioman Island hotels. Most accommodation options have a beachfront or are close to the beach.
Things to Do in Tioman Island
Watch the fishermen at work in the Genting Village.
Go diving or snorkeling in the clear sea water! Even if you are a beginner, you can get a certificate for cheap rates and enjoy life underwater. Check out the Best Tioman Dive Centres
Hike up to the Asah Waterfall or Mukut Waterfall, one of the most popular tourist spots on Tioman island
Go fishing about 25 km off the shore for a unique experience. 
Trekking from Tekek to Juara
Play golf at the Tioman Island Golf Course 
Walk to Air Batang, one of the main villages on Tioman Island. 
Places to visit in Tioman island
Monkey Beach
Marine Park Information Centre
Coral Island
Nipah Beach
Best Time to Visit Tioman Island
Tioman Island is one of the rare islands that does not get much affected by the monsoons. The island will be open for tourists from early February and will stay open till mid-November. The tourist season here is much longer than on many other islands of Malaysia.
The best time to visit Tioman Island would be between July and August, when the sun shines better and has a drier climate. The balmy weather will help you relax and help explore the island without hindrance. You will be able to see the sparkling clear water of the ocean and have a better time here.
Takeway
Tioman Island is the right choice if you want a quick island getaway. You can book bus tickets online to reach Mersing jetty. To avoid standing in a queue, you can also pre-book ferry tickets online on redBus.
To know more details on bus tickets and Tioman island ferry tickets online, check out our Malay page – Online Tiket Bas!