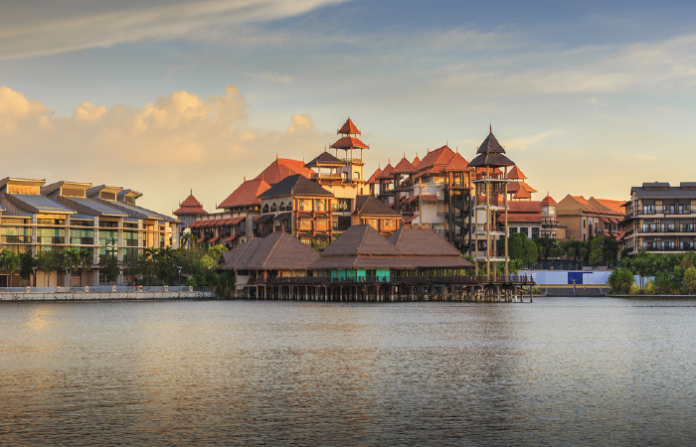 Planning a trip can be a challenging task, especially when it's the holiday season of December. However, several places attract travelers all around the year, and Malaysia is one of them. If you are thinking about places to visit Malaysia, you are in the right place.
December is a great time to visit this tropical country as there is very less rain and the temperature stays more or less pleasant.
Where to Go in Malaysia in December?
Below are the best places to visit in Malaysia in December:
Kuala Lumpur
It's a delight to visit Kuala Lumpur in December when the city soaks in the festive colors of Christmas. The twin Petronas Towers in Kuala Lumpur is one of the main attractions of the country. They happen to be the tallest in the world and offer mesmerizing and panoramic views of the capital city from the connecting sky bridge.
Jalan Alor is a must-visit for all born foodies. You will find authentic South Asian cuisine here. Shops open at 5 pm and stay open until late at night.
Port Dickson
Located 90 km from Kuala Lumpur is Port Dickson. Beautiful beaches dot its coastline that stretches to Malacca. Bus booking online is also possible when traveling from Port Dickson to Malacca City.
You will find an army museum, ornamental fish center ostrich farm, a lunar observatory, 3D art galleries, and more in Port Dickson.
Malacca City 
Oozing with culture and history, Malacca City is famous for its food, architecture, and night markets. It was once a colonial city and features in the list of UNESCO World Heritage Sites. Some of the top attractions here are A Famosa Fort, St Paul's Church, and Stadthuy's. Don't forget to explore the famous Jonker Street Night Market. 
George Town
George Town is a place that every tourist must visit when in Malaysia in December. December is the month when the old town colonial charm of George Town is at its best. It is an open museum, and no matter which way you turn, you will find something or the other. This beautiful place is home to many temples that have a history like Kek Lok Si, British churches and buildings, and so much more.
Explore the town on foot, and you will get to see murals on the walls and a lot of street art. You will also find traditional shops here, each with a unique style and design. George Town has a great shopping scene, food courts serving delicious food, and the longest coffee shop in the country. 
Danum Valley
Experience nature's untouched beauty and the charm of lush green jungles in Malaysia's Danum Valley! It is famous for its biodiversity and ecotourism and is a must-visit for all the nature lovers out there. You can view thousands of species of flora here and spot hundreds of species of fauna, including orangutans, elephants, clouded leopards, and more. 
Lack of human settlement has managed to preserve the natural beauty of the place, letting you witness the environment in the purest form. Activities include jungle treks, night safari, and visiting the ancient burial sites of Kadasan-Dusun.
Alor Setar
Tourists visiting Kedah, spend most of their time in Langkawi. Located 55 km from this archipelago is the unexplored and beautiful city of Alor Setar.  The central square of the city features the Big Clock, intricately designed Zahir Mosque, Sultan Museum, and Royal Hall. You will find the Malaysia flag flying high from many of these attractions.
A 250-million-year-old limestone hill named Gunung Keriang is located nearby. Make sure to visit Kuala Kedah, and explore the ruins of Malay Fort built in the 17th century, one of the oldest in the city.
Cameron Highlands
Home to perfectly manicured tree plantations, the Cameron Highlands in Pahang is another beautiful place to visit. The climate is fresher and calmer here, nights being cold and chilly in December. You can go hiking here and explore the vegetable and strawberry farms on the way.
These are the best places to visit in Malaysia in December as they offer some of the best views and travel experience. To get around from one place to another, you can book intercity buses on redBus. Bus booking has become easier with redBus as you get great deals and discounts throughout the year. If you were wondering where to go in Malaysia, make sure you visit all these places with redBus!