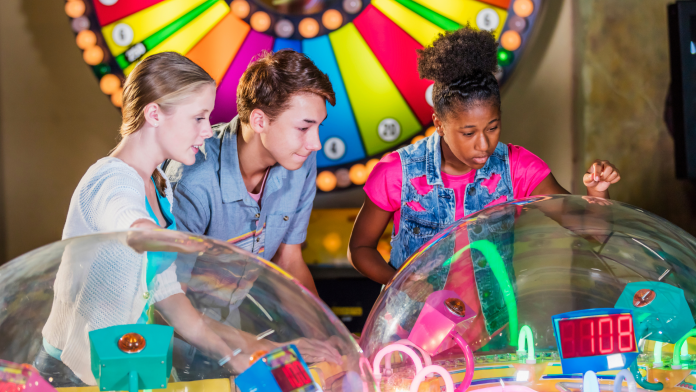 The tropical climate in Malaysia can be tough to deal with. The best alternative to have a fun time with kids is by visiting the indoor parks activity parks. It is an excellent way to bond with your kids and spend some quality time together. Malaysia has several indoor parks in most of its famous cities. Here are the top 5 indoor activity parks in Malaysia where you can have an awesome time with your kids.

Top 5 Indoor Activity Parks in Malaysia
Among the top five, three are in Kuala Lumpur, with one each in Genting Highlands and Johor Bahru. These may be individual theme parks or will be a part of a mall or a resort.
1. Berjaya Times Square Theme Park
This is the largest indoor park in Malaysia. This is more suitable for middle and high school kids. There are two zones here- Galaxy Station, Fantasy Garden, and an additional Virtual Reality zone as well. The park offers various rides in each zone while the Virtual Reality zone requires you to wear suitable clothing to play the games. This park is suitable for party venues for not more than 100 people. It is a beautiful way to enjoy a birthday or simply hang out during the school holidays.
How to reach
The purple line bus from Pasar Seni 2 to KL86 MRT Bukit is the best way to reach. Alight at the latter bus stop and then walk for a few minutes to the theme park.

2. Jump Street Asia
Jump Street Asia is a trampoline park in Selangor with different zones for better entertainment. It is open for all and is suitable for kids of almost all ages. One of the attractions here is the Slam Dunk facility, where you can jump on the trampoline to drop the ball in the basket. The Big Airbag lets you jump up in the air and land on a cushion of air as well. It is a walk-in facility with no need for reservations. The facility is open from 10 am to 6.30 pm, and an entry fee is levied.
How to reach
Take the Rapid KL Bus U85 or choose the Metro No. 12 bus to reach Jaya One near Jalan University. The facility is within walkable distance from there. To reach Selangor, you can book bus tickets from Kuala Lumpur or other cities easily online or offline.

3. Legoland Malaysia
The most popular tourist attraction in Johor Bahru, Legoland is a wonderful place for kids to enjoy school holidays or a long weekend. It's part of a resort where you can book a room and have a better experience. Popular activities here include watching or building lego structures, meeting various lego characters, going on a treasure hunt to win exciting prizes, etc.
How to reach
Buses are available from the JB Sentral bus station to this park. It will be a one-hour journey to the nearest bus stop at a rate of MYR 6-8. You need to walk for a few minutes from there to the park.
Johor Bahru is easily reachable from all major cities and if you happen to be here, you must visit Legoland.
Read more details on Top Things to do in Johor Bahru

4. Skytropolis Indoor Theme Park
This is one of the popular theme parks in Genting Highlands and resembles a carnival. There is no entry fee and the payment is per-ride basis. It is suitable for people of all ages and there are more than 20 rides to try. It is open from 2 pm to 9 pm on all days of the week. You can get the unlimited ride pass as an economical option.
How to reach
Buses from Kuala Lumpur are available to Genting Highlands throughout the day. You can book bus tickets online with redBus. The average ticket rate is MYR 10 per adult.

4. SuperPark Malaysia
Superpark Malaysia in Kuala Lumpur is more suitable for older kids with racing cars and adventurous rides. There will be a paid entry with prior booking. Show the voucher to collect physical tickets and gain entry.
How to reach
MRT and LRT train lines are the best options to reach this indoor theme park.
Plan Your Journey with redBus
Malaysia has a sound public transport network in Kuala Lumpur, Johor Bahru, Genting Highlands, etc. All these indoor activity parks in Malaysia are reachable by public transportation.
Legoland and Skytropolis are reachable by buses and you can book the tickets from redBus. The other parks are accessible through local city buses and trains. You can book bus tickets online with redBus to reach Kuala Lumpur from other cities. From there, you need to rely on the city buses and trains.
For more details on bus tickets to nearby cities in Malay, visit Online Tiket Bas.