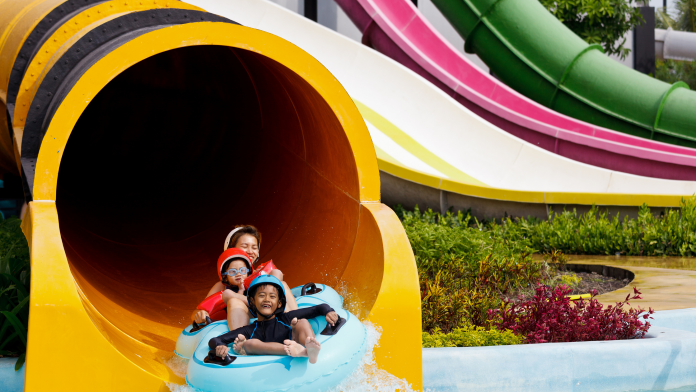 School holidays are hardly entertaining if you don't go out and have fun. However, the scorching sun might be a hindrance. Enter water parks! Malaysia has a bunch of water theme parks across the country, and you can find at least one such park in all the major cities. We have listed the top water parks in Malaysia to help you plan your school holidays and find the best one for your getaways this season.
Popular Water Parks in Malaysia
The best water parks in Malaysia offer a ton of activities. You can find them in cities such as Melaka, Selangor, Johor Bahru, Kuala Lumpur, etc.
A'famosa Water Park
It is the largest water theme park in Melaka. There is a large pool, various water slides, and much more to entertain everyone who visits here. The park has a mini pool and kids' adventure rides as well. You can reach Melaka by bus and book a taxi to this park.
Austin Heights Water Park & Adventure Park
This adventure park is located in Johor Bahru. The water park is part of this amusement park that has other entertainment options, including a skating rink. You can book bus tickets to Johor Bahru and hire a taxi or cab to the water park.
Desaru Coast Water Park
Desaru Coast Water Park is known for having the first-ever water coaster. The park houses a plethora of facilities for surfing and other water theme rides. Located at Desaru Coast of Johor state, the park is directly reachable by bus from JB Sentral.
ESCAPE Theme Park
ESCAPE Penang is the best water park in Malaysia, known for the world's longest water slide. There are various rides here for kids and adults. It is easily reachable by the Rapid Penang bus number 101. Check out everything about Escape Penang in our blog.
Legoland Water Park
Legoland Malaysia in Johor Bahru has a water park with Pirate Reef, sandy beaches, and seven water slides for a fun-filled time. You can reach here directly by bus from Kuala Lumpur airport or Singapore station, etc. ALight at the Mall of Medini bus stop and walk to the park entrance.
A direct bus to Legoland, Malaysia might be available from Singapore due to its proximity to the border. You can check the details on the redBus app or website.
Sunway Lagoon Water Park
Located in Petaling Jaya, this theme park is ideal for a family trip. This park has different zones for dry and wet rides. The water park includes the Colorado Splash and Grand Canyon River Rapids for fun and adventure. Reach here by the local city bus or train lines of LRT and MRT.
Tambun Water Park
Tambun Water Park at the Lost World of Tambun adventure park is in the city of Ipoh. The park has natural hot springs and other entertainment options for all. The Night Spring park here will double the fun. Catch a bus from Kidd, alight at McDonald's, and walk the remaining distance to the park.
Wet World Water Park Shah Alam
Wet World Water Park Shah Alam is in the city of Selangor and is ideal for enjoying summer vacation. Alternatively, it is a fantastic venue to host grand parties or other events for friends and family. The famous rides here are Super Hurricane, Monsoon Buster, Thunder River, and a Kiddy Typhoon Lagoon for the kids. There are more than ten rides here for the adventure of all levels.
Most water theme parks offer online tickets and advance booking for entry. Apart from the park tickets, you can also book bus tickets online to reach many of these water parks in Malaysia. Depending upon the connectivity, you can make bookings from anywhere in Malaysia. The most reasonable mode of transport is bus and you can plan your journey to the respective city via bus from other parts of Malaysia and then hire a cab or taxi to the water park.
Conclusion
Make sure you check the opening and closing hours and days before making the bookings since some water parks have an off day on either Monday or Tuesday. As for booking bus tickets online to the city, secure your online bus tickets with redBus to get the best deals and discounts upto 50% for new users. 
To get more information about online bus tickets, check our local language bus booking page – Online Tiket Bas.