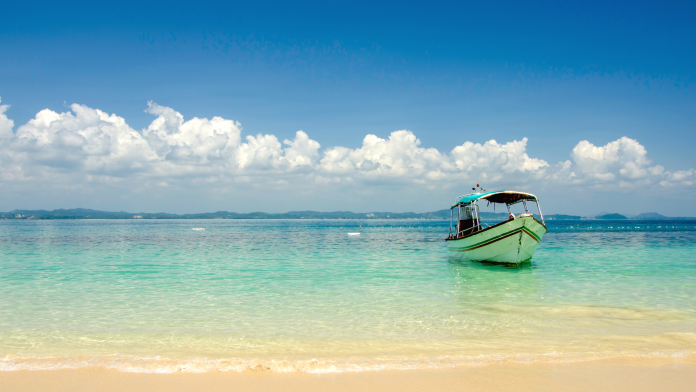 Kapas Island is a paradise located just off the West coast near Kuala Terengganu. Kapas Island means Cotton island, referring to its cottony white sand beaches. The island is locally called Pulau Kapas. Kapas island is a secluded place, perfect for a peaceful vacation, close to nature which is reachable via ferry. You can book your ferry ticket online or chose to get it at the terminal. You can spend days here indulging in several beach sports and water sports, along with several other adventurous activities as well. There are several options for staying, such as the Kapas Island Resort and others. We will see all about this island here.
How to Reach Kapas Island – Book Ferry Ticket Online
The entry to Kapas Island is from Kuala Terengganu. You can reach Kuala Terengganu by bus or car from other cities in Malaysia. Buses are the cheaper and more convenient option as you will find several options anywhere in Malaysia. From here, take another bus or taxi to reach Marang Jetty. You will get the ferry to Kapas island from here. Alternatively, you can fly into Kuala Terengganu airport on a domestic flight and then set off to the island.
Ferry Ticket Online Booking
Find the redBus ferry booking services to get tickets to reach Kapas Island. You visit redBus online website or the mobile app to book your ferry ticket online. Search for the ferry tickets online for Kapas Island.
How do I get from KL to Pulau Kapas?
There are over 40 buses available from Kuala Lumpur to Kuala Terengganu. Book a ticket on any of these buses and reach Kuala Terengganu. Catch a local bus to reach the Jeti Marang and then enjoy the ferry to reach Kapas Island. The other way is to take a flight from Kuala Lumpur to Kuala Terengganu and later take a bus or car to reach the ferry terminal.
It will take just 20 mins to reach the island, and the ticket will cost around MYR 40 per adult. There are 6 ferry rides per day. The ferry service from Jeti Mranag starts at 9.30 am, and the last boat from Kapas Island is at 5.30 pm.
For bus to Kuala Terengganu – Book online bus tickets or visit online tiket bas for bus schedule, ticket price and other information.
Also read Top 5 Things to do in Kuala Terengganu
Where to Stay in Kapas island?
Kapas Coral Beach Resort is an economical option on this island. It has comfortable family rooms with basic amenities, a restaurant on the premises, and arrangements for activities.
Ombak Kapas Island Beach Resort is another family-friendly and child-friendly accommodation with a restaurant and bar.
D'Seri Kapas Island Resort is ideal for a staycation with individual cottages for stay, a restaurant for food, and various options for beach and adventurous activities.
Top Attractions of Kapas Island
The entire island is worth visiting but there are a few beaches and spots that you should always take advantage of. Some of the popular attractions here include,
Blue Lagoon
Safari Beach
Long Beach
Kelulut Beach
Bukit Singa
Best things to do in Pulau Kapas
Kapas Island activities are all you would be looking forward to. The island offers various water sports, beach activities, and other things including hiking so you never have to wonder, what can we do at Kapas Island!
Explore the beaches: Among the prior things to do on Kapas Island is take a peaceful time at the beaches. You may choose any of its beaches, you will find some quiet time. You may also walk around the beaches or walk from one to another.
Explore the rock formation along the shore. These wonderful formations are the perfect spot for photography.
Gem island day trip will be a wonderful experience to the more secluded place. There is a campsite resort available on the island.
Kayaking: Rent a kayak and go kayaking to some less accessible beaches and islands such as Gemia Island.
Scuba diving: There are several deep diving spots around the island. Try it to see the wonderful turtles, reef fishes, and the WWII shipwreck.
Snorkelling is one of the daring things to do on Kapas Island. You will be amazed at the colourful fishes and corals under the sea. Those guided snorkelling trips cost additional fees for the diving vests and snorkelling sets.
Foods to Eat on Kapas Island
There are several restaurants on Kapas Island, and most resorts also have one. So there will be plenty of food here. All of these restaurants have authentic Malay and other continental foods. Seafood is the main item here. Yellow coconut fresh lobsters, nasi dagang, etc are some of the must-have items.
Final Thoughts
April to August is the best time to visit Kapas Island. The island will be closed from November to February as the monsoon season is not suitable for visiting. Locals may visit the island in February for Chinese New year, but it may not be available for visitors as the resorts may not be ready.
So, hurry up and book your ferry ticket online to Kapas island. Fret not, for redBus has got you covered with affordable ferry ticket booking. Simply apply code RBFERRY when you book ferry tickets online and enjoy up to 50% off when you book with us!