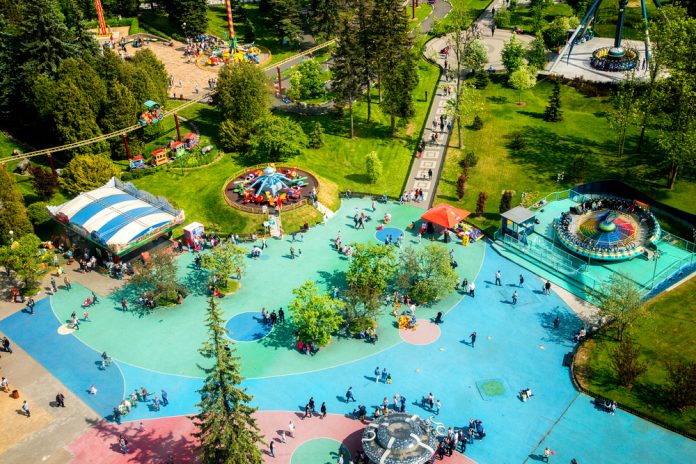 Malaysia is famous not only for its skyscrapers, natural beauty, and beaches but also for its amusement parks in major cities. Some of the most renowned theme parks in Malaysia are in Kuala Lumpur, Genting Highlands, and Johor Bahru, to name a few cities. Amusement parks make for great recommendations for family travelers to have something to keep their kids engaged. Here are the top 5 amusement parks you should visit in Malaysia.
Top 5 Theme Parks in Malaysia
ESCAPE Theme Park at Penang and Petaling Jaya
ESCAPE Theme Park in Penang deserves the first spot for having the longest waterslide and zip coaster worldwide. Both of these are excellent options for adventure seekers. Apart from these, there are other 40 rides to try per your interests and energy levels.
ESCAPE Theme Park is also at Petaling Jaya Paradigm Mall where you can have fun in an indoor setup. These parks have a paid entry for people from 4-60 years of age. Those who are below and above this range get free entry.
Genting SkyWorlds Theme Park, Genting Highlands
An outdoor theme park in Genting Highlands with nine separate adventure worlds; Genting SkyWorlds Theme Park includes movie-based theme parks such as ICE AGE. Shows of various kinds and live entertainment are available throughout the day. Many rides available here are adrenaline-pumping and suitable for those adventure lovers.
Dining options are available on the premises with other options for shopping. You need to buy the tickets to get entry. Reach here by taking a bus to Genting Highlands and take the cable car for the best experience.
LEGOLAND Malaysia, Johor Bahru
The LEGOLAND Malaysia Resort in Johor Bahru is one of the famous theme parks in Malaysia . The park is divided into various zones with eight theme lands, an aquarium, a hotel, and water parks. One of the best theme parks in Malaysia, Legoland houses more than 15000 lego models made of over 60 million lego bricks.
The park is spread across an area equivalent to 50 football fields. Buses are available to this park from Johor Bahru, Kuala Lumpur, Singapore, and other cities. You can book the bus tickets online and reach here directly.
Lost World Of Tambun, Ipoh
The Lost World of Tambun is a theme park with plenty of rides. It is located at the foot of an ancient limestone hill about 400 million years old. This adventure park also houses 12 natural springs that are said to have healing properties. You can get here by bus up to Ipoh and then by cab.
Sunway Lagoon, Kuala Lumpur
The Sunway Lagoon theme park is just a few minutes away from Kuala Lumpur. The park is divided into different adventure zones with water slides, adventurous rides, and haunted houses to offer the perfect mix of horror and adventure. It has the first Nickelodeon water park in Asia, ideal for people of all ages.
Also, Sunway Lagoon is home to the longest hanging pedestrian bridge which is a favorite spot for clicking photographs.
It is one of the go-to places for family visitors to enjoy a wholesome day. Trains to Subang Jaya Station and Kelana Jaya Station are the first steps, and from there, you can board the feeder buses to reach the park.
Conclusion
Theme parks in Malaysia are an excellent way of spending time together with friends and family. Though all the theme parks have rides and water parks, each differs in individuality, location, and ambiance. Every theme park comes with its set of unique experiences. There may be some restrictions for children of a specific age group, but there are plenty of alternate options to keep them entertained.
You can also check out – Places to take your kids to in Malaysia
For information on bus ticket booking process in Malaysia in Malay, please visit: Online tiket bas