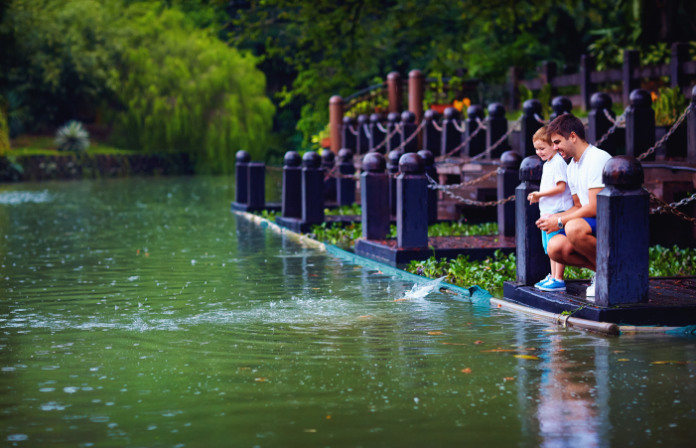 Malaysia is one of the most multicultural and multi-ethnic countries in the world. It is a fantastic destination because of the opulent beaches, wildlife culture, and great food. Aside from the incredible sight-seeing opportunities that Malaysia offers, there are numerous unique and fun-filled activities for families to do. There is an extensive range of entertainment centers for kids, theme park, animal farms, and even exhilarating rides to enjoy! So, visit Malaysia with your kids on your next vacation for an educational and exciting experience.
You may like: Best places for kids in Kuala Lumpur
Legoland Theme Park
The Legoland theme park is one of the first places you should take your kids to in Malaysia. The Legoland theme park offers families a great day in the Johor Bahru in Malaysia, which is only an hour away from the Downtown Core of Singapore. Kids of different ages love Legoland because it houses over 70 thrilling water slides, rides, and live performances that are scattered throughout the seven various areas of the park. The vibrant Legoland theme park also contains a fun Lego-themed hotel connected with the theme park offering amazing dining options, children's playgrounds, and outdoor swimming pools.
Book a bus ticket online to Legoland!
Aquaria KLCC
Situated in the Kuala Convention center, the Aquaria KLCC is one of the largest aquariums in Southeast Asia and is home to over 150 species of local and exotic marine life. The star attractions of the aquarium include lethal sea snakes, frightening tiger sharks, magnificent blue rays, seahorses, and coral fishes. Kids would love to explore the wonderful marine life and learn more through the watery landscapes, Amazon basins, and flooded jungles of Malaysia. They are surely going to love the real depth and complexity of this fun and informative tourist attraction.
Head to Aquaria KLCC today!
Penang Botanic Gardens
Simply called the Botanic Gardens in Penang, the gardens are a well-landscaped place located in the valley of Jalan Kebun Bunga, and it contains a huge variety of exotic and indigenous species. The most popular activity is the Monkey Path. This is a beautiful and special trekking path in the gardens taking visitors to Penang hill. There are macaques, black giant squirrels, dusky leaf monkeys, and a plethora of butterflies and insects that the kids love watching.
Book a bus to Penang Botanic Gardens!
Escape Theme Park
The Escape theme park is one amazing destination for thrilling outdoor fun. There are over 30 exciting activities to do in Escape, including water slides, rides, ziplining, games, and many more. People love Escape theme park for the serene backdrop of Malaysia's stunning natural environment. It is only half an hour away from Georgetown in Penang and is a thrilling family and children's place.
Escape to 'Escape Theme Park' now!
99 Wonderland Park
Recharge your batteries and slow your pace among beautiful natural landscapes at 99 Wonderland Park. 99 Wonderland Park is a unique recreational landmark that adopts an open concept. Visitors are allowed to interact with the animals and birds in the park, making it a wonderful experience. The most popular animals in Wonderland Park are the Tortoise, Local Swans, Monster Fish, Iguana, Flamingos, and many more.
Take a bus trip to 99 Wonderland Park! 
Zoo Negara Malaysia and Aquarium
Spanning over 110 acres along with a lake at the center, this Zoo and Aquarium is home to over 476 species and 5137 specimens of birds, animals, amphibians, reptiles, and fishes from the major parts of Africa and Asia. Popularly known as Zoo Negara Malaysia and is a great place to visit with little children. Kids will definitely love some of these most popular animals, such as capybara, leopard cats, Malay Civet, striped hyenas, and the 300 free-roaming birds.
The museum also offers the Children's world, a kid-friendly children's place, where the children could get closer to ducks, rabbits, parrots, chickens, and guinea pigs. The section also has a little rainforest that houses a variety of plants, a fish pond, a miniature horse barn, a small aviary, a playground, and a mini cave with many thrilling artifacts.
Book a bus to Selangor to visit the zoo!
Melaka Wonderland Theme Park
The Melaka Wonderland Theme Park is the newest water park in one of the most popular destinations in Malaysia, Ayer Keroh Melaka. The theme park is a top-rated tourist attraction, especially for people with children. It offers a complete and enjoyable experience for thrill-seekers, teens, kids, and families. The theme park features 11 main attractions that every visitor must try out.
Get your online bus tickets to Melaka Wonderland Theme Park!
Malaysia is an attractive and popular destination for people of all ages, and it has an activity for everyone. On this vacation, plan your trip with redBus and enjoy fantastic opportunities for smart savings on everything from bus ticket booking to hotel reservations. For hassle-free hotel reservations, flight tickets, bus ticket booking, and getting around Malaysia, visit redBus!
For information on bus ticket booking process in Malaysia in Malay, please visit: Online tiket bas