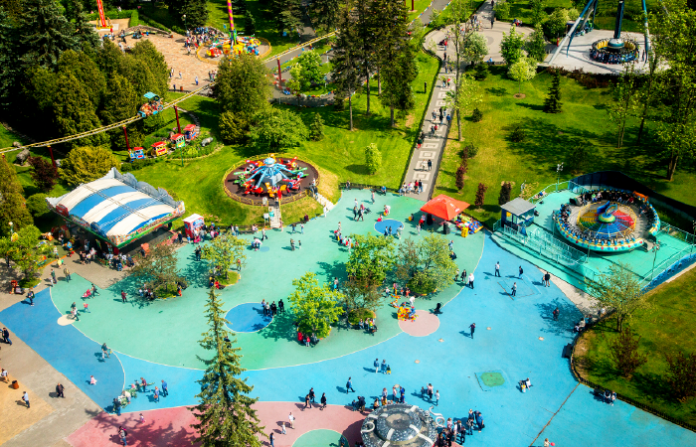 The first of its kind in Asia, Legoland Malaysia is an international theme park with over 70 rides, numerous attractions, and shows. Since its start, Legoland Malaysia has attracted millions of visitors from within and outside the country. All the zones are based on some Lego theme and have structures, buildings, and figures built up of Lego. Some of the Lego figures also make sounds!
Legoland Malaysia is divided into two parts. The theme park is the central part of Legoland. It comprises six types of land, with each one having a unique theme and look and its own set of attractions.
This section of Legoland is meant for anyone who is eight years and above. It comprises a thrilling roller coaster and few other rides along with Lego Mindstorms, which includes activities like Robot programming.
This section consists of small replica structures of beautiful monuments and landmarks across Asia, like the Taj Mahal, Singapore, Tianmen Square, etc. It is a fantastic section made with intricate details using Lego.
Divided into two parts, this section comprises a fun splash ride in the Dino island area and a play area with laser shooting and rides for children known as the Lost Kingdom Adventure.
It has a 4D cinema that showcases a film every 30 minutes with real rain and snow experiences to the viewers! On the other hand, the build and test area is a place where visitors can build cars, buildings, structures, and figures using Lego. The durability of the structures can also be tested on boards that shake replicating an earthquake. The observation tower, which spirals around and goes from ground level to a higher level, gives a clear, beautiful view of Legoland.
This is an excellent section with its numerous castles, dragons, and castles that small children can relate to. It also has two roller coasters- the Dragon, which is a big one, and the Dragon's Apprentice, a smaller one for small children. Lego Kingdoms also has a big play area, eateries, and a shop.
Another interesting and exciting area for kids with two driving schools, one for 3-5-year-olds and the other for 6-13-year-olds, a Rescue Academy where visitors can take a fire engine to put out a fire, and a boating school. Lego city also has a big stage where Lego puppet shows are staged for visitors.
The Water Park at Legoland is another fun place for children and adults alike. This place has water slides, a toddler pool, a water playground, and a wave pool, which gives respite from the humid and sultry weather. The place also has building areas where visitors can build boats for racing and a lazy ride to cruise in the water on rubber tubes or rafts made with Lego.
Recommended: Best Theme Parks in Malaysia
Legoland Sea Life
Sealife is another section that has recently been started in Legoland Malaysia. The place has rook pools where visitors can touch the water creatures. With the help of storytelling and interactive methods, Legoland Sealife educates visitors on the various sea creatures, and how to love and care about the ocean.
The glass tunnel gives a beautiful view of the numerous sea-creatures like colorful fishes, stingrays, and sharks.
Legoland Tickets
The Legoland prices of tickets are different for different packages.
2-day combo Legoland tickets which include the theme park, water park, and Sea-life: RM 329
1-day Sea-Life: RM 89 (adult) RM 69 (child & senior citizen)
1-day Water Park: RM 146 (adult) RM 120 (child & senior citizen)
1-day Theme Park: RM 199 (adult) RM 157 (child & senior citizen)
1-day Combo Theme Park & Sea Life: RM 262 (adult) RM 210 (child & senior citizen)
1-day Combo Theme Park, Water Park & Sea Life: RM 329 (adult) RM 272 (child & senior citizen)
2-day Combo Theme Park & Sea Life: RM 313 (adult) RM 262 (child & senior citizen)
Apart from the above-mentioned Legoland tickets, there are single, double, and triple park annual passes too. However, the Legoland prices of tickets are subjected to change. To avoid the rush, buy Legoland tickets online.
How to reach Legoland
People usually prefer traveling by bus to Legoland, and the easiest way to do so is to buy an online bus ticket. The entire journey takes about 4 hours from Kuala Lumpur. The direct bus to Legoland leaves Kuala Lumpur at 7:00 AM and reaches Legoland by 11:30 AM. An online bus ticket is a quick and easy way to book a seat from the comfort of your home.
Tips to Make Your Visit Memorable
Book tickets online to avoid queues.
Carry an umbrella or raincoat to keep yourself dry if it rains.
To avoid the afternoon and evening crowd, enter the park as soon as it opens up in the morning.
To enjoy all the activities, make it a two-day trip.
If you are traveling to Legoland by bus, book the online bus ticket at least a day in advance.
To spend quality time with your family, plan your next vacation to Legoland Malaysia. To save big on flight tickets and online bus tickets, visit www.redbus.my.