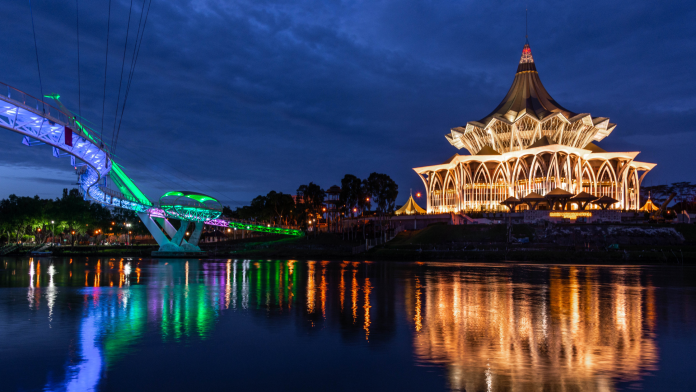 The capital of the Sarawak state in Malaysia, Kuching, is a populous and beautiful city. Founded in 1827, Kuching has been the first choice of many travellers in Malaysia. The Malay city has a perfect blend of modern attractions and cultural spots. Museums, waterfronts, cultural attractions, religious sites, national parks, and many other things are available in Kuching for tourists. You will encounter several options when planning your itinerary with things to do in Kuching.
Buses are readily available to visit Kuching attractions. You can get a Kuching Sentral bus ticket from Sibu, Sarikei, Sri Aman, and other cities on redBus. However, before getting a Kuching Sentral bus ticket online, you must know the top attractions in the city. So, let's take a look at how you can explore Kuching city in more ways than one!
Explore Kuching Waterfront
Kuching Waterfront is an iconic part of the city to relax and unwind. Built around the Sarawak River, this waterfront offers some majestic views to tourists. There is a well-constructed pathway around the Sarawak River for tourists to stroll. There are also several small eateries around the Kuching waterfront for tourists. You can also find some souvenir shops around the waterfront. So whether you want to catch some panoramic views or spend some time in solace, Kuching Waterfront is the right choice.
Gaze at the beauty of Astana
Astana is a historical building in Kuching, which is now the house of the Sarawak's governor. The iconic building was constructed in 1870 under the tenure of Charles Brooke, a Rajah of Sarawak. You can catch a glimpse of Astana from the Kuching Waterfront. You can also go closer to notice the architecture of Astana. First, however, you enter within the Astana complex as it is the house of Sarawak's governor.
Explore the Cat Museum
Did you know the literal meaning of the word 'Kuching' is 'Cat' in the Malaysian language? Many people also refer to Kuching as "The City of Cats". You will find several artistic cat statues throughout the city of Kuching. You can visit the Cat Museum in Kuching to learn more about cats. It is among the top Kuching attractions for its historical exhibits. Exhibits in the Cat Museum date back 5,000 years. You will learn the cultural significance of cats by visiting this museum in Kuching. A mummified cat (5,000 years old) is the biggest attraction in this museum.
Pay a visit to the Kuching Mosque
Kuching Mosque is the right choice when looking for religious Kuching attractions. The building of the museum was first constructed by wood in 1847. However, it was later remodelled in 1965 to fit modern standards. The pink and white mosque with golden domes is a sight in Kuching. Besides praying, you can also gaze at the architectural beauty of the Kuching Mosque. Furthermore, you can find local transport to the mosque from different spots in Kuching.
Learn something at the Sarawak Museum.
There are several informative and historical museums in Kuching. One of them is the Sarawak Museum in Kuching. The museum was inaugurated in 1891 during the reign of Charles Brooke, a Rajah of Kuching. The building of the Sarawak Museum is an attraction in itself. In the museum, you will find ancient weapons, longhouse models, and several artefacts. When you book a Kuching Sentral bus ticket on redBus, you can choose a drop-off point near Sarawak Museum. You can also bring your children to the museum to understand more about the culture and history of Sarawak.
Explore the Tua Pek Kong Chinese Temple
Tua Pek Kong Chinese Temple is another historical site in Kuching. If you want to do something spiritual, Tua Pek Kong Chinese Temple is the right choice. The history of this Chinese temple dates back to 1770. Besides individuals of Chinese origin, other people also visit this temple to find a sense of calmness. With the temple complex, you can find detailed wall carvings related to ancient Chinese deities.
Explore the beauty of Bako National Park
Are you looking for some things to do in Kuching close to wildlife? If yes, get a Kuching Sentral bus ticket and travel to the Bako National Park. Spread across ten square miles; the Bako National Park offers a wide range of flora and fauna. You can find carnivorous plants, mangrove trees, and other varieties here. In addition, Bako National Park is full of majestic creatures like bearded pigs, otters, monitor lizards, macaques, and langurs. There are around 16 walking trails within the Bako National Park to guide tourists.
Celebrate local festivals
Celebrating local festivals is one of the best things to do in Kuching. You can travel to Kuching in June and celebrate Gawai Dayak or Hari Gawai, a harvest festival in Kuching. In the past, only Dayak people celebrated this harvest festival. However, people from different backgrounds have started celebrating this festival in Kuching. In addition, many other festivals and events are celebrated in Kuching, like Chinese New Year, Kuching Regetta, and Hong Sam Si Temple Parade. You can check the timing of these festivals and plan your trip to Kuching accordingly. By enjoying the local festivals in Kuching, you will also get a chance to interact with the locals.
You might be interested to know more about Harvest Festivals of Malaysia
Conclusion
Kuching is easily accessible from other cities in the Sarawak region. You must book your Kuching bus tickets in advance to get reasonable rates. So plan your trip to Kuching right away!