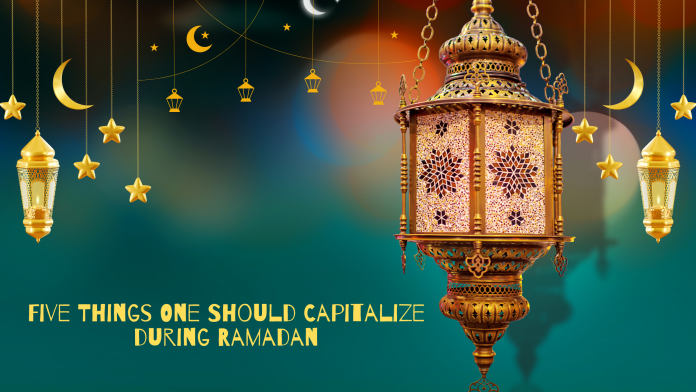 Ramadan is the time of the year filled with happiness, togetherness, and prosperity. While it's the perfect opportunity to get closer to your loved ones, it is also the time you can use for your personal growth, both religiously and socially. People often use this auspicious month to revisit the learnings of the Quran and decipher the religious text on their own accord. However, there are other substantial things you can capitalize on during Ramadan that will bring peace to your soul and help others and make them happy in many ways.
Help Others
You must purify your soul by helping others in the month of Ramadan. It acts as a serving to Allah and gives immense gratification and contempt. But, it is often not possible to include helping in your day to day lifestyle. Thus, try to use this opportunity of the Ramadan month for the good deeds as it is multiplied by seventy during this auspicious month. The massive increase in support also helps other underprivileged Muslims make sure they can continue with their Rozas and overall create a sense of equity and harmony among the community.
Pilgrimage Umrah
Pilgrimage in the form of Umrah is another thing that you must try during the month of Hari Raya. With the modern-day lifestyle and busy schedule, it has become rare for even religious people to go on pilgrimage journeys because of time and financial constraints. But, since Ramadan is the month of devotees worshipping their religion, it can be the perfect opportunity to indulge in the spiritual journey that brings unlimited blessings and peacefulness to the soul. You can always book tickets with discounts beforehand as money-saving tips.
Family Get-Togethers
Even though we all complain about it, none of us has time for the family anymore. We are forced to leave our hometowns as soon as we advance in our careers. Ultimately, we can only return home during important festivals like Diwali or Ramadan. Therefore, one must not let go of this opportunity of rekindling with families, friends, and loved ones during Hari Raya. This festival brings together the entire community through fasting, iftars, and the exchange of gifts and blessings. Hari Raya also acts as a family tradition of spending quality together at least once every year. So book your bus online ticket today on Redbus Website/App and prioritize your family this Ramadan.
Vouchers and Offers
If you are wondering about the ways to save money, there can be hardly any better than utilizing the vouchers and offers found in abundance during Ramadan. The season sees a lot of shopping, and companies come with unbelievable discounts and coupons for you to encourage shoppers to buy more. In addition, there are guaranteed gifts on purchasing a higher quantity of products and offers across online shopping sites and shops. Even companies like redBus offer lucrative deals so that people can travel cost-effective during the holidays. Travelling is undoubtedly an essential aspect as many people return to their homes, go for vacations with their families, and travel for pilgrimage. Hence, the bus companies make huge profits during this season.
Charity and Donation
During Ramadan, many people try to purify their sins or materialistic endeavours by indulging in various charities and humanitarian works. Not just monetary help but feeding the underprivileged, volunteering in multiple orphanages, old age homes also count as good deeds in the eyes of Allah. Some enthusiastic Muslims also attempt to donate as much blood to various blood banks for Ramadan. It does not just help these institutions run but also allows them to save precious lives.
Another charity called Sadaqah Jariya is popular during Ramadan as it is a charity taken for the benefit of the mass. It is believed that when the people who benefitted from these charities perform any good deeds, the person who acted charitably also earns a share of their blessings. People who want to go on pilgrimage but can't for several reasons are offered free tickets. You can easily book bus online tickets and help them pray for their souls in Masjid-Al-Haram in Makkah or similar places.
Conclusion
Religion is nothing if not a means to bring people together. The festivals exist so that people can celebrate happiness over everything else. Thus, this Ramadan, make sure you can capitalize on the opportunity to the fullest by doing everything to be happy and make others happy. This can include all forms of donations, togetherness, and bonding with people from the past. Getting together as a community for Iftars keeps the team spirit alive and people happy. Share stories, love, and gifts, and make sure you can make everything out of this one month of the year.
To know about online bus booking in Malay, please visit – Tiket Online Bas
You may be interested in reading- Best Places in Malaysia for Hari Raya Shopping