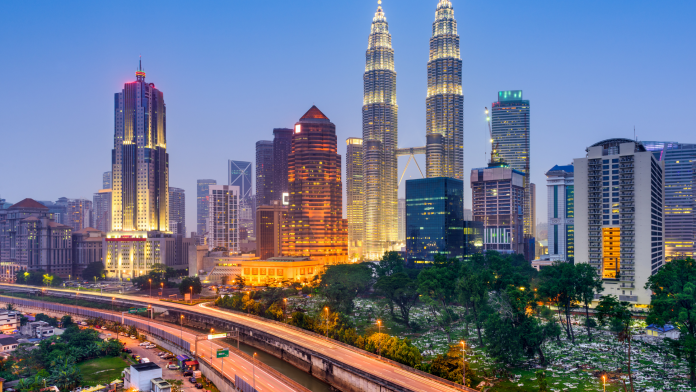 Kuala Lumpur is one of the most captivating capitals in Southeast Asia. With its futuristic architecture, laid-back local life, markets, food, parks, and nature surrounding it. You could say it has it all. There are many options to enjoy the city both indoors and outdoors. However, here is a list of indoor activities in Kuala Lumpur not to be missed when visiting the city. At first glance, the city can be deceiving, but the entertainment and attractions are limitless. There is always something new to see or do.
#1 Visit the Petronas Towers
The Petronas Towers are the national emblem of indoor activities in KL reflected in a building. They were the tallest towers globally until the Taipei 101 building surpassed them in 2004.
They were designed by architect Cesar Pelli and built by two companies, one Japanese and one Korean. Each company was commissioned to build one of the towers and competed to build it the fastest. The Korean company was the winner of the competition.
Please note that there is a limit to the number of people entering per day. Once the quota is filled, tickets for that day will no longer be available. The tour lasts approximately one hour. Tickets can be purchased online or on-site. The ticket office opens at 8:30 am, and it is advisable to go early in the morning to avoid long queues.
#2 Enjoy the View from The KL Tower
Also known as the Kuala Lumpur TV Tower, it is one of the tallest towers in the world. With its 421 meters high, you will see the city from a panoramic view much better than from the Petronas Towers.
You can find a revolving restaurant, theatres, a Formula 1 simulator, and even a small zoo inside. There is also a Skybox hanging 300 metres high from where you will have a breath-taking view of the city.
You can take pictures of the Petronas Towers from this observatory above.
#3 Be Challenged at The Beast Park
This adventure park is unique, conceived to evolve the concept of a climbing gym adapted to tourism and entertainment. It is one of the most fun things to do in KL.
You'll find climbing walls (among the most beautiful in the region), a Ninja course, a suspended "giant net", children's play areas, and a café. Local artists designed the venue, so the experience is also visual and perfect for unique photos.
#4 Have Fun at The Berjaya Times Square Theme Park
Berjaya Times Square is Malaysia's largest shopping and leisure centre, with 5-star hotels, more than 1,000 shops, a theme park, and over 100 restaurants. To be discovered on more than 700.000 square meters!
The indoor theme park is the largest in Malaysia and is built across different mall levels. One of the main attractions, the Galaxy Station, is located on the 5th level. It consists of 6 attractions suitable for all ages.
One of the best indoor activities in Kuala Lumpur!
#5 Discover the Marine World at Aquaria KLCC
This aquarium is located in the Kuala Lumpur Convention Centre and is one of the top attractions in KL. It features more than a variety of aquatic species. It is not only about tanks full of water but also about discovering coral reefs, highlands, open sea, etc.
This is a huge aquarium to visit in Kuala Lumpur. Thanks to a conveyor belt, you can see all the galleries and pools without any fatigue. A must-see, especially for the sharks that you will never see in the same way again!
#6 Shopping in Bukit Bintang
Bukit Bintang is the nightlife district par excellence. It has got a trendy shopping area in Kuala Lumpur. Several shopping malls with all the major brands are located here. In addition, many restaurants and some bars are ideal for dining out and having a few drinks.
#7 Visit the Sri Mahamariammam Temple
This is the oldest Hindu temple in Kuala Lumpur. It was founded in 1873 and is located in Chinatown on Jalan Bandar Road.
It has a 23-metre-high tower as its entrance. It is decorated with Hindu gods. It is five levels high, each with a door, adorned with 228 Hindu deities.
Admission is free, and it is open daily from 6 am.
#8 Surf in Kuala Lumpur
Inside Kuala Lumpur, you can live an incredible underwater experience. In the city, you will find Malaysia's first inland surfing facility. A perfect adventure for adventure lovers.
Flowrider combines different techniques of surfing, snowboarding, skateboarding, skimboarding, and wakeboarding. Whether you are a beginner or an expert, you can enjoy excellent sessions accompanied by professionals.
It is one of the best indoor activities for adults in KL, but it is also available for all children over 107 cm.
#9 Discover the Museum of Islamic Art
This is the largest museum of Islamic Art in Southeast Asia and one of the best indoor activities in Kuala Lumpur.
On display are ancient Quranic books, hand-painted vessels, manuscripts, jewellery, textiles, and other treasures worth seeing and enjoying.
#10 Masjid Negara Mosque
Also known as the National Mosque, it opened in 1965 and can hold up to 15,000 people. It was built as a symbol of Malaysia's independence.
It is located on Jalan Perdana, very close to the Museum of Islamic Art.
How To Get Around in Kuala Lumpur?
Many of the attractions mentioned above are within walking distance of each other. However, it would help if you had a reliable means of transport to get around the city. Travelling by bus in Kuala Lumpur is convenient and easy, and you can book your bus ticket online.
redBus provides you with a convenient bus ticket booking platform to reach the attractions you want to visit and reach Kuala Lumpur from different locations.
Book the activities you want to do and secure your bus tickets online to live unique experiences in Kuala Lumpur!
You can travel by bus from any part of Malaysia to Kuala Lumpur. They are the most affordable and comfortable travel mode. To save time and avoid eleventh hour hassles while travelling, you can book bus tickets online on redBus. 
To know about online bus booking in Malay, please visit – Tiket Online Bas
You may be interested in reading – Best Places for Skiing in Kuala Lumpur