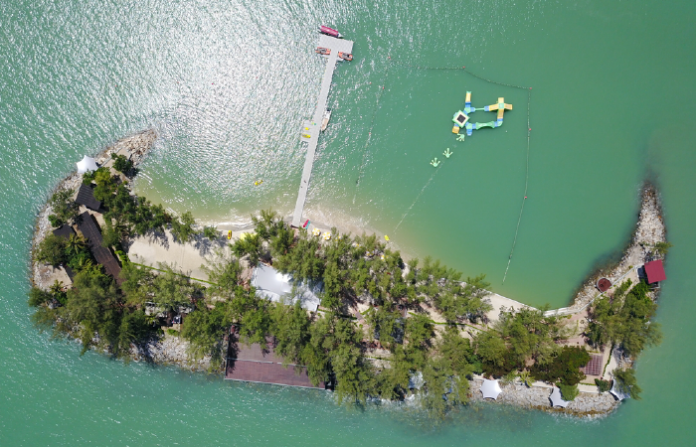 Malaysian islands are a hotspot for tourists around the world. The islands are known for their idyllic and beautiful landscape and clear blue sea. However, the islands on the western part are more popular chiefly for two reasons. Firstly these islands have direct flights to and from Kuala Lumpur. Secondly, these islands have good weather and almost no monsoon throughout the year.
The two most popular tourist destinations among the numerous Malaysian islands are Pulau Penang and Pulau Langkawi. These islands have a great atmosphere and character which appeal to the tourists. Tourists less frequent the islands on the eastern side of the Malaysian peninsula. However, they are well known for their scuba diving and snorkeling points.
If visiting Malaysia islands is what you plan to do during your 2020 holidays, make a bucket list of the island destinations in Malaysia that you should visit.
Pulau Penang
Penang is undoubtedly one of the most sought-after tourist destinations in the world. The island lies on the north-western part of the Malaysian peninsula and has a very cosmopolitan ambiance. It is well known for its divine food, numerous places of tourist interest, and, most importantly, the UNESCO Heritage site of George Town. The numerous restaurants, pubs, star hotels and resorts give the island a very urban feel. On the other hand, the place is steeped in history with its several historical monuments and buildings.
What to Experience:
Few of the must-see old buildings which still stand tall today are the Pinang Peranakan Mansion built during the 16th century and Cheong Fatt Tze Mansion, a traditional house which was built by a wealthy Chinese man in the late 19th century. To experience nature at its best in Penang, take some time off to visit the Penang National Park. If seafood is what you want, make sure to visit Batu Ferringhi with its numerous restaurants that serve some of the best seafood in Malaysia.
How to Reach:
Tourists can reach Penang by flying to Kuala Lumpur. Then either take an ETS train ride from KL Sentral or a bus ride from Terminal Bersepadu Selatan. There are also frequent flights from KLIA2 and the Sultan Abdul Aziz Shah Airport in Subang.
The best way to go around Penang is to hire a taxi or rent a scooter. However, if you're tight on budget, then booking bus tickets online or through redBus is advisable.
Pulau Langkawi
Along with Penang, it is one of the most tourism-rich destinations among the numerous Malaysia islands. Called the "jewel of Kedah," Langkawi is famous for its beautiful sand beaches, clear blue sea, and picturesque natural surroundings. Langkawi is also known for its great diving spots, snorkeling, jet-skiing, and parasailing.
What to Experience:
Two major tourist attractions are the Sky Bridge and the Cable Car ride in Langkawi. Visitors to the Sky Bridge can get a beautiful aerial view. A walk along this bridge is a thrilling experience. The 15-minutes cable car ride takes visitors to Mount Mat Cincang.
Another great place to visit is the Underwater World. It is a 15-meter under-water glass tunnel where visitors get a clear view of aquatic animals like sharks, stingrays, turtles. The place also has other sea animals like seals, penguins, sea-horses, mandarin ducks, and flamingos. The Paradise 3D Museum, the open-air garden museumTaman Lagenda, WildLife Park, and Bird Paradise are some of the other places to visit.
How to Reach:
Getting to Langkawi is easy. Boarding a flight from the KLIA is always the fastest way to get there. However, booking bus tickets online or train tickets from Kuala Lumpur are other budget-friendly options. Tourists traveling by train have to alight at Alor Setar and take a ferry from Kuala Kedah pier.
On the island, visitors can enjoy their stay at a star resort or a budget hotel. To make your holidays in 2020 stress-free, it is a good idea to book everything in advance.
Pulau Redang
Redang is the largest among all the nine islands in the South China Sea. Considered as one of the most beautiful among all the Malaysia islands, Redang is known for its crystal clear sea and spectacular beaches. It is an excellent place for scuba divers and snorkeling enthusiasts since the sea surrounding the island is rich in marine life and corals.
What to Experience:
Redang is famous for the World War II shipwrecks H.M.S. Prince of Wales and H.M.S. Repulse. Apart from diving and snorkeling, canoeing and jungle treks are the other two activities that tourists enjoy in Rendang. Take your pick from any resorts at Teluk Dalam or Teluk Kalong beaches if you wish for peaceful and tranquil surroundings. For parties, discos, and dining shacks, Pasir Panjang beach is the place to stay.
How to Reach:
No direct flights are available from Kuala Lumpur to Redang. Visitors can fly from the KLIA to Kuala Terengganu or travel by booking bus tickets to Kuala Terengganu. From Kuala Terengganu airport, take a taxi ride to Shahbandar jetty. From here, visitors can get ferries to Redang. It would also be wise for visitors to travel by car from Kuala Lumpur to travel to Merang jetty. Ferries are also available from here, travel time being comparatively less.
There are many stunningly beautiful places to visit in Malaysia, but these three are the ones most frequented by tourists among all the Malaysian islands. Apart from diving, snorkeling, Malaysia has a lot to offer in terms of history, culture, food, and other fun activities. For internal transportation, book your tickets via redBus. For amazing discounts on hotel bookings, commuting, and sight-seeing, go to redBus and make your Malaysian holiday in 2020 a memorable one.