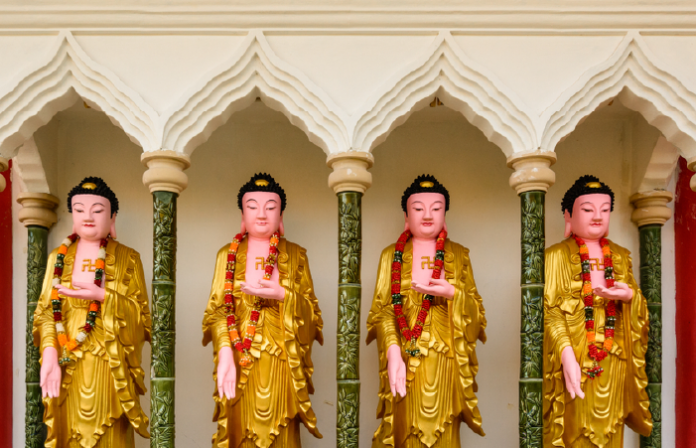 Georgetown, with its well-planned series of paths and roads, is a pedestrian-friendly city with lots of random goodness mixed with the craziness of the city. The city is vibrant, and its visitors always leave it with a heart full of happiness and a mind packed with crazy memories. With colorful street-art, ancient temples, and alluring beaches, the city is the right place for your next, most excellent vacation. Here is everything you need to know to get through this art and culture-filled paradise.
Top attractions in Georgetown
The best thing about Georgetown, Penang, is that most attractions are within walking distance or can be easily accessed through buses to Georgetown!
Cheong Fatt Tze Mansion
This prominent attraction is a stately manor of the 1880s that was designed in the traditional Hakka-Teochew style. It is now a boutique hotel, but people can also visit the area as an attraction. The nearest bus stop to the attraction is the Red Garden Food Court, Jalan Penang, which is only a few meters away.
Kek Lok Si Temple
Located at Air Itam on a hilltop, this is the largest Buddhist temple in Malaysia, comprising many prayer halls, monasteries, gardens, and temples. It was built in 1890 and has been a national icon ever since. You can use redBus to get to the Taman Happy Valley, Jalan Paya Terubong, as it is the nearest bus stop.
Khoo Kongsi
Khoo Kongsi is a popular clan house in Penang that was built on Jalan Acheh around 650 years ago. It has an incredible history and an amazing architectural feat. Ar-Raudhah Suites and Hotel, Jalan Kampung Kolam is the closest bus stop.
Where to Stay – The Best Penang hotels, Georgetown
Hotels are of many ranges, and the best hotels offer a combination of convenience, comfort, excellent location, and charming hospitality.
Luxury options
These would provide first-class accommodations featuring beautiful surroundings and individual-themed guest rooms. The most popular luxury Penang hotel, Georgetown, is the Eastern and Oriental Hotel. Packed with enchanting history, this hotel is sea-facing. The closest bus stop is the Mercedes Benz, Jalan Ahmad Shah. The other luxury hotel is the G Hotel Kelawai, and this hotel is close to many tourist attractions in Georgetown, Penang.
Budget-friendly options
Ideal for budget-conscious travelers and backpackers, there are many affordable Penang hotels, Georgetown. The most popular one is the Campbell House, which is located in the center of the city. Many wonderful attractions of Georgetown, Penang, can be accessed from here. The Berjaya Hotel, Penang, is another great option to stay in Georgetown. The hotel is close to many famous shopping and food centers and is an appealing place for leisure travelers. The nearest bus stop to the Berjaya Hotel Penang is the Midlands Park Centre, Jalan Burma.
Where to eat and shop
Food in Georgetown, Penang, is legendary because there is no other place in the world that combines Chinese, Indian, Malaysian, and many other cuisines along with overwhelming local cuisines. Penang has a wonderful mixture of local and international restaurants.
The most famous food courts in Penang are the Red Garden, New World Park, Cebil Market Food Court, and Sri Weld Food Court. These food courts offer people with excellent seafood and awesome cuisines. For Southeast Asian food, you can check out Gurney Drive with so many food carts along the coastal walk. Chinatown is another neighborhood that comes alive in the nights with amazing Chinese cuisine. You can look for the closest bus stops to all these places and even book online on redBus!
Georgetown is a beautiful shopping destination with independent stores, street markets, and shopping centers. Many of the main shopping areas are in the city center. They can be easily accessed from various Penang hotels, Georgetown.
The most famous mall in the city is the 761ft KOMTAR. It is also one of the focal points of Penang where many bus routes meet. You can get down at the KOMTAR bus terminal to get to the mall quickly. Little Penang Street Market is another fun area for budget shoppers with its fabulous finds and vintage steals! 
To reach Little Penang Street Market, you can get down at the Mercedes Benz, Jalan Sultan Ahmad Shah bus stop, as it is closer to the area. The market is also closer to the beach and is only open on Sundays. Along with food and crafts, there would also be visual art displays, music festivals, and book readings where you could soak in the real Malaysian vibe.
Georgetown, Penang, is one of the most colorful cities in Malaysia with its illustrious history and tradition, making it a city you must not miss during your vacation to Malaysia. Explore like a local through little streets, buses to Georgetown, and small beaches of Georgetown with redBus!