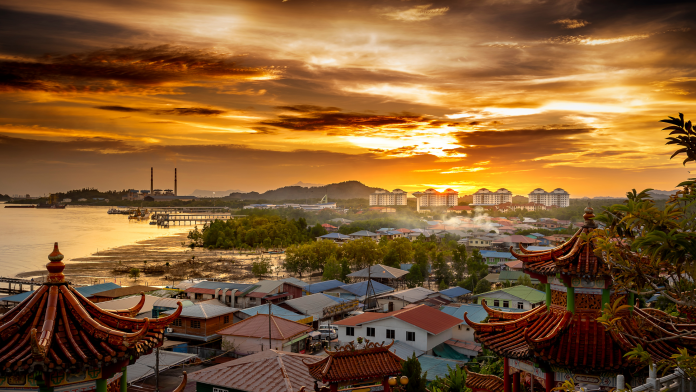 The Rainforest Music Festival is an annual 3-day cultural event to celebrate music and its diversity, where artists from across the globe participate. This festival is celebrated in Kuching, Sarawak at the Sarawak Cultural Village. Performers from various countries and those from Malaysia also take part in this event.
The Rainforest World Music Festival 2023 will be held from June 23 to 25. This event is making its grand comeback this year after the pandemic. These three days will be filled with daytime activities and concerts at night. Entry to the venue is paid and the tickets are available online.
What is the Rainforest Music Festival?
The World Rainforest Festival, started its journey in 1988. At that time, there were just 100 musicians who attended the event. Over the years, it has grown into an internationally acclaimed event that sees various award-winning musicians attending. The event itself was awarded several times as one of the top 25 best international music events, consecutively for six years from 2010 to 2015.
The Rainforest Music Festival is not just for music but for art as it includes various craft workshops as part of the event. It is one of the most unique festivals in the world. It gets a larger crowd for each of its events. It is conveniently conducted from Friday to Saturday, to ensure maximum participation. Moreover, the event starts in the morning and lasts till late into the night. While both adults and kids can enter the event, kids usually get entry for one day. Adults may choose to participate on all three days, two days, or just one day, as convenient.
The lineup of performers at the 2023 Rainforest World Music Festival includes renowned artists such as Grammy Awards winner 'Gipsy Kings' featuring Tonino Baliardo from France, 'Big Mountain' from Jamaica/USA, 'Safi Theatre' from Tanzania, 'Rastak' from Iran, 'Fasylive' from Maldives, 'Afriquoi' from the United Kingdom, 'Chatusram' from India, 'Rizal Hadi & Folk' from Indonesia, and 'Ethno Thai Fusion Sound Band' from Thailand. Additionally, the festival will showcase talented performers from Japan, Hong Kong, and Singapore.
Ticket Prices
Four types of tickets are available for adults to enter the festival. There are 1-day pass, 2-day pass and 3-day pass. The 1-day pass could be specifically for Saturday or with a choice of Friday or Sunday.
The 2-day pass is issued for entry on Friday and Saturday or Saturday and Sunday. A child pass will be available for either one day of this 3-day festival.
The ticket rates are given below –  
| | | | |
| --- | --- | --- | --- |
| TICKET TYPE | EARLY BIRD | PRESALE | DOOR SALE |
| Adult 1-day Pass (Fri/Sun) | MYR 190 | MYR 230 | MYR 260 |
| Adult 1-day Pass Sat | MYR 220 | MYR 260 | MYR 290 |
| Adult 2-day Pass (Fri+Sat or Sat+Sun) | MYR 360 | MYR 440 | MYR 520 |
| Adult 3-day Pass | MYR 480 | MYR 590 | MYR 650 |
| Child 1-day Pass (Fri/Sat/Sun) | MYR 80 | MYR 80 | MYR 80 |
Rainforest World Music Festival 2023 Ticket Prices
Activities
All three days of the Rainforest World Music Festival 2023 will be filled with activities. The morning and afternoon will be for the music and dance workshops. There will be mini-concerts conducted by various artists.
A diverse range of music genres will be performed at the festival by a total of 199 musicians from 12 countries spanning over 3 continents.
Craft items will be on display along with various food stalls to keep you satiated. You can look forward to Starbucks Coffee and KFC as well.
Kids' special workshops are also conducted here at the festival. Kids in the age group of 7 to 12 can engage themselves at special workshops meant for them. There will be storytelling and other activities for them.
The evening session is full of on-stage concerts and performers. Right from a local newbies to world-renowned musicians and artists will perform over the three days.
The festival will be live from morning till almost 2 am.
How to Reach the Sarawak Cultural Village?
Sarawak Cultural Village in Kuching is the venue of the festival. The activities are conducted in various village houses of the tribes, in the natural habitat of the rainforest and thus the name. It is located about 35 km from Kuching. You will have to book your accommodation in Kuching city and commute back and forth.
Read more on Things to do in Kuching
Since Kuching is connected to other parts of Sarawak by road, you can easily find buses to reach here. Buses are available from Serian, Sibu, Sri Aman, Saratok, Bintangor, etc. You can go to the redBus bus ticketing portal to book your travel tickets online. There are 6-13 daily buses, depending on the route. The bus ticket online will cost anywhere between MYR 10 to MYR 60.
Rainforest World Music Festival Volunteer
You can also participate in the Rainforest World Music Festival as a volunteer. Each year there will be an application form available to be a volunteer. The selected volunteers will be given –
One free ticket to the music festival
3-day Shuttle passes both ways between Kuching City and Sarawak Cultural Village
MYR 20 per day as food allowance
One RWMF Volunteer t-shirt
One raincoat and a pair of gloves
Travel Booking and Accommodation for Rainforest World Music Festival 2023
Rainforest World Music Festival is a popular festival which is usually jam-packed. So it is important to plan early and book the tickets as well as accommodation. You can reach Kuching airport from Kuala Lumpur and other international destinations. From there, you can take a cab to reach your hotel and to the venue.
Concluding Notes
Rainforest Music Festival 2023 will be a thrilling experience for music lovers. The ambience and the unlimited dose of art and music can be addictive and you may love to come back once again!