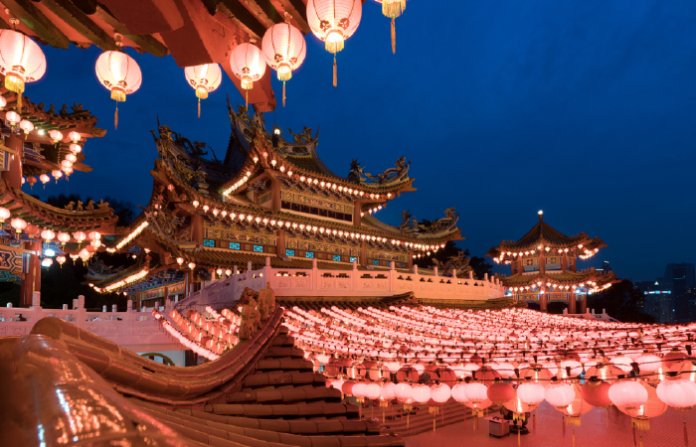 Malaysia, a natural wonder, is one of the most loved places on earth and is visited by so many people from all around the world. Malaysia has everything you would expect in a vacation from national parks to lush rainforests and glistening beaches. People who wish to spend their next vacation in a lively place, visit Malaysia! During the Year-end and the beginning of the New Year, the place would be packed with activities and delightful events.
Best Places to Visit in Malaysia 
Fun and informative, places to visit in Malaysia are many that one could visit, especially during the pleasant Malaysian weather, December.
Temenggor Lake
Temenggor is a human-made lake that houses several species of fishes like Kelah, Toman, Baung, and Subaru. The lake is located near Banding Island and is a center of tourism because this Malaysian tourist place has so many fantastic sightseeing areas. People visit this human-made creation because of its brilliance and to explore the area in depth during the pleasant Malaysian weather of December. You could get online bus tickets to book a tour.
Legoland 
When it is Christmas, visit Malaysia Legoland as it would transform itself into a festive entity! Legoland is one of the best places to visit in Malaysia. This Malaysian tourist attraction acts as the perfect Christmas getaway packed with mountains of gifts and a massive bag of enchantments. The place would be beautifully decorated, helping people escape into the complete winter wonderland.
Sungai Chiling Waterfalls
The Sungai Chiling Waterfalls, located in Selangor, is one of the best places to visit in Malaysia during these months. People looking for thrills and adrenaline enthusiasts are sure to love this Malaysian tourist place as the waterfalls can only be reached only when you go through a lovely adventurous trek. Although the currents are active, the waterfall is entirely safe to visit in December.
Events to Attend in December and January 
Visit Malaysia to check out these spectacular events!
Handmade Market 
Filled with some of the best talents and creative hands, the Handmade Market is a unique idea that attracts visitors. It gathers over 200 artisans and is said to be the biggest in Malaysia. Their creations include anything from general items to rare traditional dolls and many more. There are various stalls in this Malaysian tourist place where you could try something if you love arts and crafts.
KL Biennale 
The world-famous Biennale will be held in Kuala Lumpur until the end of February 2020. The objectives of the Biennale are to drive the development of Malaysia's contemporary industry of art, to promote the image of the country, and to enhance the creative sector.
Malaysia Year End Sale 
Get everything on discounts and amazing deals in Malaysia Year-End Sale! Packed with a plethora of shops featuring jewelry, clothes, and electronics, this sale period is when you can buy everything you ever dreamed of at affordable prices. This year-end sale attracts a swarm of people, locals or tourists.
Chinese New Year
Penang attractions always have a unique beauty. The Chinese New Year is celebrated during January and is worth taking part in. This Penang attraction starts during the first Lunar Calendar, and the eve of the New Year would be filled with activities. 
7th Malaysian Jazz Piano Festival 
For all the music lovers in the world, the 7th Malaysian Jazz Festival is a must-visit. The show hosts some of the most incredible and popular performers like Frankie Sixes, Julian Chan Big Band, Grace Leong Semboyan, Fazz, and many more. There are many workshops during the daytime where you could listen to the musical experiences of the finest musicians.
Mudball Fight 2020
If you are looking for exciting and fun ways to save the environment, then go ahead to raise awareness on the quality of rivers. The Mudball Fight 2020 helps to spread the importance of mudballs in our environment with the help of fun activities.
Kek Lok Si Display of Lights 
Famous for its vast temple complex soaked in architectural and cultural delights, the Kek Lok Si remains one of the most visited Penang attractions. The center of Buddhist teaching and Chinese Culture, the bright lights displayed annually in this Penang attraction in January, is simply breathtaking.
Travel to your ideal destination comfortably and safely by booking online bus tickets with redBus. There are so many events to take part in and places to visit in Malaysia, especially when the Malaysian weather looks ideal in December. redBus will provide you with exciting deals on travel options. Get smart savings on reservations like online bus tickets or accommodations that would help enhance your experience and make your memories meaningful.