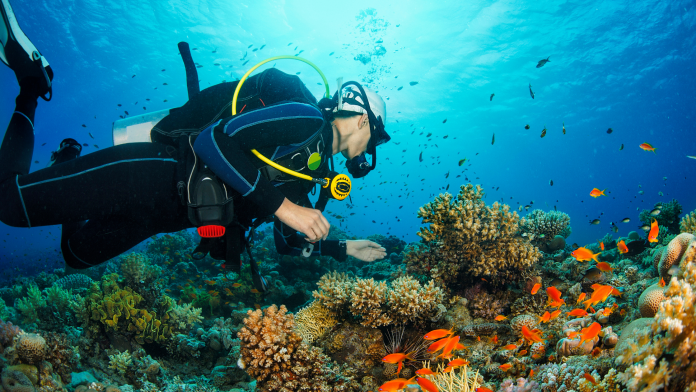 Malaysia is one of the most diverse diving countries in Southeast Asia. You will generally find beautiful corals and amazing marine life at Malaysia's underwater sites. In addition, reef sharks and huge schools of pelagic fish can be seen at many dive sites. Manta rays and turtles are also common. All this makes diving in Malaysia unforgettable.
We'll tell you a little about Malaysian diving so you can choose the best dive site(s) for you. Malaysia is divided into two parts, which you probably won't have time to visit in one go.
The Malaysian part of Borneo offers the best diving in Malaysia and the world, especially if you search for big fish, such as in Sipadan or on the island of Mabul. However, Sabah diving is more suitable for experienced divers.  
The Malay Peninsula offers many of the most stunning islands globally, such as the Perhentian Islands, Tioman Island, Redang Island, and Langkawi Island. These islands are a paradise of white sandy beaches, lush rainforest, and beautiful coral reefs. Beginners can learn to dive inexpensively in places like the Perhentian or Tioman Islands. Diving and snorkelling are excellent on these islands and relatively easy. 
Malaysia isn't huge, so one of the best ways to get to the islands is by bus supplemented by water or air transport. We recommend booking your bus tickets online if you plan to visit different places. But, of course, it all depends on where you want to dive in Malaysia.
#1 Sipadan between the World's Top 10 Dive Destinations
This is arguably the number one diving destination in Malaysia. Sipadan is a small island just off the coast and is a diving paradise. There are approximately ten dive sites to see turtles, reef sharks, and large pelagics. You will also be able to admire a magnificent coral garden while diving in Sipadan.
At Sipadan, you need to book well in advance as only 130 people are allowed to dive per day. Please note that sleeping on the island is impossible, and you will probably have to stay in Mabul or Kapalai.
The diving season on Sipadan runs from March to October, and the best visibility is in April or June.
#2 The Best Place to See Hammerhead Sharks Is Layang Layang
Layang Layang is not so famous, yet it is a real gem. It is a tiny atoll surrounded by a wall that descends to 2000m but is only accessible from March to July.
It is almost sure to see hammerhead sharks from any point and pilot whales. In addition, reef sharks and large pelagic sharks can be spotted daily as they roam and hunt. Shoals of jacks, barracuda, snappers, and fusiliers are also common.
#3 Find the Whale Shark in Lankayan
Lankayan is a migratory area, and from March to May, you are almost sure to see whale sharks. It is another excellent place to see large sharks such as blacktip sharks, leopard sharks, bamboo sharks, marble rays, etc.
In the Lankayan, the macro diving is not far behind with frogfish, ghost pipefish, mimic octopus, and numerous nudibranchs. Finally, several wrecks are also waiting for you: Lankayan wreck, Mosquito wreck, and Jetty wreck.
The diving season lasts from March to October, but whale sharks are most likely to be seen from March to May and turtles from June to September.
#4 Mabul between the World's Top 5 Best Macro Dives
This island is close to Sipadan and has the best macro diving in Malaysia and the world. Mabul dives are often included in packages for a stay in Sipadan so you can take full advantage of the region.
In Mabul, you will find frogfish, seahorses, pipefish, various nudibranchs, and blue-ringed octopuses. The best dive sites in Mabul are Paradise 2, Lobster Wall, Seadventure Platform, and Mandarin Alley.
In Mabul, it is possible to dive all year round, but the best time to dive is from March to October.
#5 Labuan for Wreck Lovers
If wrecks are your thing, Labuan is the destination for you. Here you will find four different wrecks with options for beginners and experts.
Among the most interesting is the Cement wreck sunk in 1980, the shallowest wreck covered in coral. The Bluewater wreck, a Philippine trawler sunk in 1981, has abundant marine life and 30 to 40 metres visibility.
Diving in Labuan is possible from March to October.
#6 Perhentians Is the Cheapest Place to Learn to Dive
The islands of Perhentians are two beautiful islands off the peninsular coast, very popular with tourists. It is the best place to learn to dive in Malaysia due to the excellent conditions and tropical fish.
The marine life consists mainly of green turtles and fish such as butterflyfish, clownfish, parrotfish, triggerfish, and other tropical fish.
It is possible to dive between March and October, but be aware that the islands will be very crowded in July and August.
#7 Tioman Is Full of Turtles and Is Perfect for Beginners
Like Perhentians, travellers know Tioman as an ideal place to learn to dive. It has affordable prices and beautiful but straightforward sites. However, it can also be suitable for more experienced divers. Just leave the classic dive sites behind.
Popular dive sites include Pulau Chebeh, Tiger Reef, Batu Sepoi, Pulau Labas, Pulau Tulai, and Fan canyon. In addition, Tioman makes it possible to see tropical fish and green turtles, and even manta rays. The best season for diving in Tioman is from March to October.
Scuba diving in Malaysia is a unique activity that will offer you a glimpse of incredible marine life. An adventure you can experience in Malaysia regardless of your level of experience!
You can travel to any part of Malaysia by bus. And they are the most affordable and comfortable travel mode. To save time and avoid last minute hassle while travelling, you can book bus tickets online on redBus. 
To know about online bus booking in Malay, please visit – Tiket Online Bas
You may be interested in reading – Underwater Wonders in Malaysia