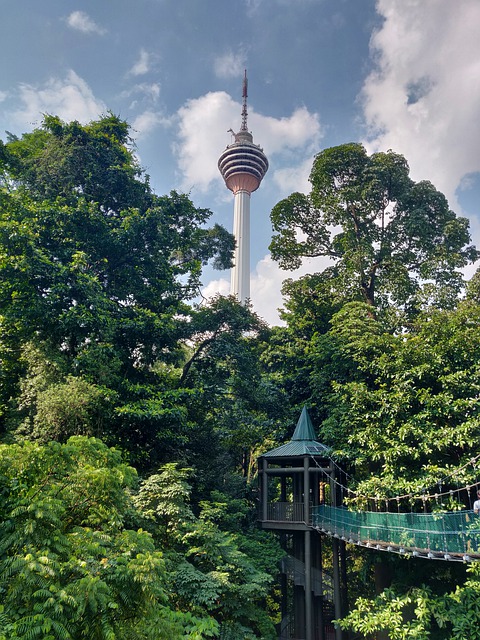 Throughout the world, Covid-19 brought tourism to a halt. People were not able to go on vacations and see new places. In Malaysia, after months of lockdown, the government has started relaxing some restrictions under the National Recovery Plan (NRP). Klang Valley and several other places under NRP Phase 2 and above have special relaxations for fully vaccinated people. One of them being that several Klang Valley attractions have re-opened for fully vaccinated people. 
Popular Attractions Re-opened in Klang Valley Area
Here are some attractions in Klang Valley that have re-opened since the area moved to Phase 3 of the NRP.
This aquarium is underneath the Kuala Lumpur Convention Centre. It is based on the marine journey from land to sea, rivers, through jungles and mangroves to marine reefs and the deep sea. The aquarium opened its doors on October 1st for fully vaccinated people.
District 21 is a themed amusement park. If you are a fan of the post-apocalyptic vibe, this is the place for you. This fantastic park has 11 rides of different types and with various difficulties. They opened their doors again on October 2nd for fully vaccinated people. Unvaccinated children can also attend if accompanied by a fully vaccinated adult. People have to wear masks at all times inside the park.
It is one of the best attractions in Klang Valley. The park has over 90 rides and attractions spread over six adventure zones. Here you will find the first Nickelodeon theme park in Asia. You can book your tickets online from October 7th. Here you can spend the whole day easily. You will find different dining options, and there is a hotel nearby for people who wish to spend the night here. You can book bus tickets online along with return tickets on redBus in advance to enjoy freely without worrying about conveyance.
It is a creative space, where you can find cafes, bars and shops and have a good time. In addition, there are regular events or exhibitions open to the public. From skateboarding on Sundays to concerts, you will find various options to explore here. It is the ideal place to enjoy and try new things.
Berjaya Times Square Theme Park
It is an indoor theme park located in Berjaya Times Square, occupying floors 5 to 8. This all-weather park is a good place where you can spend some time. Here, you will find 12 different attractions divided into 'Galaxy Station' and 'Fantasy Garden'. It also houses food shops, a shopping area, a theatre and thrill rides.
This park is Malaysia's oldest permanent forest reserve and is the perfect way to immerse yourself in nature. Located close to tourist attractions such as the KL Tower, this park is easily accessible. One of the most popular activities is a 200-metre-high Canopy Walk.
Apart from these, many places have re-opened and continue to open as covid-19 cases reduce, more people get vaccinated, and relaxations are announced. Visitors must follow all the rules and preventive measures for their well-being and the safety of the people around them. Even after being fully vaccinated, people should continue to wear masks and maintain personal hygiene. 
It is recommended for children under the age of 18 to avoid being in public or crowded places. In the Klang Valley, you will find many parks and gardens that are great to visit. 
Points to Remember
For museums, galleries, shows and other cultural activities, fully vaccinated people can attend by appointment. However, it should be noted that they are only operating at 50% capacity, so it is important to book in advance. 
Travel within the state itself is permitted, so you can travel by bus to visit any of these places. You can buy online bus tickets on redBus to avoid queues and minimize physical contact. Enjoy all the Klang Valley attractions safely!
To know about online bus booking in Malaysia, visit online tiket bas
You may be interested in reading – Best Workation Places in Malaysia