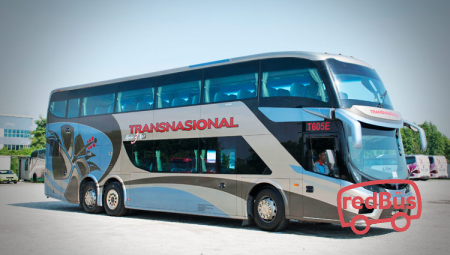 With things slowly returning to normal, people have started travelling again. Malaysia is a beautiful place to visit. You will find everything from beaches to wildlife, forests and much more. Travelling in Malaysia is easy as most of the country is connected by road. Buses are the cheapest and convenient options for travelling. Out of the many buses available, Transnasional buses are one of the best for travelling in Malaysia. 
With a large fleet of buses connecting almost every city in the country, Transnasional buses are popular among the tourists and are among the country's top 10 transport operators. Be it to Melaka to enjoy the colonial buildings or to the world-famous Petronas Twin towers in Kuala Lumpur, you can reach your desired destinations with these buses. There is something for everyone. And with excellent road connectivity, one can make the best out of their trip to Malaysia and explore the beautiful cities. 
About Transnasional Buses
Transnasional buses are run by the biggest transport operator in Malaysia, Konsortium Transnasional Berhad. The KTB is a pioneer in intercity bus travel. KTM's Express segment include 'Plusliner' buses, and 'Nice' buses come under the luxury segment. Transnasional is the biggest under KTM's express bus services. 
Started in the year 2007, Transnasional has been successful in carving a niche for itself because, as a brand, it has connected better with the consumers and understood their needs at every step. Being a relatively new entrant in the transport industry compared to other companies, the operator has added all the modern amenities and services in their buses. With over 1000 buses operating in Malaysia and Singapore, millions of travellers use Transnasional every year. 
Amenities Offered
When you book a bus online ticket for any operator, you should check what feature the bus offers. In the case of Transnasional buses, you will find a variety of amenities, such as –
WiFi
Reclining seats
Air conditioning
Spacious legroom
Reading lights
GPS
Phone charging sockets
With live tracking and GPS facilities, passengers travelling in Transnasional buses can check their bus status anytime from anywhere. To keep up with the Covid-19 guidelines, all the buses are equipped with hand sanitisers.
Transnasional Bus Travel Routes
Transnasional buses cover various routes in Malaysia and Singapore. Some of the popular ones are –
Terminal Bersepadu Selatan (TBS) to Kuala Perlis
Melaka to Ipoh
Gemas to Terminal Kuantan Sentral
Bahau to JB Larkin Bus terminal
Terminal Kuantan Sentral to Kuala Lumpur
The popular cities covered by this operator are – Melaka, Johor Bahru, Ipoh, Kuantan, Baling, Kangar, Bahau, Kuala Lumpur, Gemas, etc. You can find all details of the bus routes and timings when you book bus tickets online on redBus.
To cater to different budgets and requirements, Transnasional offers different types of buses. These are –
Business Economy class
Economy club class
Business-class
Standard
Executive
All the buses come equipped with different amenities. Travellers can check the details beforehand while booking bus tickets online on redBus and choose depending on what suits them the best. 
Reasons to Book Transnasional Bus Tickets Online
Transnasional buses come with modern amenities
Ample legroom space 
Has 1000 buses running on 250 different routes every day
Serve cross border routes, with buses to Singapore being the most popular
Buses are available at all times of the day
Passengers can book bus online tickets and also receive discounts 
Buses can be tracked from anywhere 
With friendly staff and a well-maintained fleet of buses, travellers can trust Transnasional buses to give them the best and most comfortable travelling experience in Malaysia.
You may be interested in reading – The Most Popular Bus Operators in Malaysia