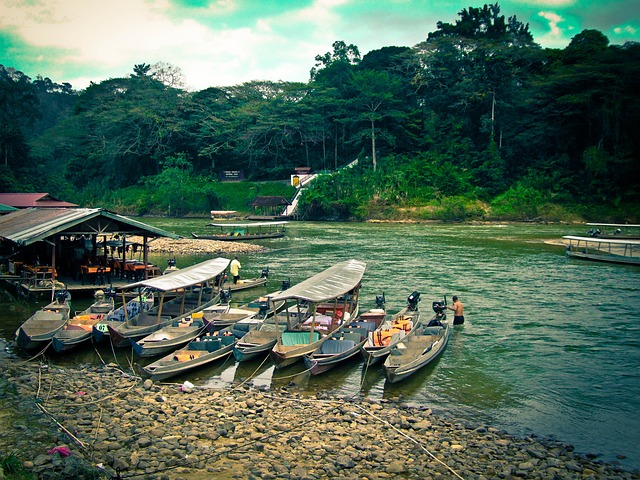 Located in the peninsular region of Malaysia, Pahang is a federal state. An economically important state, this place is known for its many tourist attractions. Most of the area is covered by beautiful rain forests and mountains. When you go on a trip to Malaysia, you must include the popular places in Pahang in your itinerary.  
There are various transportation mediums to reach Pahang like bus, taxi, train, flight, etc. However, many people prefer to travel to the state by bus as they are easily available and affordable than other means of transportation.
Popular Places to Visit in Pahang
Pahang is a beautiful state with many attractions. Mentioned below are some of the popular places you must visit when you go to Pahang.
Lentang Recreational Forest Park
Situated in the Bentong region of Pahang, this forest park is one of the best places to get away from your busy life. The park has a small stream for swimming and multiple hiking trails. The entry fee is a minimum of RM 2 (for adults). There is no entry fee for children and senior citizens.
It is advised to book online bus tickets to Bentong to avoid physical ticket booking counters. You can choose redBus to book bus tickets to Pahang. redBus is the largest e-ticketing platform for buses in the world. You can book buses from various locations to Bentong like Kelantan, Kuala Krai, Machang, Kota Bharu, etc.
Gua Charas Cave Temples
The cave temples of Gua Charas are estimated to be about 400 million years old. Besides being a good spot for history buffs, this place is an important pilgrimage site. The mesmerizing Buddhist statues and marking in the cave is a view you should not miss. The entry fee for the cave temples is just RM 2, and the car parking fee is RM 3.
Some of the popular bus routes to Pahang are from Kuala Lumpur, Putrajaya, Machang, Kelantan, etc.
Kuantan beaches
Kuantan is home to some of the most exquisite beaches in Malaysia. Some of the top beaches in/around Kuantan are Balok Beach, Batu Hitam, Cherating Beach, Lanjut Beach, Teluk Chempedak, etc. One can enjoy various water activities at the Kuantan beaches.
Some of the top cities from where Kuantan buses depart are Kuala Lumpur, Kuala Terengganu, Johor Bahru, etc. With redBus, you can choose to drop off at various locations in Kuantan based on your preference.
Cameron Highlands
Camron Highlands is one of the most popular hill stations in Pahang and Malaysia. Besides trekking and exploring scenic landscapes, this place is home to various Chinese temples. Cameron Highlands has multiple farms like tea gardens, strawberry farms, rose gardens, lavender gardens, etc.
You can book bus tickets online from various cities in Malaysia like Penang, Kuala Lumpur, Sungai Nibong, etc. You can find online bus tickets from Singapore to Cameron Highlands on redBus at affordable rates. However, the cross-border bus services to/from Cameron Highlands are currently suspended due to the coronavirus pandemic.
Kuala Gandah Elephant Sanctuary
This sanctuary is located in the Temerloh region and is home to various endangered species of elephants. It is highly credited for saving multiple species of Asian elephants from extinction.
Here, you can bathe with elephants in the river and feed them watermelons or peanuts. It is a must-visit place in Pahang and is located inside the premises of the Krau Wildlife Reserve.
Some of the top cities from where you can book online bus tickets to Temerloh are Kuala Lumpur, Kuantan, Kuala Terengganu, etc.
Genting Skyway
When you are in Cameron Highlands, don't forget to experience the Genting Skyway. The skyway runs from Gothong Jaya to the peak of the Cameron Highlands. You can see the 120 years old rainforest below and the Chin Swee Cave Temples. You can enjoy various scenic views through this 3.4 KM cable car journey.
Chamang Waterfall
This waterfall is located 8 KM away from Bentong town and is a famous tourist attraction in Pahang. The crystal-clear water of the Chamang Waterfall, surrounded by beautiful landscapes, gives a sense of tranquillity. You can go for a dip in the flowing water of this waterfall and explore the rain forests. The entry fee is around RM 3.
Bukit Panorama
You have to climb around 1100 stairs to reach the peak of Bukit Panorama, which takes approximately 1.5 hours. The best time to hike to the top of Bukit Panorama is before sunrise. Many nature-buffs reach the top early to witness the mesmerizing view. Make sure to carry a flashlight with you for the hike.
In a nutshell
Pahang is a beautiful Malaysian state well-known for its cultural and historical importance. Online bus booking is one of the best ways to travel to the popular places in Pahang. You can compare the ratings of various Pahang bus operators on redBus and choose the best available services.
Book your Pahang online bus tickets to experience the amazing places there!
You may be interested in reading – Popular Things To Do in Kelantan