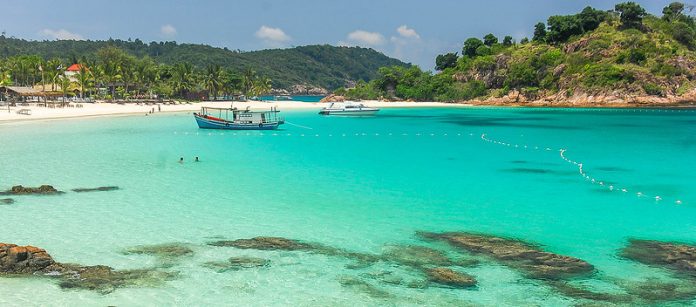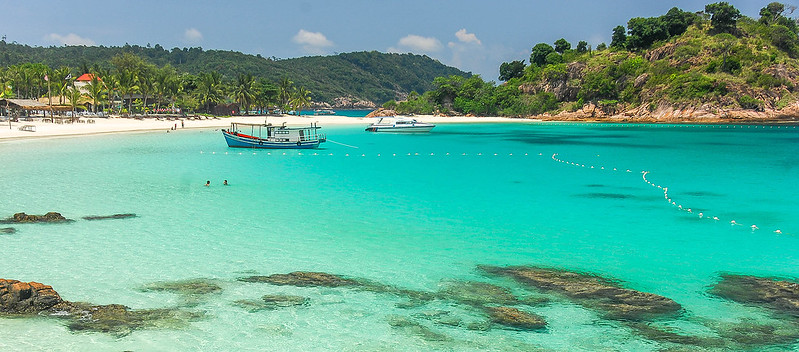 Situated in the Kuala Nerus district of Malaysia, Redang Island is among the most-toured islands of the country. It is also among the largest islands situated in the peninsular Malaysia region. Besides offering various water activities to tourists, Redang Island is also known for its exquisite resorts. The island possesses a tropical climate in most of the months of the year thus making it a wonderful tourist location. Redang Island is also home to some of the most beautiful beaches of Malaysia. Read on to know more about Redang Island.
Redang Island falls under the 'Coral Triangle' that is also shared by three other countries (Philippines, Papua New Guinea, and Indonesia). The Coral Triangle is said to have one of the largest marine biodiversity on the globe.

Scuba Diving in Pulau Redang
Redang Island is also known as Pulau Redang and offers various water activities to tourists. One of the major water activities conducted on Redang Island is scuba diving. There are more than 20 scuba diving sites around this island. Various service providers offer scuba diving packages on Redang Island at affordable rates. Since Redang Island falls inside the premises of a protected marine park, the sea waters are crystal clear and free from any kind of adulteration.
While Scuba Diving in Pulau Redang, you can also obtain a diving certification that deems you fit for future dives. If you already have a diving certification, you can dive without the help of any service provider.
Snorkelling in Pulau Redang
If you are not able to dive deep, then you can also choose to snorkel around Redang Island. Various beaches in Pulau Redang have crystal clear waters and are fit for snorkelling. There are various snorkelling points near Redang beaches for beginners or those who are learning to dive. Teluk Dalam is a famous snorkelling point in the Redang Island Malaysia. Teluk Dalam is home to some of the most beautiful coral reefs one will ever witness.
Another famous snorkelling point on the Redang Island is Tanjung Mak Cantik (Pantai Pasir Panjang). Tanjung Tengah is also one of the famous snorkelling point on the Redang Island. However, there is a lot of rush at Tanjung Tengah so it advised to explore other snorkelling points.
One can also visit the Redang Marine Park Centre for a better snorkelling experience. You will have to take a boat from Redang Island to the Marine Park Centre (located in Pulau Pinang). The Marine Park Centre is home to many marine species like moray eels, octopuses, turtles, giant groupers, etc.
Local food on Redang Island
Malaysia is known to provide sumptuous seafood and various local cuisines. While people travelling to Pulau Redang book a resort that included the meals, it is advised to explore the local food of Pulau Redang. One of the most popular local dishes of Pulau Redang is fish head curry. There are various food courts situated on the Redang Island that will offer you sumptuous Malay food.
Trekking in Pulau Redang
Besides beaches and water activities, Pulau Redang also offers various trekking trails for nature buffs. One of the most popular trekking trails on Redang Island is the road from Kampung Jetty to Taaras Resort. You can see various species of flora and fauna on this trail that is 3 KM long. If you are up for a more adventurous trek then you take the road from Long Beach to Teluk Dalam that is 2 KM long. This trek passes through the forest and is full of uphill and downhill trails.
Many people also choose to trek from Long Beach to the Laguna Resort which is around 800 metres long. You can spend some time at the Laguna Redang Resort which is known for its late-night bars and discos.
Explore the resorts on Redang Island
There are a lot of resorts on Redang Island and most of them are booked throughout the year. Some of the popular resorts on the Redang Island are Laguna Resort, Taaras Resort, Paradise Resort, Sari Pacifica Resort & Spa, etc. Many of these resorts offer snorkelling points, beach views, and many more. You can compare the prices of various resorts online and can book an affordable one for your journey to Redang Island.
How to get to Redang Island?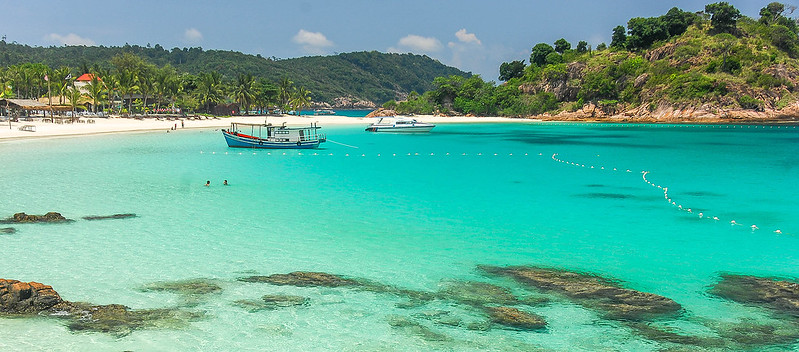 There are no direct flights/cars to Redang Island as there is no road transport to the island. Since the Redang Island is situated just 40 KM far from Kuala Terengganu, one can reach Kuala Terengganu by bus. You won't find a Redang Island bus ticket as there are no direct buses to the island. Buses to Kuala Terengganu are available from various parts of Malaysia like Kuala Lumpur, Kelantan, Johor Bahru, Kota Bharu, etc.
It is suggested to book bus online tickets to Kuala Terengganu and then take a ferry to Redang Island. Once you drop off in Kuala Terengganu, you can catch a ferry to the Redang Island from the Shahbandar Jetty or the Merang Jetty. Online bus booking will not only help you in pre-booking your travel tickets but also in comparing the services of various operators. redBus is a reliable source and can help you in booking online bus tickets to Kuala Terengganu. You can search from various locations in Malaysia on redBus like a bus to Redang from KL (Kuala Lumpur), etc. You can also choose to drop off at various locations in Kuala Terengganu with redBus depending upon your accommodation point or ferry terminal. 
In a nutshell
A Redang bus is the best way to reach the island and also the most economical. One has to book bus tickets to Kuala Terengganu via redBus and then catch the ferry from any of the two terminals in the city. redBus also provides bus online tickets to Kuala Terengganu from the neighbouring country Singapore which is currently suspended due to the COVID scenario. However, the domestic bus services in Malaysia are operating at their full capacity and you can take a break by travelling to Redang Island. Book Redang bus tickets with redBus now!