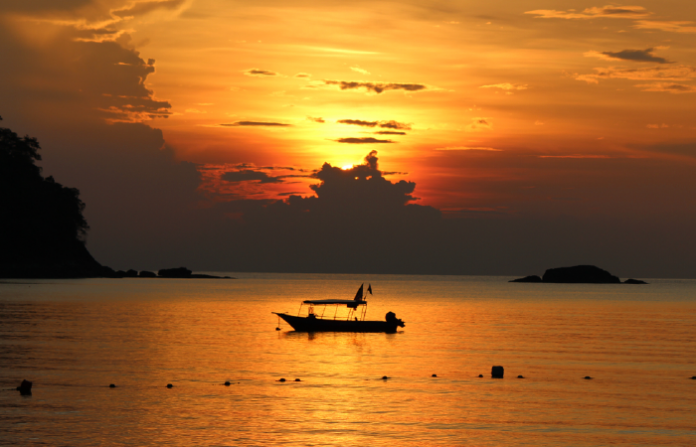 Guarding the South China Sea's translucent waters and sitting like an emerald dragon, the Tioman Island offers perfect shades of ultimate paradise. With chilling waterfalls, laid-back villages embracing the idyllic shores, and lush jungles that take you past a beautiful flora and fauna, the place is just a synonym for bliss. A very famous tourist attraction in Malaysia, the Pulau Tioman must be on your list. The island is very spacious, which makes it an ideal spot for vacations. Though the Tioman islands are very famous, it still retains its originality and unspoiled feel with authentic village life and pristine wilderness.
Famous Tourist Attractions of Tioman Island 
Make sure these tourist attractions are on your list!
Dragon Horns
The island is packed with activities for adventurers. If you love hiking, then the famous twin peaks located south of the island are worth a visit. Though tourists can go hiking on only one of those peaks, without any equipment, it is going to be a tough climb. This hike would include going through the stone forests and the jungle, and you can find several checkpoints in between for water too. You could book online bus tickets for tours to this spot. 
Paya Beach 
Every beach on the island is gorgeous, but this specific one will be an easy pick. In the Paya village, you can find several famous beach resorts that offer tourists with rooms of all budgets. The tourist attraction is the best place to enjoy amazing cocktails and the sunset.
Chiling Waterfalls
One of the most spectacular waterfalls in Malaysia, the Chiling Waterfalls is a must-visit on your list. To get to the Chiling Waterfalls, you will find hiking trails to follow, and you could walk past five rivers that come from the Chiling waterfalls. Though it is a little far from Pulau Tioman, the Chiling waterfall is worth a visit. There are many online bus tickets to choose from to reach this attraction.
The Most Enjoyable Things to Do in Tioman Island
In this beautiful tropical island, there are plenty of things to do for outdoor enthusiasts. You are sure to have an excellent time, no matter what activity you choose. Check out these activities that are worth a try.
Snorkeling
One of the best tourist attractions is snorkeling at coral reefs among fishes. There are many snorkeling spots all along the beaches and a great underwater life. You could join a tour to get the best snorkeling experiences, and many areas provide this.
Scuba Diving 
Exploration of the world underwater is always a fantastic adventure. Tioman Island has some of the best scuba diving places in the world. The marine life is abundant with coral reefs, sharks, turtles, and even shipwrecks with clear water to create the perfect conditions for diving. This activity is not very expensive and can be found at affordable rates. The best thing about scuba diving here is that it can be done even for beginners that do not have any formal training.
Hiking 
One of the best adventures in Pulau Tioman Island is climbing over a-kilometer-high above sea level in a day. Hiking through the tropical forest is very challenging but an amazing experience. This is an activity you could consider when you get tired of the all-water activities. You could learn more about the jungle plants and the wildlife when you have a local guide with you to help you through the trip. There are even shorter trails for you to try and hotels on the way for you to spend some time resting. On the hiking trails, you could see magnificent wildlife like exotic birds, monkeys, snakes, and bats.
Kayaking 
An excellent activity in the Perhentian Islands, kayaking is definitely worth your time. It is an exhilarating way to explore and soak in the beauty of the shores and beaches. It is also a nice physical exercise, and the adventure will give you more freedom to move around and explore the island. From Tekek, you could kayak to a popular snorkeling spot, the Pulau Renggis Island. Pulau Renggis is only a few hundred meters away from the island. You could ask the locals for the best place for kayaking and enjoy other water activities like surfing, swimming, and paddle-boarding.
With crystal clear water, superb white beaches, cascading waterfalls, and lush green forests, Pulau Tioman is a spectacular delight. With a secure platform like redBus, you are sure to have a hassle-free time while planning your trip. No matter what you need, redBus has it all! From online bus tickets, flights, hotels, and tours to attractions, you will enjoy the best of this paradise with redBus.