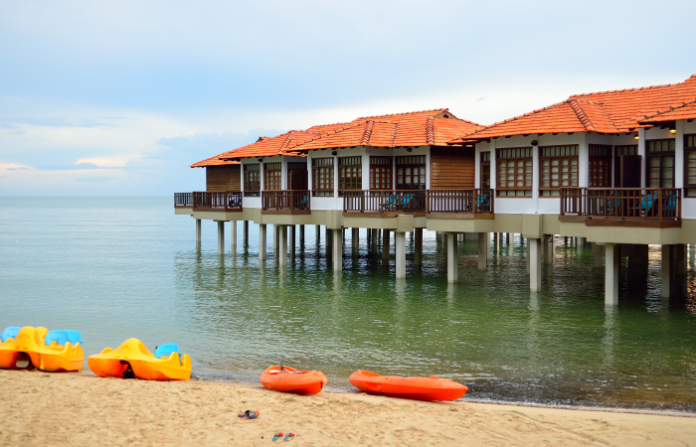 Port Dickson, situated in Negeri Sembilan, Malaysia, has always been a center for food enthusiasts, nature lovers, and adventure seekers from all around the world. With a serene atmosphere and magnificent sea views, it is filled with beautiful beaches that stretch for 18 km with casuarinas and palm trees embellishing the opulent shores. The town is also famous for its thoughtful and exciting attractions that many tourists enjoy. Activities in Port Dickson are endless, especially water sports activities like parasailing and jet skiing.
You may like: Malaysia weather in March
Port Dickson Attractions
Port Dickson spoils its visitors with incredible attractions and popular areas.
Fort Lukut 
Located a little away from Port Dickson beaches, Lukut is one of the first Port Dickson attractions you must visit. During the 19th century, this was a very popular mining area. During the mid-19th century, the place was overrun by the Chinese, who were all lured by the prospect of finding treasures. Fights were often between the various communities for dominating better mining areas. To keep this rising tension in control, Fort Lukut was built, which is a historical site worth checking out.
Muzium Lukut 
The museum in Lukut was established to preserve the rich history of the city along with all the customs and the cultures of Minangkabau, unique indigenous tribes. The museum is home to beautiful and exciting relics, including submerged battleships of the Dutch and artifacts from the Nassau.
Cape Rachado Forest Reserve 
Composed of both mangrove swamps and rainforests, the Tanjung Tuan is a coastal forest that covers many stretches of the seashore. The forest is also home to snakes, crocodiles, and giant lizards, which you could see swimming in the waters. You can book an online bus ticket for a tour.
Wan Loong Chinese Temple 
One of the most attractive and beautiful temples in this seaside city, the Wan Loong Chinese Temple, must be on your list. The temple is dedicated to the principal deities of the locals, the Monkey King and the Goddess of Mercy.
Activities in Port Dickson
Hidden in various Port Dickson attractions are enjoyable activities that are affordable and fun at the same time! 
Monkey Bay
For all the water enthusiasts of the world, this is the ultimate cloud-9 spot. The Blue Lagoon is the ideal spot for boating, swimming, water-skiing, parasailing, and windsurfing. Only about 500 meters away from the main parts of this Port Dickson beach, it is one of the best places in the town to see corals. In this secluded area, you could stay in little homestays, Port Dickson. 
Bukit Broga 
Also known as Bukit Lalang, this place is famous for its tall and lush green grass. It is a hill situated in Semenyih, close to Kuala Lumpur. It takes about 40 minutes to reach, and you can book an online bus ticket. With refreshing and amazing views, people love this attraction and enjoy hiking. The beautiful setting and the lush greenery are sure to melt anyone. 
Bagan Pinang 
The most important part of Port Dickson, Bagan Pinang, is where most of everything is available. Many hotels and resorts are located in this beautiful part of the town, making it a popular Port Dickson beach. You can also find charming homestays in Port Dickson at affordable rates. The best thing about homestays in Port Dickson is that they can be found in many parts and not just the crowded ones.
Teluk Kemang 
With coconut and casuarina trees, the souvenir shops and car parks, and the Port Dickson beach makes this a popular spot. The weekends are the busiest since the area would be buzzing with various activities and people. There are many water sports activities, also like jet skis, parasailing, and canoes. Instead of large hotels, you can stay in home stays in Port Dickson to explore the town like a local.
Night Market 
If you are not looking to go to trendy bars and bistros, then this is one night time fun you must not miss. The night market of the town comes alive with roasted corn-on-the-cob along with fantastic local cakes, fresh delicacies, and some of the best local foods. 
Shopping in Port Dickson
To get a hold of everything you need, head to the Central Market of Port Dickson. There are plenty of shops selling ornamental items, antiques, and household products. You can also use the food court  at the complex for tasting the town's culinary delights while window shopping.
A paradise on earth, Port Dickson would make an ideal vacation spot the next time you are planning a trip. Experience the best of this place by using redBus for booking online bus tickets, flights, and accommodation, ranging from luxury hotels to homestays in Port Dickson. Save more by using this safe platform and remain stress-free. Planning your vacation is now simple and fun with redBus.