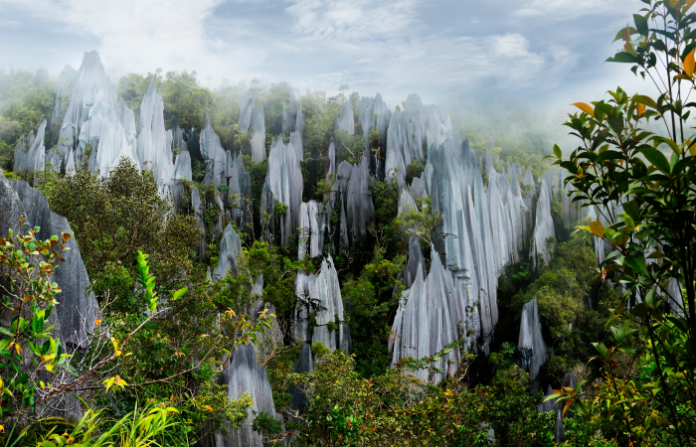 Malaysia is a perfect blend of stunning beaches, lush green rain forests, mountains, and much more. From Batu Caves to Mount Kinabalu, there are numerous natural wonders in Malaysia that are sure to mesmerize you. Let's learn more about some of the most beautiful natural attractions in the country:
Batu Caves
Batu Caves happens to be in the must-visit list of every tourist who visits Malaysia. It is located close to Kuala Lumpur, and you will easily find taxis and buses to Batu Caves.
Batu Caves are located in the Gombak district of Malaysia, and along with caves, you will find several temples and shrines here. The Batu Caves Temple is famous all across the world and sits atop 272 steps colored in myriad hues. 
Note: Batu Caves' opening hours are from 6 in the morning to 9 in the evening. 
Mount Kinabalu
Not able to climb to the Annapurna base camp? Try out Mount Kinabalu. Nature lovers are sure to fall in love with Mount Kinabalu. It is located on Borneo Island and is a world heritage site. 
Mount Kinabalu is the tallest mountain in the region, and trekkers and hikers will love to trek to the top. You can also choose to take a leisurely walk and explore the myriad floral species here. The view from the top of Mount Kinabalu is stunning.
Note: The best time for trekking up Mount Kinabalu is summer, as rains can ruin the experience.
Taman Negara
Any trip to Malaysia is incomplete if you don't visit its rainforests. Taman Negara is one of the oldest rainforests in the world and is spread over a vast area spanning three states. Gunung Tahan, one of the highest peaks of Malaysia, is located in this forest.
There is a lot to do here, and you will need more than a day to explore this place. From jungle trekking trails to river rafting, you will have many ways to experience the outdoors here. Make sure to take the 530 m canopy walk. 
Note: You can also opt for overnight stays in the jungle.
Cameron Highlands
If a visit to the rainforest didn't satiate your travel hunger, head to the stunning Cameron Highlands. The temperature dips to 12 degrees Celsius at night in this hill station. It will give you a break from the humidity of the lowlands.
The perfectly manicured tea plantations and strawberry farms where you can relish fresh strawberries with whipped cream and sugar will take you to a different world. Boh Tea Centre is one of the most picturesque spots in this area. 
Note: Make sure to visit the Rose Center also. Hiking up along paths lined with flowers and sculptures will be a different experience altogether.
Mulu National Park
Located in Sarawak, Mulu National Park is another natural wonder of Malaysia. Deer Cave, one of the most extensive cave passages in the world, is located here. Here, you will be able to see Abraham Lincoln's silhouette from inside the cave at a certain angle. If you visit during the afternoon, you will be able to see thousands of bats flying outside the caves. The beautiful pinnacles of Mount Api are located here, and the sight of these jutting out rocks is a treat to the eyes. 
Note: You will need three or more days to complete trekking up this mountain. This trekking trip isn't for commercial tourists.
Tusan Cliff Horse Rock
One of the hidden gems of Malaysia, the Tusan Cliff Horse rock, is unknown to most people visiting this country. You will find a beautiful horse-shaped rock forming an arch here on the seashore. It is located in Sarawak. 
Note: And, if you are visiting this part of Sarawak, make a trip to Miri and opt for a photography trip here.
Sipadan Island
One of the best dive spots in the world, Sipadan Island is the mecca for scuba divers. It is located in the Celebes Sea and is known for its marine paradise. The 30 acres of rainforest covering it adds to its natural beauty. 
Some of the famous dive spots are Mid Reef, Coral Gardens, and Barracuda Point. Turtle Cavern is one of the spooky places where, it is said, turtles come to die. One of the dives here has a drop of 600 meters. You can book resorts here that have dive schools. 
Note: Make your bookings early as only 120 permits are given daily to the tourists.
Best Time to Visit
December to February are the best months to visit Malaysia and explore its natural creations. You can also visit during the summer months though you need to be prepared to brace the sun and humidity. It is best to avoid Malaysia during the rainy season, especially when you have trekking and diving plans.
Malaysia is a beautiful city and has a lot in store for every kind of traveler. Plan your trips early and travel from one city to another on buses. Book them on redBus to grab great discounts and deals.
To know more about booking bus tickets online in Malaysia in Malay, please visit: Tiket bas online