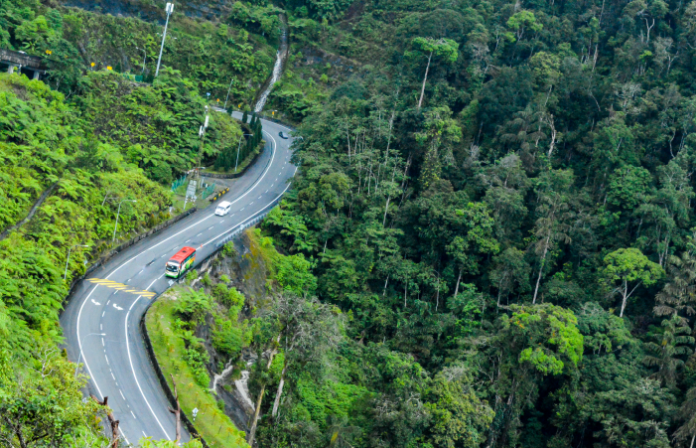 Kuala Lumpur has undoubtedly grown to become one of the most popular "travel-to" destinations in South-East Asia. Other than its high-end malls and flea markets, numerous theme parks, gastronomically delightful eateries, tall skyscrapers, and a very modern ambiance, tourists would do well to take a day trip from KL to the numerous near-by places if they truly wish to explore Malaysia.
Places to Go On a Short Getaway from KL
With cool temperature and abundant scenic beauty all around, the place should most definitely be on every visitor's itinerary while on Kuala Lumpur tour. Right from the misty Moss Forest, the Strawberry farm, the Time Tunnel Museum, the Butterfly Garden, Sam Poh temple to the beautiful tea plantations, a day trip from KL to the Cameron Highlands can pretty much cover everything.
A bus is the cheapest mode of transport and the travel time is between 3-4 hours. Terminal Bersepadu Selatan and Pekeliling Bus Station are the two pick up and drop off points in Kuala Lumpur. For Cameron Highlands, it is the Tanah Rata Freesia Bus Station and Terminal Cameron Highland. To save big on the online bus ticket, visit www.redbus.my.
Visitors on a Kuala Lumpur tour and visiting the Cameron Highlands would do well to stop over for a day at Malaysia's food capital and soak in all that Ipoh has to offer. At Ipoh, visitors can explore the limestone caves and cave temples. Art lovers can walk around the murals in the old part of the city.
There are several buses to Ipoh from Terminal Bersepadu, KL with boarding and drop points at TBS, Hentian Duta, and KL Sentral in Kuala Lumpur and Amanjaya Bus Terminal at Ipoh. For a heavy discount on bus tickets, go to www.redbus.my.
This short getaway from KL is one of the most popular places of tourist interest. The series of three limestone caves has a Hindu temple. The entrance of the cave has a tall statue of Lord Murugan with 272 steps leading to the cave temple.
From Kuala Lumpur, travel to Batu Caves by bus from the Bukit Bintang Kiosk, KL, either at 10 AM or 2 PM, with the return buses at 12 PM and 4 PM.
With its colonial-style buildings, vibrant trishaws, and rich history, the city has been given UNESCO World Heritage Site status. The city is especially busy on the weekends when tourists come to experience the famous Jonker Walk Night Market. Two of the most interesting things to do in Melaka are the boat ride along the river and the double-decker bus ride to all the tourist places in the city.
This short getaway from KL is just about two and a half hours by bus from TBS, Kuala Lumpur, with boarding & drop points at Melaka Sentral and Equatorial Hotel at Malacca. To avail discounts on bus tickets, go to www.redbus.my. 
A budget weekend getaway KL to Bentong is a must for visitors who wish to be away from city life. Amidst lush greenery and tranquil surroundings, a day trip from KL to Bentong is certainly a respite.
The town is most popular among tourists for its small eateries serving authentic local food and the Bentong Kolam Air Panas, a hot water spring.
With no direct bus from KL to Bentong, the best way to reach Bentong is to take the monorail from KL Sentral to Titiwangsa and then take a bus to Bentong from Terminal Pekeliling which takes about two and half hours. Visit www.redbus.my for discounted online bus tickets.
Though Kuala Lumpur is the capital of Malaysia, it's Putrajaya, which is the federal administrative capital. Therefore, visitors on a Kuala Lumpur tour should visit the city to explore some of its iconic landmarks like the Putra Mosque, the Prime Minister's office, the National History Museum, and the Putrajaya Botanical Garden.
For a budget weekend getaway from KL to Putrajaya, visitors should try a guided tour bus service.
With its Tudor-style architectural houses and cool weather, Bukit Fraser is a perfect short getaway from KL. Apart from visiting Allen's Water Reservoir for boating and fishing and taking a stroll in the forest, the place is popular in Malaysia for bird-watching.
Hiring a taxi for a short trip from KL to Fraser Hill can be expensive but the best way to get there. Tourists can also travel from Kuala Lumpur to Kuala Kubu Bharu town and get a taxi to the hill station.
Also known as the Berjaya Hills, Bukit Tinggi is popular for its European architectural buildings, castles, and the French-themed Colmar Tropicale resort. The other places to visit are the Botanical Gardens, the Japanese Village, and Animal Park.
From Kuala Lumpur travel to Bukit Tinggi in a private shuttle bus while on a day trip from KL. There are also direct bus services from KLIA2 to Bukit Tinggi for which discounted tickets are available on www.redbus.my.
Spread over three states, Taman Negara is the largest National Park in Malaysia. Home to numerous wild animals and many indigenous tribes, the main attractions of this tropical rainforest are the world's longest rope walkway, bird-watching, night hikes, overnight stay at the wildlife observation hides, and visiting the aboriginal settlements inside the forest.   
There is a direct bus service by Hans Travels from ChinaTown, Kuala Lumpur, to the entrance of the Park at Kuala Tahan. To save big on your trip, buy discounted bus tickets through www.redbus.my
The most popular place in a Kuala Lumpur tour itinerary would be a trip to the Genting Highlands. Known for its cool and fresh air, Genting Highlands is a great mix of strawberry farms, mountainous locales, hotels, casinos, malls, and one of the biggest theme parks in Malaysia.
Just an hour away, Genting Highlands is just a short trip from KL. Get an online bus ticket through redBus with boarding points and drop points from TBS and Pekeliling at Kuala Lumpur and Awana Bus Terminal at Genting.
As you can see, there are numerous places that you can choose to go on a day-trip from Kuala Lumpur. A road trip is the best way to explore the destinations around Kuala Lumpur, and for the best road trip, you can trust redBus. Visit www.redbus.my to grab a great discount and deals on your online bus booking.