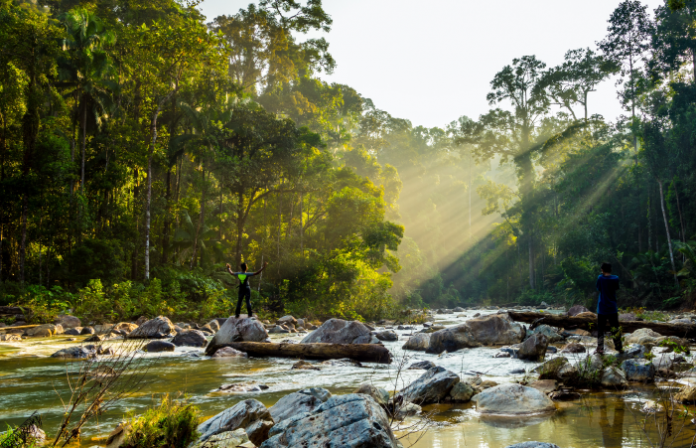 National Parks in Malaysia
Situated in dense tropics, Malaysia is home to over 30 national parks that are protected zones meant for conservation. These are also popular for eco-tourism that attracts thousands from around the world. From Kinabalu Park to Mulu National Park, here are some of the must-visit national parks in Malaysia that can be reached easily from cities. Getting to some of them is as easy as booking an online bus ticket on redBus and taking a comfortable journey from the nearest town.
1. Kinabalu National Park
The Kinabalu National Park, located in Sabah, is one of the most popular tourist destinations in Malaysia, not only for its diversity of flora and fauna but also its tallest peak, Mount Kinabalu. Kinabalu Park is also a UNESCO world heritage site. It is home to several botanical gardens and reserves.
You may like to learn about: Mount Kinabalu
What's Best
Mount Kinabalu is the center of attraction for tourists who come to climb the peak, which is over 4000m high.
Best time to visit
February to April is clear and dry to visit.
The best way to get to the Kinabalu park is to take a bus from Kota Kinabalu North Bus Terminal, Inanam, to any of the places such as Ranau or Sandakan and get off at the park entrance.
2. Tunku Abdul Rahman National Park
This one is a marine park located 4km off the shores of Kota Kinabalu and is made out of 5 islands close to each other.
What's Best
It is only a short boat or ferry ride away and is popular with tourists as it is well-known for sight-seeing, diving, and snorkeling.
Best time to Visit
The park can be visited throughout the year except during the hurricane season between November to February.
To get there, take a bus to the city center from the airport and then take the minivans that depart to Jesselton Point Ferry Terminal Kota Kinabalu.
3. Mulu National Park
Another Gem on Borneo Island is the Mulu National Park in Sarawak, which covers a total area of 528 sq km. The park is limestone karst formations that span in thicknesses between 4000 to 5000m and has the world's largest cave chamber, which measures 12 million cubic meters.
What's Best
On the surface, the pinnacles are stunning examples of weather erosion, and they are now on the UNESCO world heritage sites.
Best time to visit
It can be visited throughout the year. October- January are the wettest months.
The Mulu National Park can be accessed easily by airplane as it operates a small airport at the boundary. Going by land is challenging and is also pursued by some for pleasure.
4. Bako National Park
The oldest national park in Sarawak, Bako National Park, is home to every species of plant found on the island. The park is 23km north of Kuching, and tourists will have to take a short ferry to enter the national park.
What's Best
The ferry rides through waterways into the park! Troupes of Proboscis monkeys that live close to the headquarters of the park are always found by the visitors to be exciting.
Best time to visit
March to October is when it is clear for a visit.
The first leg of the journey is the 60-minute bus ride from Kuching to the Bako Market. A few operators service this route and can be booked on redBus. Alternatively, minivans can also be taken to the town before taking the ferry to the national park.
5. Taman Negara National Park
The Taman Negara National Park is one of the most intriguing forests in all of Malaysia as it is also the world's oldest rainforest. It is spread across 4,344 sq km and is estimated to be about 130 million years old!
What's Best
Its popular activities include caving, trekking, canopy walking, and more.
Best time to visit
February to September is the dry season and good for a visit.
Getting to this national park Malaysia is a multi-leg journey and is only done by bus. Express bus can be booked online from Kuala Lumpur's Titiwangsa's Pekeliling Bus Terminal to Jerantut. From here, another bus will have to be taken to Kuala Tahan Village to get to the park.
6. Niah National Park
The Niah National Park is just as fascinating as the last one as it is home to cave systems that sheltered early humans as far back as 40,000 years!
What's best
An important archeological site in the middle of dense forests, this national park should definitely go on the must-visit places.
Best time to visit
March to November.
The park can be reached by both taxi and bus. There are frequent buses from Miri City that go to the Pujut Corner Bus Terminal, which can be booked online. From here, any other bus that goes to Kuching, Sibu, or Bintulu pass by the national park.
7. Penang National Park
The Penang National Park is a hotspot for biodiversity while also being a fun place for all visitors with its range of activities that include treks through the forest, boat rides, canopy walks, camping, and more.
What's best
Being a calm island, it has less tourist density and a great place to find deserted beaches and camping sites.
Best time to visit
March to November.
The cheapest way to get to the national park is to take the bus from Georgetown to the national park.
Malaysia's national parks are world-renowned and unique in what they have to offer. To plan a visit and enjoy all it has to offer, book your journey with redBus.