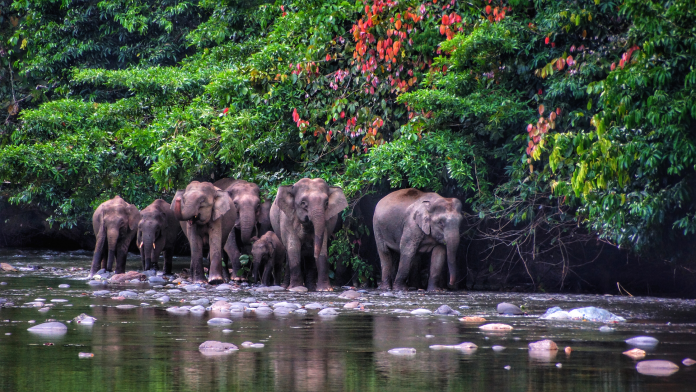 The Danum Valley is located in Sabah, Malaysia. Danum Valley Conservation Area is a 130-million years old forest flocked by visitors from all over the world but still remains original and unspoiled. The conservation area is a refuge for several endangered flora and fauna, including the bay cat, Bornean Gibbon, hairy-nosed otter, orangutan, otter civet, proboscis monkey, pygmy elephant, sun bears, etc.
What to Expect on Your Danum Valley trip?
The Danum Valley Field Centre here is famous among the scientists and researchers who constantly visit for study. The research facilities have gained popularity ever since the Borneo Rainforest Lodge was established in 1994, a sustainable hospitality service provided inside the conservation area.
The facility is open on all days. You can choose the number of days you want to spend here. People often spend 3 days 2 nights or 4 days 3 nights. Different types of rooms are available.
The weather here is often hot and humid with occasional exposure to the sun. The expected temperature is 28-34 degrees Celsius. Rainfall is common here, so having an umbrella or raincoat would be handy. You may find umbrellas at all chalets.
Find a tour guide!
Once you are in the Danum Valley, you will need the assistance of a guide to move around. Though there are guides available here, it is better to arrange for a private guide to help you save time.
Appropriate clothing
The area is known for mosquitoes, so you must carry proper insect repellents to keep them away. Wear long-sleeved cotton clothes, and cover your legs as well. Though the threat of malaria is very slim in this area, it is better to be cautious.
Footwear should be waterproof hiking shoes as they will suit the terrain. It's better to avoid rubber shoes as they can be unsuitable for longer treks and will not give a proper grip.
Beware of leeches!
The brown leeches and tiger leeches are a common menace in Danum Valley. Tiger leeches are found on leaves while brown leeches will crawl on the ground. You can find leech-proof socks at the shop here so make sure you have a pair ready.
Also, note that these socks are not 100% shield against the leeches; you may still get bitten. If it happens, just flick them off your body or carry a salt shaker to remove them quickly. Interestingly, you can get a 'Blood Donor Certificate' at the reception desk, for a nominal fee, in case you get bitten by the leeches.
Danum Valley accommodation
There are three facilities available inside the Danum Valley Conservation Area for accommodation.
Borneo Rainforest Lodge Danum Valley is the option for tourists. There are different types of chalets, from standard to premium deluxe ones. It is easier to go to the canopy walk from the lodge or for any other activities. As they have a capacity of only 70 visitors, it is important to book the rooms well ahead.
Danum Valley Field Centre is open to researchers and scientists. It has living quarters, dorm rooms, and campgrounds for staying. The facility includes laboratories, conference rooms, and a cafeteria.
INFAPRO, which is near the gate, is often used as an alternative option when the Field Centre is full. The facilities include single beds, hot water, AC, and electricity 24 x 7.
Things to do at Danum valley
Danum Valley canopy walk is the best thing to do here. The canopy is 300 m long and 27 m high, giving an uninterrupted view of the breathtaking rainforest millions of years old. The canopy has three intersections as well.
Wildlife Safari by walking
Coffin trail hiking is another popular activity. You hike the trail to see orangutans in their natural habitat. As the trail ends at an ancient burial site, it is called the Coffin trail.
You may be interested in reading – Top 5 Ecotourism Destinations in Malaysia
How to reach Danum Valley?
The bus routes are well-connected throughout Malaysia, making it easier to visit any place. You can use redBus to book your bus ticket online in minutes. However, if you are looking to reduce the transit time to Danum Valley, you can book flights or buses from Kota Kinabalu to Lahad Datu. From there, you will travel by road for about 2 hr 30 mins (approximately 80 km) through the jungle to reach the Danum Valley. Again, you can book shuttle bus services that operate locally. The first few kilometers will be via a highway, and then a detour towards the jungle.
Book buses from KL Sentral to KLIA on redBus to save on costs for your trip.
Best time to visit Danum Valley
Since the valley is expected to be wet throughout the year due to humidity and rain, you should choose a 'dry' season that is from March till October. This time will be more comfortable, weatherwise, and a better time to spot the wildlife.
If you are more into treks, visit the Valley between April and August. For wildlife spotting, May – August is the best season, where you can go off to a wildlife cruise adventure into Sandakan and the Kinabatangan River. Keep your eyes peeled for for pygmy elephants, proboscis monkeys, hornbills, gibbons, and definitely a lot more orangutans.
To know about booking bus online in Malay, please visit – Online Tiket Bas