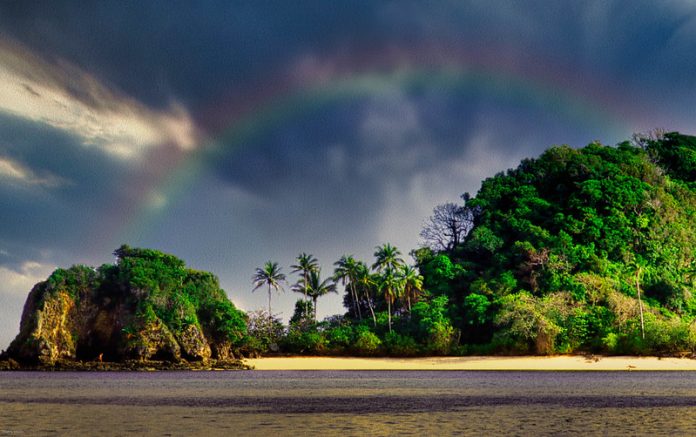 Kapas Island is a charming little paradise off the Maranag coast on the eastern side of Peninsular Malaysia, in the Kuala Terengganu state. This island is not among those frequented popular ones in Malaysia, but it is an inviting destination that gives you peace when you need it or comes with various water sports activities for entertainment. Complete with provision for accommodation and different options for everyone's taste of vacation, this Island is among those destinations in Malaysia where you will never regret visiting.
Do you want to know more about this island? Here is all the information that you would need to plan your trip here.
What to expect at Kapas Island?
Kapas Island is otherwise known as Pulau Kapas which means Cotton Island because of its snowy white sand on the shores. The seawater here is crystal clear which often reveals much of the underwater world during low tides.
The island itself is smaller in size when compared to the other islands in Kuala Terengganu. The place will be buzzing with activity as many resorts and some tourists are roaming around the island, going trekking, diving etc. This is not a crowded island, making it perfect for a quiet vacay. This is a place where solo travellers prefer over other crowded beaches.
What to do here?
Kapas island activities are not limited to enjoying the beaches and indulging in some water sports activities. They include trekking, hiking, sea diving, snorkelling, etc to be enjoyed.
Snorkelling
The crystal clear water makes a wonderful opportunity for snorkelling but the coral life makes it difficult for all. The problem of not getting fins for rent can be a hindrance, especially for those who are new to swimming. While you may be able to enjoy the underwater life, it is essential that you not make any damages to them, specifically on the Kapas coral beach area. Keep in mind that the low tides make it easier to spot the corals but carelessness can cause damage to them.
Diving
Although not very popular, there are areas from where you can go scuba diving. Such opportunities come as part of day trips and are often done off the coast.
Hiking
There is an opportunity for a shorter but tough hike which will lead you to a stony beach that happens to be on the other side of the beach from where you would start. This journey can be tiring but a good opportunity for adventure seekers. It is also one way of going around this island as there are no other modes of transportation available.
Beach volleyball
Volleyball is the national sport of Kapas Island and you can find courts in two of the resorts here. There are permanent volleyball courts where available and they often have a game going on. It is not an official match and you could join the teams if you want. It would just be a friendly match and anyone can join to play for a while. Since the courts are part of the resort, outsiders may not get this opportunity, only the inmates can take part.
Enjoy the beach
If you are not interested in any of the other activities, you could simply choose to stay on the beach, enjoy the waters, hang out under the shade, and catch up with your book. Kapas Island gives the wonderful opportunity to witness the sunsets. The ambience and the hue during that time are truly mesmerising.
Keep in mind that applying sunscreen is necessary to keep your complexion intact. Another thing that you should not forget is mosquito repellent as they can attack you towards the evening time.
How to reach Kapas Island, Malaysia
Being an island, the only way of reaching here is by taking a boat from the Merang Jetty. You can get a bus to Merang Jetty from major cities in Malaysia such as Penang, Kuala Lumpur, etc. Two bus operators are operating to and from this destination. You can reserve the bus online tickets through various portals at discounted rates. The online bus booking services provide both direct and indirect buses to Merang Jetty.
The boat services are available from 9 am towards the island, till 5.30 pm for the return trip. There is a regular but limited number of services, every day. The average ferry ticket rate for the trip would be RM 45 for a round trip.
Stay and food
As for the stay, there are not many options but there are a few resorts where you can find accommodation. Most of the tourists, both local and international, choose a day trip here or a weekend getaway. So the facilities available on the island can be minimal but just adequate.
There are a few options for food and snacks available on the beaches, but they do not have extensive options. There is no way of getting booz either. If you can, it is better to bring in your snacks and refreshments and enjoy the picnic in this serene space.
Best time to visit Kapas Island
Kapas Island will be closed to the public during the monsoon season, which happens to be from October to February. Even the staff from the resorts would move to the mainland as the monsoon can bring extreme weather conditions. The island generally has a tropical climate. The best time for a visit happens to be from April to August, when the weather is pleasant and tolerable.
Concluding notes
Kapas Island is a less crowded island where you can enjoy some quiet time away from city life. This is preferred as a weekend getaway by Malaysians, so it would be a better idea to visit here during the weekdays to reduce the crowd further. Make sure to book the online bus tickets and the ferry tickets with enough buffer time in between. Also, keep in mind to dress comfortably, but modestly, for the sake of the locals. Just a day or two may be sufficient to see this island, but if you want to spend some more time, Kapas would be worthy enough.