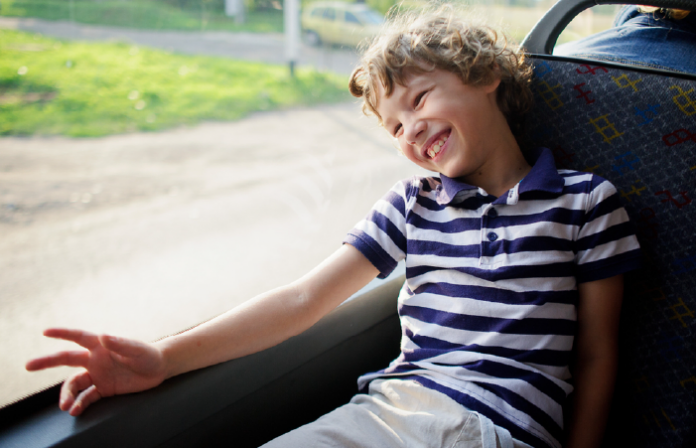 The world is slowly getting back to normalcy with the after-effects of the pandemic. Now that the public transport systems are open in most parts of the world booking bus tickets online is the right thing to do.  
Online booking used to be a convenient and time-saving method, but now it has become a necessity where people go completely contact-less. Right from the booking to showing the e-ticket before boarding the bus, online booking has found new meaning by helping you maintain the necessary distancing from one another. 
Benefits of traveling by bus in Malaysia
Malaysia is famous for its wider network of buses that connects almost all parts of the country. There are several options for bus services with numerous operators. Buses are available for travel within the country as well as to the neighboring countries. In fact it's the most popular option for transportation in Malaysia for locals as well as for tourists. 
Here are the reasons why it is popular and why you should be choosing it over cabs or train journey. 
1. Economical: Bus journeys are cheaper for all public transportation services available. Ticket rates are varying according to the service operators but still way more economical than the other options. With multiple operators, there are more than enough options to choose from. Most importantly, The Malaysian bus online booking services are up to date and most practical under the circumstances.  
2. Buses are more frequent: The vast number of bus operators in the cities and bus services' frequency is very short. One could find a bus to a particular destination even within 5 minutes gap. This saves time and allows you to board a less crowded bus when possible. Since social distancing is mandatory, this is highly advantageous. 
3. AC and Non-AC options: Bus operators provide the option of AC or non-AC buses for long journeys. One can easily choose the most suitable option. You can book any of these options through redBus online portal or app. 
4. Best option to enjoy the country: At the moment, tourism may not be at its best, but that shouldn't stop you from enjoying the landscape and nature. A journey by bus allows you to enjoy nature far better than going by train. If you need some quality time away from the stress of life, get on the bus for a change. Not only is it available for travel within the city but also for inter-state journeys a swell. 
Apart from these reasons, you will also get different options or types of buses that you can choose from.
Buses in Malaysia
The standard buses are the most economical since they are cheaper but with less luxurious options. There are smaller in size and space but can take you from point to the other. 
The economical buses are just one step ahead with more space but too luxurious. 
The executive buses offer more options with amenities that include more leg space and luxurious seats with entertainment options such as LCD screens. The luxury buses also have their own hierarchy with an added number of amenities. 
Almost all kinds of these buses have online booking facilities so that one can choose their bus rockets according to their taste, budget, and comfort. The redBus tickets for bus online are available from all locations in Malaysia to any other location in the country. 
Traveling from Singapore to Malaysia
Buses ply to their neighboring countries such as Singapore and Thailand as well. 
These inter-state buses are in high demand as people are returning to their respective homes or offices after their restrictions were lifted. 
With the festive season and holidays will be arriving sooner, people are making plans to have a better time. The online booking of buses allows them problem-free booking and get the tickets in advance. There are plenty of options for booking a Singapore ticket for bus online, and the redBus is one of the most popular and popular options. 
Tips for traveling during the pandemic
As per the latest reports, there is a third wave of pandemic attack, which is mostly centered in Sabah and Kedah. The officials advise travelers is to avoid these areas.
October to December is the monsoon in Malaysia, so you need to have proper precautions while traveling at these times. Better to carry some kind of protective gear handy.
Malaysia is a tropical country, but the long journey buses are most likely to be air-conditioned, so it is advised to have a sweater or something to keep you warm. The buses are unlikely to provide the same at this time.
Make sure that you carry your masks, gloves, hand sanitizers, etc. with you. It is also recommended to have other necessary items such as water and food items along with you.
Avoid traveling if you are sick. It's your duty to protect yourself and others during this pandemic. Although public transport is enabled during the latest Conditional Movement Control Order (CMCO) in many parts, it is better not to venture out other than it is absolutely necessary.
Be aware that the inter-district travel may be affected due to the restrictions till the end of October. So leisure trips are not advisable or allowed at this time.
Conclusion
Pandemic has brightened the world to a stagnant state where there is only a handful of back to normal activities. Travelling is also not up to its fullest. With the restrictions back in the country, online bus bookings seem to be the best bet if you are unable to travel right now. 
The online portals are easier to access, and you can get back on the road at the earliest when the restrictions are lifted. These websites and apps allow you to choose an operator who offers cancellation or rescheduling facilities. Choosing the appropriate service providers can save you time and money in this needful hour. 
Just make sure that you avoid any unnecessary travels to avoid any personal exposure and travel only in emergencies.