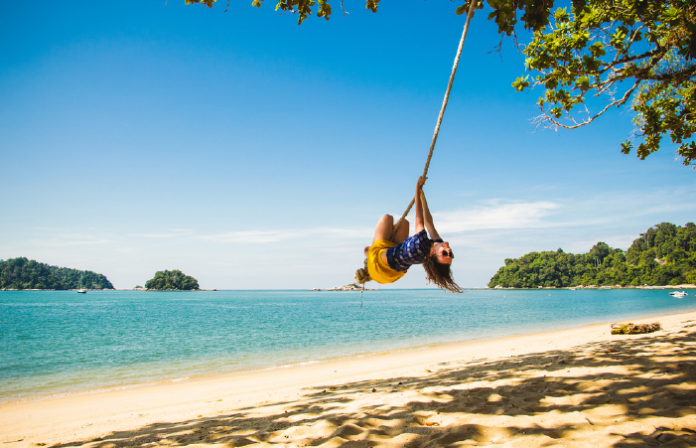 Some of the best short getaways in Malaysia allow the locals to take a break from their busy lives and enjoy some moment of serenity. Places like Putrajaya, Bentong, Kuala Selangor, etc. make up for some of the best short getaways from KL, the capital city of Malaysia. Malaysia has some of the best tourist destinations to offer in the Southeast Asian region. There are plenty of underrated destinations that have not been fully explored by the tourists but are quite popular among the locals.
The COVID-19 pandemic had brought things to a standstill as most nations had imposed a lockdown restricting all kinds of travel. The gradual opening of cities and the removal of lockdown restrictions has brought immense joy for the locals in Malaysia. Being locked inside closed doors has made us realized the importance of nature and travel in our lives. Here is a list of some of the best short trip ideas for the localities in Malaysia to unwind after the lockdown.
Teluk Senangin, Perak
The first one in the list for short trips is the Teluk Senangin in Perak. The Teluk Senangin beach is widely popular among the locals; it is also one of the most underrated places in Malaysia that has not been quite fully explored by the tourists. It's located around 30KMs far from the Sitiawan town. A turtle conservation centre is also present near the beach for the marine-life enthusiasts. You can also observe some fishing competition programmes near the beach. The Teluk Senangin beach hotels offer a luxurious experience to the visitors.
You can easily travel by bus by booking a ticket for Kuala Lumpur to Teluk Senangin route.
Balik Pulau, Penang
Balik Pulau is located near the southwest region of Penang Island. Balik Pulau has some of the most popular tourist destinations to offer and is a gem for nature lovers. From sheep farm to horse farm and cardamom factory there are a lot of surprising places that Balik Pulau has to offer. It is quite popular among those who want to enjoy horse riding in Malaysia. It even has a Hakka cottage for food lovers who can enjoy the best traditional Hakka delicacies
One can easily find a bus from George Town to Balik Pulau and reach this beautiful place without spending a huge chunk of money.
Sungai Lima, Selangor
If you are looking to take a break from your hectic schedule and enjoy some moments of pure bliss, then Sungai Lima is your answer. It's one of the most beautiful places that will keep you mesmerized with its natural charm. This place has a rustic charm and has a rich tradition. It is also popular for being a fishing village that follows the traditional lifestyle. You can visit fish farms, temples and street art or you can just visit around the place and enjoy the serenity.
One can easily book a bus from Kuala Lumpur to Pulau Ketam by redBus and reach this hidden gem.
Cameron Highlands, Pahang
Cameron Highlands is among the most popular and scenic hill stations in Malaysia. Tea fields, strawberry farms and many breath-taking natural wonders are what this beautiful place has to offer to the visitors. You can even get a strawberry spa treatment in Cameron Highlands. It doesn't get better than this. It's a real treat for nature lovers and serenity seekers. You can even book luxury resorts in Cameron Highlands and enjoy quality time with your friends and family.
Cameron Highlands is very well connected through the bus transport network. You can easily get a bus from Penang to Cameron Highlands or Kuala Lumpur to Cameron Highlands.
Kanching Recreational Forest, Selangor
If you are looking to enjoy some quality time in the arms of nature, then there's nothing better than the Kanching Recreational Forest in Selangor. One can visit this place with friends and family and enjoy the famous seven-level waterfalls. You can even go for hiking in the Kanching Recreation Forest. It is in close vicinity to the popular cities in Malaysia, which makes it a famous place for a short vacation in Malaysia. One can go for a picnic, campaign, jungle walking, etc.
You can easily book a bus from Kuala Lumpur to Rawang to reach Kanching Recreational Forest easily within a budget.
Semenyih, Selangor
Semenyih makes for another popular short trip Malaysia ideas. It is one of the most preferred options among hikers who want an adventurous trip. The sunrise at Broga Hill is not something that you would want to miss. It is also very suitable for photographers who want to capture some rustic nature pictures. It is quite popular among the young population and is a famous short getaway in Malaysia for couples.
You can easily reach Semenyih by booking a bus ticket online from Penang to Kajang using redBus.
Gemia Island, Terengganu
Pulau Gemia is situated on the east coast of the Malaysian Peninsular region. Gemia Island is one of the most underrated and lesser-known tourist spots in Malaysia that offers a memorable travel experience. Imagine the perfect weather and the perfect natural place; this is what you will get every day at Gemia Island. The best part about this place is that it is not crowded at all, which makes it the best spot for those seeking solace and serenity in nature.
One can easily book a bus from Kuala Lumpur to Marang Jetty using redBus and reach Gemia Island comfortably.
Fraser's Hill
If you are a nature lover and wildlife enthusiast, then Fraser's Hill is the most suitable short getaway from KL in Malaysia. It has the most popular hiking trails, including Bishop Trail, Mager Trail, etc. This place is situated near the Pahang village and offers the colonial cottages inside the jungles. Food lovers can enjoy a hearty meal at the famous Ye Old Smokehouse.
One can easily reach Fraser's Hill by booking a bus from Kuala Lumpur to Raub using redBus.
Bentong
Bentong is located in the western Pahang region of Malaysia. The Colmar Tropical French Themed Resort is one of the most popular places among the locals and tourists alike who visit this place to have a glimpse of this traditional architecture that was built around the 16th Century. One can also visit the Chamang waterfall near the Bukkit Ting Forest reserve in Bentong.
One can easily find a bus from Kuala Krai to Bentong using trusted service providers like redBus.
Taman Negara
Taman Negara is one of the best options for a short getaway in Malaysia. It is the largest national park in Malaysia that also has the highest summit called Gunung Tahan within its mountain range. It is more than 130 million years old and offers plenty of activities for a 3 to 5 days short vacation in Malaysia. Some of the most popular activities offered include canopy walk, trekking, river rafting, fishing, night safari, etc. Foodies can even enjoy sumptuous meals on the floating restaurants that offer local delicacies.
You can easily take a bus from Kuala Lumpur to Kuala Tahan to reach this place easily.