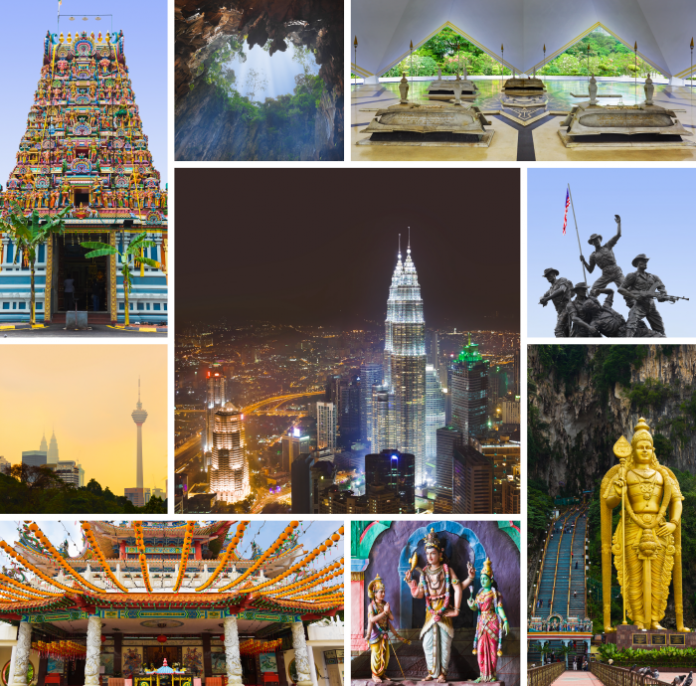 Kuala Lumpur is the national capital and one of the largest cities in Malaysia. Tourists plan their trip for soothing vacations in Malaysia and generally try to club the same with a trip to Singapore. There are several places to see in Kuala Lumpur that look like heaven on Earth. The city is the center of Malaysia for cultural, financial, and economic abundance. 
Tourism has grown because of the number of attractions and activities here. Many travel across the world for their passion for such outstanding places. It is also effortless to travel within Kuala Lumpur because of its sound transportation system.
Here are the most recommended 8 places you have to see when in Kuala Lumpur:
Petronas Towers
If you are in Malaysia, you must visit Petronas towers located in Suria KLCC. It is one of the most iconic sights in the entire world. Such tall twin towers are unique, and the architecture is marvelous and worth praising. The breathtaking view of the whole city of Kuala Lumpur is admirable from here. 
The functional timings of the Petronas Towers are between 9:00 am and 9:00 pm, and it stays closed on all Mondays. To avoid long queues, you purchase online tickets. The best mode of transport to reach the tower is by taxis, which operate on a fixed fare system. One can easily opt for trains, metros, and buses through www.redbus.my
Sri Mahamariamman Temple 
Sri Mahamariamman Temple, constructed in the 19th century, has a vibrant and colorful façade of features. It is in Jalan Tun S lee, City Centre, 500000. The temple is open to welcome visitors from 6:00 am to 12 pm and 4:30 pm to 9 pm on all days of the week except for weekends when it is closed. Walking, metros, buses are the best modes to reach the temple, depending on your preference. The entry to the temple is free on all days. 
Golden Triangle
Golden triangle is in Jalan Ampang, 50450 Kuala Lumpur, Federal Territory. It is best known for the most exceptional nightlife in Kuala Lumpur. The best bars, clubs, restaurants, hotels, and shopping centers are situated here. It is open 24×7 throughout the year. It is Malaysia's hub for shopping and entertainment. Many rapid buses and trains go to the Golden Triangle, making it easy to travel here. For the best nightlife experience among all 8 places you have to see in Kuala Lumpur, the Golden Temple stands first on the list.
Buddhist Temple
Another stunning place is a Buddhist temple with Confucian, Tao, and Buddhist decorations. Kuala Lumpur is famous for Buddhist temples and their spiritual solace. The most famous temples are Thean Hou Temple, Wat Meh Liew Buddhist temple, and Sri Jayanti Buddhist temple. To experience different cultures, you must visit these temples. 
The entry to these temples is free. You click plenty of photographs to cherish your travel diaries. Travelers can find hidden treasures of beautiful, colorful, and relaxing views at the stunning Buddhist temples. 
KLCC Park
A trip to Kuala Lumpur is incomplete without visiting the KLCC Park, an urban park in Jalan Ampang, 50088, Federal Territory. The greenery of this park is admirable and eye-catching. It is immensely peaceful with a large lake, fountain, and water shows organized twice a day. Kids would enjoy playing here. The park covers 50 acres of area, and it was created in 1998. It is open for visitors throughout the week from 7:00 am to 10:00 pm. The most exciting part of this park is that it has a water-park too, along with many shopping centers. The entry to the park is free for all. 
Batu Caves
You should hike to the Batu Caves to experience the view from the cliffs which have carved cave temples. The caves are situated nearly 13 kilometers from Kuala Lumpur. There are 272 steps to reach these caves, and entry is free. However, there is a minor charge of nearly 33 RM per person to enter the dark caves, which includes a guide, helmet, and a flashlight. We recommend you to avoid skimpy clothes here.
National Mosque
Another beautiful destination to add is the National Mosque, which has Islamic architecture. It is an enormous mosque where nearly 15,000 worshipers worship together. One should be vigilant to ensure wearing appropriate clothes before entering the mosques. The place is so beautiful that it can leave you mesmerized with its structure. The roof is beautiful, made in the shape of a sixteen-pointed star. 
Istana Negara
Visiting Istana Negara in Kuala Lumpur will enlighten you about the royal history of the city. We recommend you to opt for guided tours. It is designated as an imperial museum where visitors can learn about the royal history, architecture and royal guards. The official ceremonial traditions are essential here. It is open for all 24 hours every day. 
A 2-3 days trip is more than enough to visit the entire Kuala Lumpur. It is one of the most modern and exotic cities. Just after the rainy season, from February to September, are the ideal months to visit Kuala Lumpur as the weather is pleasant. 
For online booking, reservations, changes, and easy cancelation, redBus is the perfect option. The customer service is available 24×7 on redBus, and the staff are we trained. All the 8 places you have to see in Kuala Lumpur are well connected and linked to each other. You can book bus tickets online on www.redbus.my for a comfortable journey.