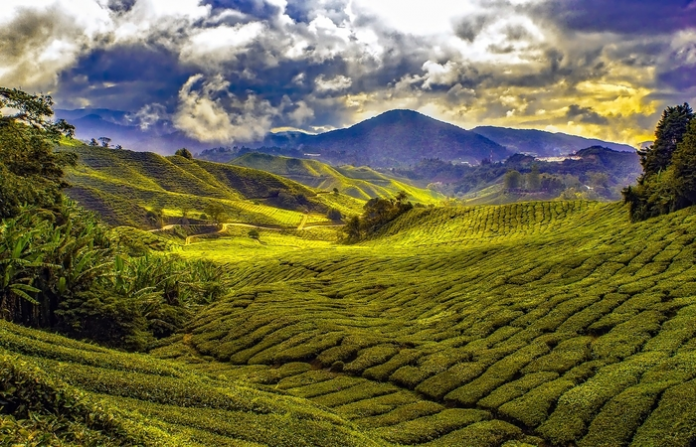 With clear blue skies and panoramic landscapes, March is an ideal time to visit Malaysia for those who love the sun. Pristine beaches, dense rainforests, colonial buildings, iconic Petronas towers, and more welcome you to the magic that is Malaysia! Vibrant nightlife, delightful cityscapes, and sunny Malaysia weather in March make this Southeast Asian country a dream holiday destination. The sparkling sunbeams of March make it perfect for beach lovers to catch some tan and relax in the sun. So, if you're planning for a March Malaysia trip, redBus brings some essential points to jot down!
Malaysia Weather in March
Malaysia is a year-round destination. The weather in Malaysia is hot and humid, with tropical rain showers at any time of the day. March to May is enjoyable with mild winds and beautiful spring season. If you are looking to travel in March, Malaysia is at its beautiful best in terms of weather and various events and festivities.
Average Temperature: Average high is 32 degrees Celsius while the average low is 22 degrees Celsius.
Precipitation: Rapidly increasing wet days
Clouds: 75% to 83% clouded skies
Rainfall: 6.5 inches on an average
Humidity: Dew points vary significantly between day and night
Sun: Longer days with almost 13 hours of daylight
Wind: 0.2 miles per hour of 3.7 miles per hour
Best Places to Visit in Malaysia in March
Malaysia has plenty of attractions to keep you enchanted. If you are planning to go for a Malaysia vacation in March, ensure that you visit these locations among the many places of tourist interest.
Penang
The pearl of the Orient is famed for soft sandy beaches, cheap shopping, and good food. The architectural beauty of the temples blends well with the modern marvels. Penang weather in March ranges between 24 – 32 degrees Celsius with the chances of light showers. The seawater is comfortably warm to take a dip and enjoy water sports and activities.
Kuala Lumpur
The fascinating capital city of Malaysia is a blend of modern and ancient. From iconic Petronas to ancient Batu Caves and shopping at Bukit Bintang to world-class pubs, Kuala Lumpur has it all. The average Kuala Lumpur weather in March is pretty comfortable with temperature during the day ranging from 32 – 35 degrees Celsius and night temperature ranging from 22 – 25 degrees Celsius.
Port Dickson
Tranquil sunny beaches and natural landscapes make this port town a wonderful escape from the hustle-bustle of the city. Recharge and rejuvenate as you spend time basking under the sun or indulge in fun water activities.
Mount Kinabalu
Experience the adventurous side of Malaysia with beautiful mountains on every horizon. Enjoy the breath-taking views of the city and explore flora and fauna around. The picturesque locales are perfect for hiking, trekking, rock climbing, mountaineering, and other outdoor adventures.
Special Events and Festivals in Malaysia In March
With people of many faiths and ethnicity making Malaysia their home, there are many exciting festivals celebrated all year round. March has some interesting celebrations. 
Cosplay Festival
Cosplay Festival is celebrated in the 3rd week of March. Organized by the Cosplay community, the carnival attracts enthusiasts from all over the world. There are various competitions, numerous sports activities, photography contests, skits, exhibition booths, and more.
Putrajaya International Hot Air Balloon Fiesta
Check out the colorful skies as numerous balloons in different shapes and sizes float up and fill up the blue. The view gets magnificent on starry nights with the bright sparkle spreading all the way till horizons.
Holi
The Indian festival of colors is celebrated in Malaysia with great fervor and enthusiasm. Soak yourself in the spirit of this festival of love and witness the beauty of the same.
Besides these major festivities, you can also mark your calendar for the Asia GT Festival, Rockaway Festival, Pasir Gudang World Kite Festival, International Oriental Dance Festival, Wired Music week, Malaysian festival, Sakura Matsuri and more.
Travel Tips for March Malaysia Trip
Book your travel tickets and accommodations well in advance to avail best offers and avoid last-minute hassles. Always double check your reservations. 

Check with your hotel on rental taxis or group tours. Explore options available online and compare the prices for the best rates.

Prepare a wish-list and chalk out a basic itinerary to get an idea of how your trip will unfold. Make sure you keep time for shopping, exploring local markets, check out culinary hotspots besides the must-visit destinations.

Pack your clothing according to the weather. Do not carry too many items as you will need space in your bags to pack all the shopping you do in Malaysia.

Carry all your essential documents like passport, visas, travel tickets, identification, currency, emergency contacts, mobile phone, charger or power bank, etc. on the person all the time. Keep a soft copy stored on mail or google drive for emergencies.

Do pack swimwear for your coastal expeditions. An umbrella or rainwear comes in handy as March is relatively a wet month. 

A good sunscreen, scarf or hat, and a pair of sunglasses, beachwear slippers, and sports shoes are must-pack essentials. 
If you're looking for where to take your kids to in Malaysia, check this out!
Traveling in Malaysia
Public Transit options in Malaysia are reliable and inexpensive. MRT, buses, taxis, self-drive vehicles are readily available. Following are some of the popular bus routes from Kuala Lumpur, the capital of Malaysia: 
You may also like: Bus Travel in Malaysia – Why is it Important?
redBus ensures that your trip to Malaysia is a memorable one. Book your online bus tickets to almost anywhere in Malaysia on our user-friendly website or mobile app. Avail great discounts and get good deals on your ticket booking. Explore the best of Malaysia with redBus this March!