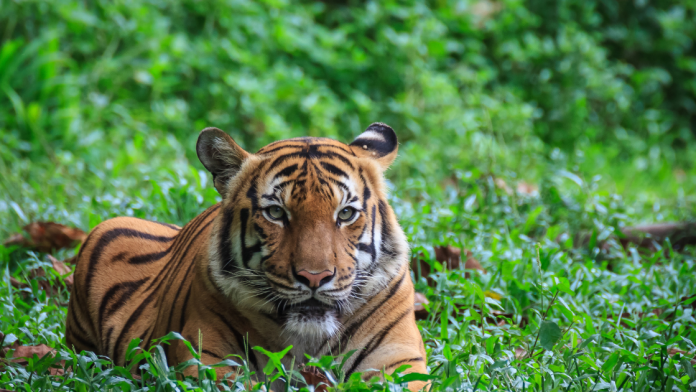 Malaysia is home to many species of flora and fauna. With rainforests that are hundreds of years old, this country is one place where you can see rare and endangered animals, birds and plants. Many people visit to witness the fascinating wildlife in Malaysia.
Here's a list of the various wildlife you can see in Malaysia.
The Malayan Tiger is the country's national animal, but due to deforestation and climatic changes, it is quickly becoming an endangered species in Malaysia. It is mostly found in the central peninsular regions. The striped tiger is also known as harimau belang by the locals.
Being the smallest hoofed animal in the entire world, the mouse deer grows to be about 45 centimetres and weighs around 2 kilos. This animal is found in eastern and peninsular Malaysia and is one of the most talked-about wild animals in the local folklore.
It is also known as the crab-eating macaque due to its diet preference of mainly plant-based food, crabs and crustaceans. These can be found near temples in Malaysia. The species are known to be smart and sneaky and can easily steal food and items from tourists.
There are plenty of native hornbill species in Malaysia like the Great Hornbill, Black Hornbill, Rhinoceros Hornbill and more. They are usually found in the eastern and Peninsular Malaysian regions.
Impeccably smart, the Bornean Orangutan was considered another tribe of people by the indigenous locals because of how they behaved. Even studies have said that this wild animal is the closest to humankind in behaviour. They are found in large numbers around the tropical forests of Malaysia.
These big, beautiful moths are the highlights of Malaysia's dry tropical forest and eastern regions. With their brown, black, purple or sometimes red hues, they attract the attention of any traveller.
They are named so because of the loud barking sound they make to ward off predators. If you're visiting the Taman Negara Rainforest, you can see many of these in their natural habitat.
Like the sloth, slow loris gets its name from its slow movements. But beware! Their bites are poisonous. Also, since they tend to lick their hands, touching a slow loris can be dangerous.
Sun bears are like the cartoon characters depicted in Winnie the Pooh or Mowgli. The bears love to lounge in the sun, have honey and nap. It is also the smallest bear among the wildlife in Malaysia.
The Malayan Tapir is the largest of all the tapirs in the world. They have long snouts and a black body, making it easy for them to camouflage as rocks in front of predators. They also run and swim fast.
There are a lot of places that you can visit to see the wild animals of Malaysia in their natural habitat. National parks are amongst your best bets. You can board a bus to take you to one of these destinations. Booking bus tickets online will help you get seats quickly. Some of the national parks you shouldn't miss include:
Taman Negara National Park
Situated in the rainforest of mainland Malaysia, it is easy to spot lots of wild animals in the Taman Negara National Park. Consisting of high hills, including the highest peak, this is home to many wildlife in Malaysia like the hornbill, deer, monkeys, elephants and more.
Sepilok Orangutan Rehabilitation Centre
Specialized in caring for orangutans, this centre helps orphaned orangutans adjust to wildlife and release them back into the forests. There are direct buses that take you to and from this centre, for which you can get bus tickets online.
To save endangered species of Malaysia, in 2017, the Royal Belum State Park was established around Lake Temenggor. The place is home to Malayan tigers, sun bears, rhinoceros and more. Situated on the mainland, you can take a bus to the destination.
Gunung Mulu National Park
Situated in Borneo, this park is heaven for nature lovers. With its limestone caves, rainforests and more, it is home to many species. You'll have to take a bus to Brunei and then board a boat to the main national park.
The only way to get to Batang Ai National Park is by boat as it is surrounded by water. The national park is home to many endangered wildlife in Malaysia, and its isolation protects the sanctity of the place.
Danum Valley Conservation Area
This place is considered one of the oldest rainforests, with large canopies stretching over 60 metres. It has many endangered animals, including the Bornean rhinoceros, leopards, elephants, etc.
It is a UNESCO World Heritage Site and one of its first in Malaysia. The place is home to rare mammals, birds, insects, fungi and flowers. Take a bus to Kota Kinabalu to reach the destination.
There are many other natural reserves and forests that will help you sight the wildlife in Malaysia. The Langkawi Archipelago, Kinabatangan River are some of the places you can add to your itinerary. Travelling by bus is safe and cost-efficient in Malaysia. The bus routes are well-connected throughout the country, making it easier to visit these places. You can use redBus to book your bus tickets online in minutes. 
You may be interested in reading – Top 5 Ecotourism Destinations in Malaysia
To know about booking bus online in Malay, please visit – Online Tiket Bas