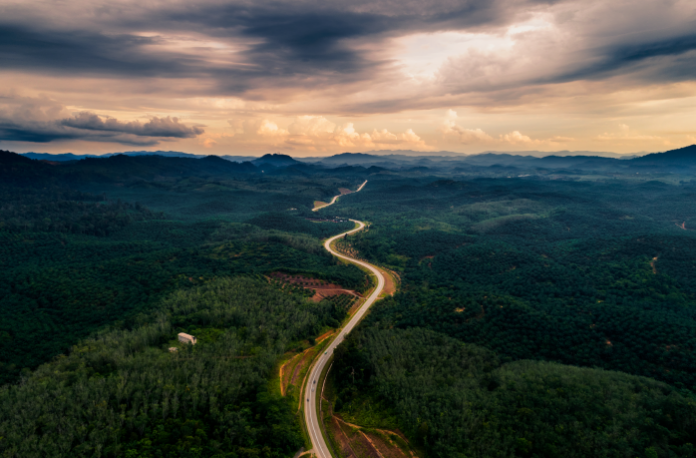 Have you ever wished to go on a vacation where you do not have to jostle with the crowd of tourists or stand in a queue sweating it out to get a tourist attraction ticket or sandwich on a crowded beach like a waddle of penguins! Well, read on, because we have the perfect vacation for you in one such place that exists, Malaysia.
While Malaysia is well-known for its many tourist attractions, there are still commonly unknown hidden tourism treasures in Malaysia. This guide to hidden tourism gems in Malaysia will take you through all these islands along the coast of Borneo in Malaysia which are relatively undiscovered and will provide an excellent place for you to discover these hidden secrets while relaxing in solitude.
These Malaysian islands provide an impressive natural backdrop for your honeymoon or for an undisturbed family vacation. So sit back and relax, however, do start planning for this trip of a lifetime that we are going to take you through. Thanks to redBus, obtaining a bus ticket online has never been this easy. Read on to find out more about a guide to hidden tourism gems in Malaysia as we take off.
Lankayan Island
This tiny jewel-shaped island off the Sulu Sea is a picturesque place that is well hidden from the crowds. It is a haven where you can be refreshed amid the natural beauty of this place. The crystal sea and the wooden cottages and chalets makes this place an ideal honeymoon destination. It is also one of the best diving spots in the world.
Best for – This small island is an ideal holiday destination for couples or families with kids. This island is highly recommended if you would like to go deep-sea diving.
Things to do – You can stay in the Lankayan Island Dive resort which is a beachside property with wooden cottages and provides luxurious accommodations on the island. This place is a paradise and you can engage in snorkeling and diving activities under these clear blue waters.
How to get here – The nearest airport to this little island is the Sandakan airport which is a 2h 45m flight from the Malaysian capital of Kuala Lumpur. Upon reaching Sandakan airport, you will have to take a transfer to the jetty. Lankayan Island is a 90m boat ride from there.
Selingan Turtle Island
The guide to hidden tourism gems in Malaysia takes you to the Selingan Turtle Island that offers extraordinary experiences and sights and is a unique Malaysian island. It has a colony of turtles that inhabit this island during nesting season and provides an opportunity to swim with them on its beach.
Best for – This Island is rated as one of the best Malaysian islands and is recommended for a couple or a family vacation.
Things to do – The main attraction of this place is that you will be able to witness turtles nesting during their season. You can also go scuba diving or just relax on the beach.
How to get here – Selingam is 40Km away from Sandakan. You can reach here by taking a flight from Kuala Lumpur or Kota Kinabalu. The island can be reached by taking a 60m boat ride from the Sandakan jetty.
Layang Layang Island
The guide to hidden tourism gems in Malaysia takes you next to Lyang Lyang Island, also known as the Swallow Reef. A vacation in this place is expensive but compensates for the peaceful and exclusive experience this island offers.
Best for – The water surrounding this island is deep and is home to a wide variety of marine life. This place is a nature lover's dream and has an underwater world that you can explore as you dive into the deep blue waters.
Things to do – You can also spot whale sharks as you swim underwater. You can also go bird watching or just sunbathe on the beach.
How to get here – There are no commercial flights to this place. You will have to take a flight from Kuala Lumpur to Kota Kinabalu. From there, you can take a chartered flight to the island. The flight takes about an hour to reach Layang Layang Island during good weather conditions.
Sipadan Island
The guide to hidden tourism gems in Malaysia takes us to Sipadan Island which is considered to be one of the best island destinations in Malaysia. Sipadan Island is home to rich marine life including sea turtles, sharks, and reef fish. It is the only oceanic island across the Malaysian peninsula that is 2,000 ft. above sea-level. It is on the Celebes Sea and is off the East Coast of Sabah. It is formed by corals that grew on top of an extinct volcano over thousands of years ago. It has also been rated as "The top dive destination in the world" by a reputed Scuba diving magazine.
Best For – Shorts day trips and diving as it does not have any accommodation.
Things to do – The waters around the island are rich in marine life and is home to more than 400 species of fish found here along with different types of corals. It is good for deep-sea scuba diving to see the diverse marine life here. There is a limited number of permits that are issued for diving activities on a daily basis. The island will be closed to tourists from the 1st of December to the 31st of December this year for sea life recuperation. You should plan your travel plans accordingly.
How to get here – To reach this island, you will have to fly to Tawau from Kuala Lumpur or Kota Kinabalu. From there, a taxi ride will take you to Semporna town from where Sipadan is a boat ride away.
Mabul Island
Next, our guide to hidden tourism gems in Malaysia takes you to Mabul Island. It is known as one of the best Malaysian beach holiday destinations and boasts of pristine beaches with coconut trees, soft white expanse of sandy beaches, and emerald waters. It is largely untouched or spoilt by tourism and is a secluded place making it a great vacation destination away from the usual crowds. It is a small island and is located off the Southeast coast of Sabah. Primarily it was a fishing village that has developed into a popular diving place and is close to Sipadan Island.
Best for – Mabul Island is best suited for overnight trips and is one of the world's best destinations for diving and adventure seekers.
Things to do – You can explore the waters around this small island in a transparent kayak to enjoy the spectacular view of marine life below or go scuba diving. You can visit the Bajau Laut fishing village on the island as well. If this isn't appealing, you can just enjoy the golden hue of the setting sun by lying down on this pristine beach. There is a permit required for diving which you will have to apply for a few months in advance.
Stay here – The six resorts provide accommodation for divers with huts built on stilts over the water. One of the resorts is on an old oil platform 500 meters from land. It also has several homestay and B&B accommodations available for budget travelers.
How to get here – You can take a flight from KL or Tawau to Semporna town. From the jetty take a speed boat to reach this place in 30 minutes.
Mataking Island
Mataking Island is located in the Celebes Sea in the state of Sabah in Malaysia. It is a private island that belongs to Reef Dive Resorts. It offers luxury chalets and has a diving center. It is connected to the Pulau Mataking Island via a narrow sand channel. The top-notch resort experience is expensive but rewards visitors with an exclusive experience.
Best For – Honeymooners, couples, and even families who want an exclusive destination away from the crowd.
Things to do – This place is known for good diving spots, famous gardens, and scenic beauty. You can pamper yourself at the Jamu Spa or take a nice walk to the Mataking Kecil Island across the sandbank.
How to get here – You can reach this island by taking a flight to Tawau from KL and then take a taxi to Semporna. A speedboat can bring you here in 45m from Semporna jetty.
Langkawi Island
This island is one of the best tourist destinations among the Malaysian Islands. It flaunts its best beaches, white sands, mountains, forests, and mangrove wetlands. There are very good options to stay and eat on this Island. Great for a family or couple, this place will make a vacation memorable for a lifetime.
Best for – Honeymooners and family vacation seekers, the island is for those who want to spend time wrapped in luxury and enjoy the beaches, seafood, shopping, and much more.
Things to do – You should enjoy the cable car ride which provides excellent views. You can visit Gunung Raya which is one of the highest peaks on the island. You can enjoy the beautiful beaches as much as you want here.
How to get here – Langkawi Island can be reached from Kuala Lumpur by a direct flight. You can also reach the island by taking a train ride from Singapore or KL to Alor Setar. A boat ride from there on will bring you to this paradise.
As you plan to go and discover these hidden tourism gems in Malaysia, leave all your travel bookings to the country's best online bus booking platform, redBus. Visit the official website of redBus or download the app to easily book your bus to these hidden tourism gems in Malaysia. With a top-notch customer care service, redBus (Malaysia) offers a hassle-free and user-friendly bus booking service that takes care of your travel needs, before, during, and after your journey.