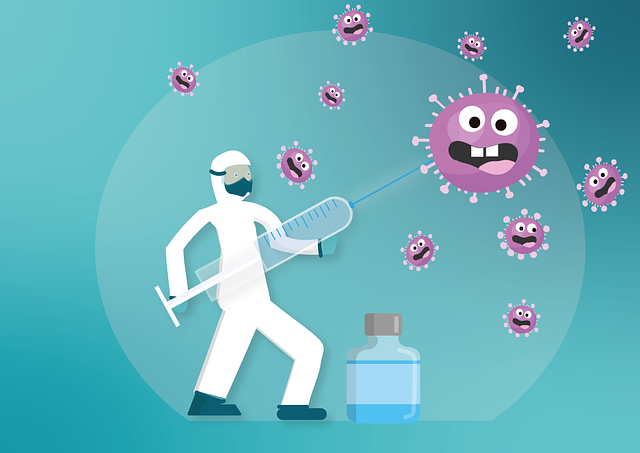 COVID-19 is a widespread, life-threatening disease that can have long-term consequences on an individual's physical and mental health. However, according to experts, the currently licensed COVID-19 vaccine may help prevent the virus from becoming life-threatening. 
Malaysia has one of the highest per-capita rates of coronavirus infections in the region and one of the fastest immunization rates. Minimum one dose of the COVID vaccine has been given to about 40% of the adult population.
From 3 January 2020 to 5 August 2021, WHO reported 1,183,110 confirmed cases of COVID-19 in Malaysia, with 9,855 deaths. A total of 16,024,916 vaccine doses has been delivered as of 15 July 2021. Thanks to an increased vaccine supply, the Malaysian government expects the daily vaccination rate to exceed 150,000 this month. This figure is expected to rise.
If more people get vaccinated against Covid-19, the chances of getting infected by the virus may reduce as we may achieve herd immunity. It will help not just you but also the community and not lead to overburdening of the healthcare system.
More people getting the covid-19 vaccine will help protect those who cannot obtain it, like those with impaired immune systems, allergies to vaccine components, pregnant women, and children. As a result, citizens should take advantage of the opportunity to register for covid-19 vaccines as soon as possible.
Covid-19 Vaccines in Malaysia
What Vaccines Are Available Right Now in Malaysia?
There are various vaccine options accessible worldwide. These vaccines are made by different firms and have varying characteristics in terms of technology, efficacy rate, how they are taken and kept, and how they work.
Pfizer BioNTech
AstraZeneca
Sinovac
CanSinoBIO
Sputnik V
Malaysia has approved the above vaccine manufacturers. The Ministry of Health (MoH) determined that these vaccinations met safety and efficacy standards.
The COVID-19 vaccine, made by Sinopharm in China, was given conditional approval for emergency use by Malaysia's health ministry on 16 July.
The Janssen COVID-19 vaccine, developed by Johnson & Johnson in the United States and manufactured in Belgium, has also received provisional approval. Malaysia had previously accepted another batch of Janssen vaccinations that the World Health Organization had approved for emergency use.
Covid-19 Vaccine Dosage 
Most vaccines require two doses to be effective. These two shots are given weeks apart. The exact time depends on which vaccine you'll be receiving. It usually takes few weeks for your body to develop immunity and protection against the COVID-19 virus after you've had the vaccine shot.
The covid-19 vaccines haven't been around long enough, and research is still ongoing. Because the second dose is more vital for long-term protection, you must make sure to get both doses.
Who Can Get the COVID-19 Vaccine in Malaysia?
Malaysia has been rolling out its vaccination program in stages since the first COVID-19 vaccine doses were provided in February 2021. The vaccine was first given to the critical frontline personnel. Vaccinations for people aged 70 and above were implemented across the island in April 2021.
Pregnant Or Lactating Women –
The Pfizer vaccination is said to be safe for pregnant women and breastfeeding mothers between 14 and 33 weeks of pregnancy. The AstraZeneca vaccine is not advised for pregnant women, but it is safe for lactating mothers. However, the Sinovac vaccine is not currently recommended for pregnant or nursing women, and breastfeeding moms should seek medical advice before becoming vaccinated. Before scheduling a vaccination session, pregnant and lactating mothers should visit their doctors for more information on the vaccine.
Are There Any Negative Consequences?
Like any other vaccine, the coronavirus vaccine may cause minor side effects. Soreness at the vaccinated area, low-grade fever, muscle aches, and exhaustion are some side effects that may persist 12 to 36 hours after the injection.
All of the currently licensed vaccines have been proven to be safe and effective. Because effectiveness studies have used different methods to measure them, comparing them isn't always beneficial. Serious side effects are pretty rare in all of the vaccines that have been licensed.
Severe Negative Consequences:
Headaches that are severe and chronic (and do not alleviate with pain relievers)
Headaches that seem to get worse as you lie down or lean over
Blurred vision, nausea, and vomiting
Chest aches or shortness of breath
Legs swollen or abdominal ache that doesn't go away
Spots on the skin or bruises on the skin
Difficulty in speaking
Vaccinated persons in Malaysia are observed for half an hour at the vaccination site, outfitted with facilities, medications, and staff ready to cope with a severe allergic reaction and reduce the risk of consequences for those receiving the vaccine.
Vaccine Drive
With the number of COVID-19 cases in Malaysia skyrocketing, the health authorities have begun deploying mobile vaccination centres to remote areas to ensure that millions of people in rural areas have access to vaccines.
On 8 June 2021, the first vaccine truck arrived at the Kampung Muhibbah housing project in Kuala Lumpur, immunizing 1,000 inhabitants, with the elderly and crippled receiving priority. It was a proactive effort to strengthen the National COVID-19 Immunization Program, allowing people of the Federal Territories to get the vaccine as soon as possible.
The goal is to serve people who live more than 25 kilometres from the nearest immunization centre. These locations are located in the interior and do not have access to public transportation. Therefore, it was discovered that sending mobile vaccination trucks directly to target communities was practical and successful. 
Even though the movement is restricted at present, you can travel to your vaccine centre by showing proof of the appointment on the app. If you travel to your vaccination centre by bus, it is advised to book bus tickets online to reduce physical contact.
Overall, like every country, Malaysia's COVID-19 vaccine deployment aims to protect the community from the virus in a safe and timely manner to protect our lives and livelihoods. If you had covid and built natural immunity, experts are unsure about the period this immunity will last. It is advised that you register for the covid-19 vaccine as soon as possible.
You may be interested in reading – MCO in Malaysia – All You Need to Know