For those of you who do not know, durian is one of the most sought after fruits globally. There are many species and varieties of this fruit, and each one is special in its own way. Something very characteristic of the durian fruit is its smell, and one might think that this has deterred many from trying the fruit. However, the reality is that although the smell is so strong that it is forbidden to enter some places with this fruit, it is coveted and considered a luxury fruit.
Varieties of the Durian Fruit
Durian is grown in Malaysia, Singapore and Thailand, but it was in 2010 that the market in Malaysia expanded thanks to the Musang King Durian. This variety became famous for its golden flesh, creamy consistency, and sweet and subtly bitter taste. Nowadays, it is exported in massive quantities. Do find out which variety you are consuming before you eat, as due to the large number of durian trees that exist, you might find that you are tasting a different one.
The durian universe continues to grow with new varieties being created, and competitions held to find the best durian fruit in the world. Throughout Malaysia, you can sample some of the best types. To help you start your journey into the world of this magnificent fruit, here are some of the best durians and where to find them.
Tupai means squirrel in Malay, and this type of durian owes its name to the belief that squirrels always find the best fruits. The taste of this variety is free of any trace of bitterness, so the experience is smooth and sweet. If you want to try the authentic Durian Tupai King, you can visit Penang, where you will find the best ones. Online bus tickets to Penang can be found on redBus. 
It is an old variety of durian, registered in the 1930s in Malaysia. It has a simple but delicate flavour, making it more familiar than other varieties. If you get the chance to try it, you might be able to compare it to strawberry creme caramel. You can find this durian in Bentong, which is just a bus ride away from Kuala Lumpur.
When it comes to this type of durian, you should know that not all of them are good. So you have to look for a good farm and the right person to enjoy the authentic taste. For example, in Penang, you can visit the Song Hai durian farm to taste the real red prawns.
This variety surpasses Musang King in both colour and flavour. D145 is rich and waxy in taste but, in some ways, more complete than the other variety. You will find it in Beserah, where you can enjoy the fruit at the beach. Beserah is only 7 km from Kuantan. You can easily reach here by bus. 
These are two different durian fruit varieties that you can try in the same place – The small village of Lawas in the north of Sarawak. Suluk King has a soft cheese-like texture and a nutty yet sweet taste. Tekkah, on the other hand, can be described as buttery and slightly bitter but incredibly delicious. Try both to decide which one you prefer more.
Dishes Made Using Durian
Although the fruit is usually eaten raw, you can also include durian in sweet or savoury dishes due to the versatility of its flavour. In addition, some people roast and crush durian seeds to use in other preparations. Below is a list of durian-based foods you can find in Malaysia –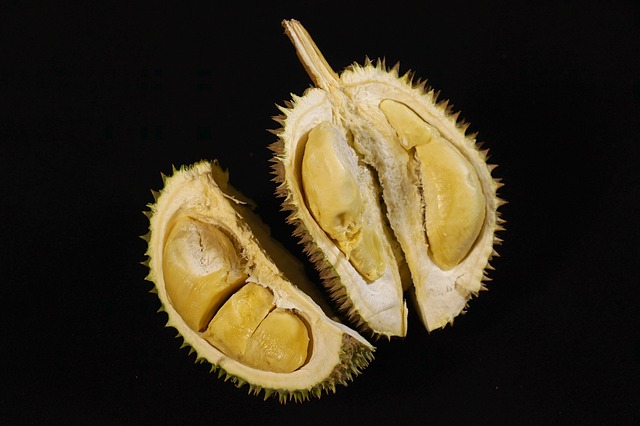 It is a must-try snack. The flavour bomb you experience after your teeth cut through the crispy crust and sink into the soft, warm durian flesh is unforgettable. You can try this dish in Johor. Some claim that it tastes better than the raw fruit.
These are little puffs that have a durian cream filling. You can try this delicious snack throughout Kuala Lumpur and Melaka.
Cendol is a favourite dessert in Malaysia, traditionally served with coconut milk, palm sugar and various sweets. In the case of Durian Cendol, the fruit is freshly picked to make the dessert even richer. It is a delicacy found in Kuala Lumpur.
Similar to dodol, Durian Lempok is a palm sugar-based sweet. Obviously, in this case, durian is the main flavouring ingredient. You can find it in souvenir shops or at the airport duty-free. 
Tempoyak means fermented durian in Malay and is a spicy condiment. There are several types of Tempoyak, and they vary depending on the fermentation time. It is usually added in curries or stir-fried dishes. You can enjoy it in Kuala Lumpur and Pahang.
In A Nutshell
Food tourism is popular in Malaysia. Many people who visit different parts of the country do try the various food items available there. Durian is one of the famous fruits sought out by many travellers.
Despite the fame, you should be aware that many establishments prohibit access to those who have this fruit with them due to the strong smell it gives off even when inside the shell. It is advised to eat it on the spot, and if you want to take some with you, opt for a snack or sweet. Snack options include Durian Chips, Durian Cheesecake, Durian Egg Rolls, Durian Mille Crepe, Durian Mochi, etc. 
To visit the different parts of Malaysia, you can easily travel by bus. Online bus tickets are easily available on redBus.
You may be interested in reading – 5 Penang Food You Must Try