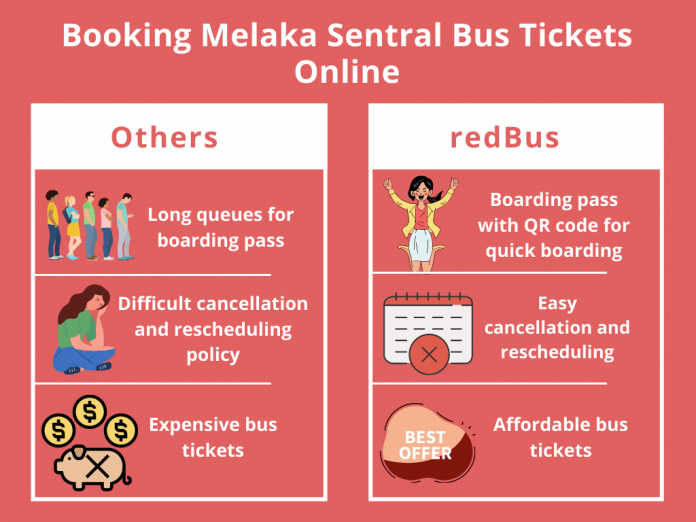 With the COVID-19 pandemic hitting the country, the Malaysian government has issued a standard operating procedure (SOP) for safe travel in various cities. Strict following of the coronavirus precautionary measures has been made mandatory. Considering this, bus operators like redBus are offering additional services for safe travel during this time.
redBus has launched a special boarding pass with a QR code that offers passengers a way to avoid queues and hop on to the Melaka Sentral bus. The journey of Melaka Sentral to TBS has been made easy through the Melaka Sentral boarding pass. Earlier passengers had to stand in long queues at the Melaka Sentral bus terminal for their boarding pass even when they had a confirmed reservation for a bus. The Melaka Sentral online ticket had to be exchanged for a physical boarding pass at the Melaka Sentral bus terminal. With their online boarding pass, they will now be able to head directly to the boarding area. The boarding pass comes with a QR code that passengers can scan at Melaka bus station and directly board the bus.
In the current COVID crisis, this boarding pass comes as a great relief for passengers. Passengers earlier had to stand in long queues at Melaka bus station and exchange their Melaka Sentral online ticket with the boarding pass. But with this service, there is no need for that. Passengers can safely travel without being a part of long crowded queues.
This boarding pass service also saves tons of time for passengers that they earlier had to spend standing in queues and waiting at the entry point. They can now travel from Melaka Sentral to Larkin without wasting an extra second at the Melaka Sentral bus terminal or in the boarding process.
How can passengers get this boarding pass?
Passengers can easily get a QR code boarding pass for traveling from Melaka Sentral to TBS online. redBus has made the process quite easy for customers. All you have to do is follow these steps:
Visit the official site of redBus or open their app on your smartphone.
Enter Melaka Sentral and TBS as your boarding and final destination. Fill in the journey date and click 'Search Buses'.
You will find a list of all the available buses for this route along with a 'boarding pass' widget.
Keep the boarding pass tab open to opt-in for this service. Here, you will also be displayed the fee for the boarding pass.
Now select a suitable bus and seat and make your payment.
Once the payment is made, your boarding pass will be generated and sent to the email ID provided during the payment details.
There will be a QR code on the boarding pass that you can scan on your bus terminal's QR access points and board the bus.
In the case of multiple passengers, QR codes will be sent according to the number of tickets booked. If you want to cancel your tickets, your boarding pass and QR code will also get canceled with it. Users will receive a cancellation confirmation email of the same. In case of rescheduling, users will be provided with a new boarding pass and QR code, which will be sent to them via email.
Passengers can locate the QR code scanner at the boarding gate of their bus company at the time of boarding the bus. The boarding pass will not carry details regarding the platform. For this, passengers have to check the turnstile screen before departure.
If you are planning to travel anytime soon, consider taking a boarding pass for your journey. redBus is offering this service on a nominal fee to its passengers. So that they can travel safely during this time without putting any excessive burden on their pockets. Along with the boarding pass, follow all the necessary guidelines like wearing a mask, carrying a hand sanitizer, etc., during your journey for additional safety.