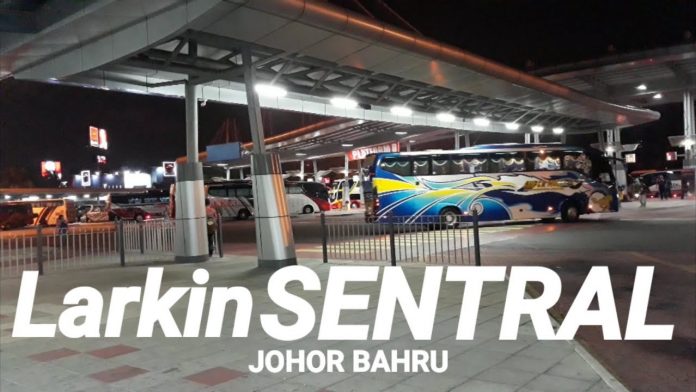 JB Larkin bus terminal in Johor Bahru is one of the prominent bus terminals in Malaysia. Buses to different cities of peninsular Malaysia operate from this terminal. International buses to Hatyai (Thailand) & Singapore can also be boarded from this terminal. This bus station was closed for a particular period due to the spread of Covid-19, but now things are returning to normal. The JB Larkin bus terminal is now open, and passengers can commute under the Malaysian government's latest travel guidelines. You can now commute to different cities by bus, like KL to JB by bus, etc.
The Malaysian government has taken measures to reduce the congestion at the JB Larkin bus terminal post-Covid-19. From the 17th of November, the boarding & dropping point of west zone buses is shifted to Jalan Jim Quee, situated just in front of the JB Larkin bus terminal (across the road). The west zone services include buses to Taman Perling, Taman Tun Aminah, Kulai, Senai, Seelong, Taman Pulai Indah, Taman Selesa Jaya, Ulu Tebrau, etc. Bus shelters & bays have been built along with Jalan Jim Quee. This move will help in regulating the crowd at the bus terminal post-Covid-19 outbreak.
Cross border bus services are not yet fully revived in Malaysia due to the extension of the Movement Control Order (MCO) by the Malaysian government. The cross-border conveyance services will be suspended till the 31rst of December 2020. The MCO was started on the 18th of March, 2020, and has helped a lot in adhering to the travel guidelines amidst the Covid-19 scenario. JB bus station will also provide no cross-border services except bus service 160 & 170 with limited service & route changes.
At the start of 2020, no one expected that Covid-19 would put the globe to a standstill. The Malaysian government was also hoping to capitalize on its tourism sector with the 'Visit Truly Asia Malaysia 2020' campaign. Bus operators, traders, shopkeepers, etc., at Larkin bus terminal, JB found it hard to meet ends due to Covid-19. On the 25th of October, Mohd. Izhar Ahmad, who is the corporate & human resource committee chairman of Johor Bahru, said that the government is looking for ways to help the 150 traders at the Larkin Sentral bus terminal. The government will also reduce the rental rates of traders to support them in these tough times.
Bus operators are also taking several preventive measures to create a safe travel environment for passengers. The safety measures followed by different operators due to the Covid-19 outbreak are as follows:
• Buses are sanitized after each trip.
• Bus drivers & staff members wear a mask & use hand sanitizer.
• Hand sanitizers are provided at bus terminals & on-board.
• Thermal scanning of passengers is done before boarding the bus.
• Social distancing norms are followed at bus terminals & ticketing counters.
Passengers should also wear a mask & take care of their hand hygiene while traveling in the current scenario. You can protect yourself from getting involved with the crowd at ticketing counters by booking bus tickets via an online platform. redBus is the world's largest online bus ticket booking platform and will provide you bus tickets like bus ticket JB to KL, etc.
Local tourism is also reviving in Malaysia as the government had ordered 54 amusement parks & some tourist attractions to reopen. Travelers can travel domestically with local buses but are expected to maintain hygiene & social distancing. Blankets/linens are also not being provided by many bus operators to stop the spread of Covid-19. Few local bus services in Malaysia, which were for recreational demand, are also suspended till further notice. However, all the important local routes are fully functional as passengers are also hoping to step out after a long gap due to Covid-19.
More than 70% of Covid-19 victims have healed in Malaysia, and the number of cases every day is also reducing. With the latest medical advancements curbing the spread of Covid-19, Malaysia is looking to bounce back after a stressful patch. The RMCO (Recovery Movement Control Order) from the Malaysian government is helping in reviving the local bus services in Malaysia. JB Larkin bus terminal is also set to provide bus services to passengers with a limited capacity. If you are thinking of traveling locally in Malaysia by bus, make sure to wear a mask & carry a hand sanitizer with you.