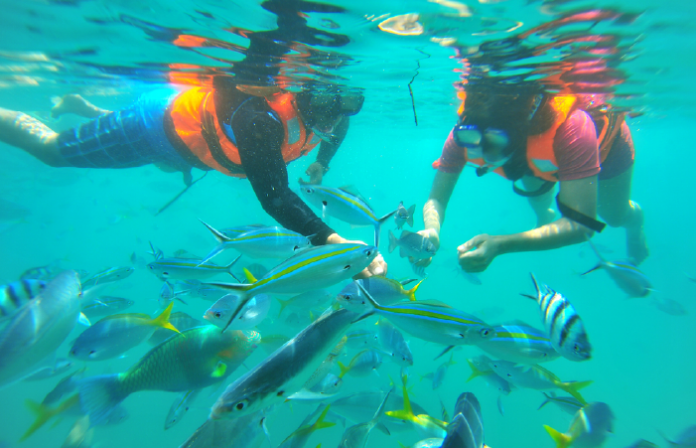 Let's face it – work gets boring, and you're soon counting your days to vacation time. If you're on the quest for adventure, Malaysia's natural beauty may be just what you're looking for. Being a center of tourism, Malaysia has been known to offer various scenic escapades from the hustle and bustle of city life. From the natural beauty of the landscapes, wildlife, beaches, and coastal life, there are endless and worth-exploring activities in KL.
And the good news is that fun never ends once you're there. Go on an adventure with your family, friends, and indulge in your holidays while exploring the city. Here are the best places to visit in Kuala Lumpur, whether you're going to try different adventures such as hiking, or looking for something more.
Must read: Langkawi Cable Car – A Thrilling Experience
1. Fun-Filled ATV Rides in Kuala Lumpur
Zoom through scenic landscapes and travel to your choice of destinations in style on an ATV in Kuala Lumpur. ATV Rides brings you lucrative tour packages that let you ride through the terrain and explore places to visit in Kuala Lumpur like the Sofea Jane Waterfall, King Glates Dam, and many more. It's a half-day thrilling adventure, and you will come across riverbeds, beaches, and even enjoy a tour that involves a round-trip to downtown Kuala Lumpur.
If you're a beginner, head over to the practice circuit at the registration center and familiarize yourself with riding an ATV first. There will be professional tour guides riding alongside you when you try out their different circuits at the park. Additionally, there is a swimming facility nearby which gives tourists an unforgettable experience during their visit. It's highly recommended.
Location: ATV Adventure, Kampung Kemensah, 68000, Selangor, Malaysia
Fees: RM 100 to RM 150 for beginners
Suitable for: Teenagers and adults          
2. Adrenaline Rush with SkyTrex Adventures
SkyTrex Adventures is not for the faint of heart. If you've got the soul of Spiderman and want to try out jumping from tree to tree, this is the safest way to do it. Zipping past the cascading waterfalls and getting panoramic views of the wildlife is something you can't miss. Transit lines are running past the SkyTrex Adventure Park, and the quickest way to reach there is by hopping on a redBus from KLCC Park.
Location: Hulu Langat, Selangor, Malaysia
Fees RM 60 for 2.5 to 3 hours
Suitable for: Children above 12 years old and adults
3. Go Bungee Jumping in Selangor
Malaysia might not be the world's best destination for bungee jumping enthusiasts, but it does have a few gems. At Selangor, adventurers are welcome to try out the 72 feet plunge and experience the adrenaline rush that comes with it. You can buy admission tickets at Sunway Lagoon's Theme Park, and there are other exciting activities available at the extreme theme park-like Malaysia's Flying Fox Ride, which has garnered its own reputation as well.
Location: 3, Jalan PJS 11/11, Bandar Sunway, 47500 Subang Jaya, Selangor, Malaysia
Fees: RM 147 (Non-MyKad) for a Single Jump and RM 74 (MyKad)
Suitable for: Teenagers and adults
4. Hiking Adventures at Broga Hill and a Gorgeous Sunrise
Hiking is one of the most popular activities in KL, and Broga Hill is 50 km away from Kuala Lumpur. About an hour's drive away from Kuala Lumpur, you can get to the hill by taking a car from the town. Bus 705 passes through Semenyth to get to Broga Hill, and you can book online bus tickets via redBus fo take advantage of that route. The view of the sunrise and sunset at the top of the hill is mesmerizing and is one of the reasons it's been considered among the top places to visit in Kuala Lumpur. Car parking is at the entrance and completely free for visitors, although there is an entrance fee to go hiking.
Location: 71750 Semenyih, Selangor, Malaysia
Fees: RM 1 per person
Suitable for: All ages
5. Enjoy A Thrilling Time at the Adventure Waterpark Desaru Coast
If getting swept up by tidal waves and going swimming is your idea of fun and adventure, then a trip to the Adventure Waterpark Desaru Coast is warranted. The surfing wave and roller coaster are two of its most popular rides, and this water park in KL is known to be extremely safe for kids. This water park Johor site has many lifeguards stationed throughout, so you don't have to worry about keeping an eye over your kids all the time. Try out the eateries too inside this water park in KL as they're known for their diverse Malaysian cuisine.
Location: No. 4, Jalan Danau, Desaru Coast, 81930 Bandar Penawar, Johor, Malaysia
Fees: MYR 113 for a one-day entry ticket
Suitable for: Kids, adults, and seniors
Experience the beauty of Malaysia and go on thrilling adventures with your loved ones today. Book redBus tickets online and travel to these exciting sites. Enjoying the perfect vantage point and making the most of your vacation is truly a wish come true with redBus by your side.