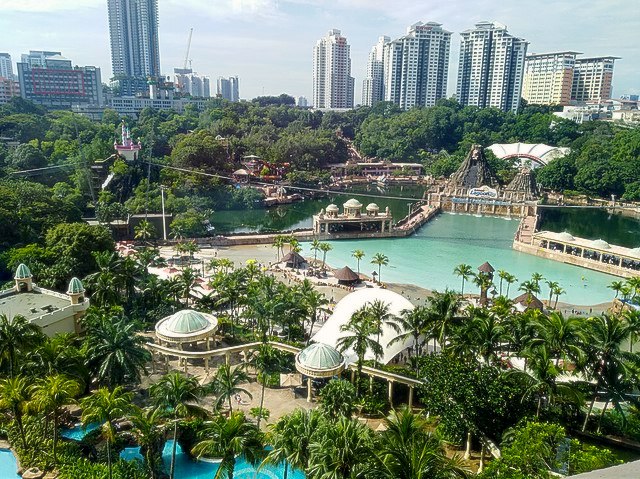 Sunway Lagoon is a must-visit theme park located in Subang Jaya, southwest of Kuala Lumpur, Malaysia. With its watery rides and dry-land activities, Sunway Lagoon park offers you an unforgettable and fun experience. It is spread across 88 acres of land and was built on a former tin mine quarry site. When the park first opened, water slides and surf beaches were its major attractions. Now, it has extended to six different zones for all kinds of fun activities. 
The Sunway Lagoon Park Zones
Wildlife Park
The Sunway Lagoon wildlife park is home to 150 species of animals across the globe. It is Malaysia's first fully interactive wildlife park with live animal shows. It is a great place to channel your inner Tarzan and enjoy encounters among different animals. The blue-eyed White Tigers, Samson, and Asha are the main highlights of this park. The animal-themed exhibits of New World Monkey, Tree Top Terrace, Jungle Trail, New Snake Area, Tiger Land, Pet Village, White Lion Kingdom, and Bird Savannah will leave you stunned.
Amusement Park
The amusement park has many tantalizing adventures to offer. Its world of adventure zone comprises Pedestrian Suspension Bridge, Pirate's Revenge, and Lost City of Gold Scream Coaster. Pedestrian Suspension Bridge holds the record of being Malaysia's longest bridge. This 428 meters bridge is perfect for seeing the entire park. The Pirate's Revenge is a 360-degree rotating ship that swivels the rider upside down. The Lost City of Gold Scream Coaster is a thrilling roller coaster ride that will make you scream throughout the way. Another highlight of the amusement park is its Wild, Wild West town with breathtaking rides and wooden facades. You can enjoy a splashy time in Colorado Splash and Grand Canyon River Rapids here. A family ride on Butch Cassidy Trail is also great fun.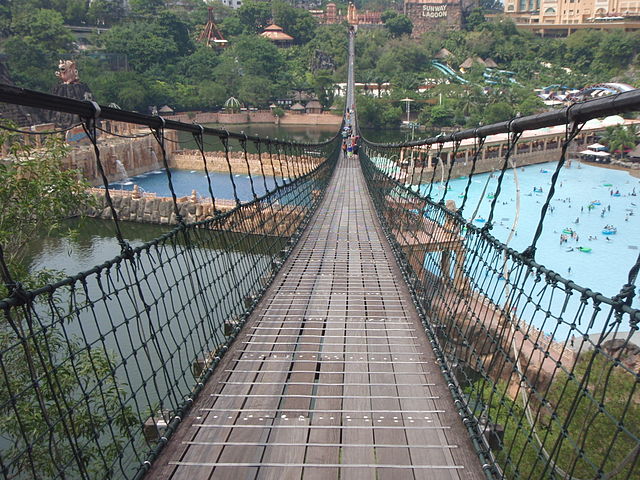 Extreme Park
Sunway Lagoon's Extreme Park is the perfect place for thrill-seekers and extreme sports fans. Take a leap of faith and go for Malaysia's first bungee jump. Satisfy your speed demon at Asia's highest slingshot ride, the G-Force X, which will propel you at 120km/hour in 2 minutes. Do a racing challenge with your friends at Go-Kart. You can also take a step back from this heart-racing adventure, and indulge in other activities like pedal boating, archery, and paintball at the park.
Scream Park
The scream park is a spine chilling experience filled with scary evils. Its Sharknado Alive embark visitors on a 15-20 minutes horrific journey. The tour features live scenes from the Sharknado movie series in a multi-level horror house. In October, Malaysia's biggest and scariest haunt festival, Nights of Fright, takes place here for the brave-hearted. Fear is in the air during this terrifying Halloween season festival.
Water Park
If you are up for an adrenaline-pumping Sunway Lagoon ride, then Waters of Africa is the place for you. It is the most popular zone at the park with loops spin of African Pythons, Congo Challenge, and Cameroon Climb. You can launch from an 11 storeys high tower and dive into Malaysia's largest water ride in Vuvuzela. The Little Zimbabwe of the African village is perfect for kids to have fun in the water playgrounds and huts. The surf beach of the water park is the world's largest surf pool stretching over 13,000 square meters. You can relax here by lazing on the beach or enjoy surfing on the perfectly shaped waves. You can also learn scuba diving at Titan Scuba Asia. The 30 minutes course with open water dive will give you an experience of a lifetime.
Nickelodeon Lost Lagoon
Nickelodeon Lost Lagoon is the latest addition to the Sunway Lagoon Park that offers kids and family, a friendly fun time. It is Asia's first Nickelodeon Themed Land and is spread across 10 acres of tropical rainforest. Explore this fantasyland filled with water cannons, slide downs, geysers, and waterfalls. Play with Spongebob and Bikini Bottom Gang, and join the celebrations of Great Slime Deluge. You can also challenge your peers on an intense vertical fall at Monsoon 360. Lazing at Hippo Valley and watching Hippos swim and monkeys swing is a great recreational experience. Have a picnic and enjoy feasts at Explorer's campsite. If you are up for sightseeing, take the Explorers' Trail and join the tribesman to hear birds chirping.
What to eat in Sunway Lagoon
Outside food is not allowed in Sunway Lagoon Park except for infants and special medical needs. You can feast at the many snacks stands located in the park. There are all types of food available from small bites to refreshments and drinks. You can indulge in flavoured ice creams under the hot sun, have a glass of freshly prepared watermelon juice, or enjoy the mouth-watering wraps and paratha. Many restaurants also offer various local cuisines and fast food.
Best Time to Visit Sunway Lagoon
You can visit the Sunway Lagoon Park at any time of the year. To visit, you can book bus tickets online. However, the park is more crowded during public holidays and the last two months of the year. So, off-peak seasons are the best time to visit here. Sunway Lagoon opens from 10:00 am to 6:00 pm every day. During the Nights of Fright Halloween season, the park also remains open at night.   
How to Get to Sunway Lagoon
There are various ways to reach Sunway Lagoon that include car, bus, and shuttle bus. You can take a Sunway Lagoon bus from KL Sentral or Subang Jaya station to Sunway Pyramid stop. You can make online bus booking for the route on redBus, which is a trusted platform worldwide for bus tickets online. Another option is to drive from Kuala Lumpur to Sunway Lagoon Park. It is a 15 minutes ride in normal traffic conditions. Alternatively, you can use a free shuttle bus service around Sunway city every 25 minutes. However, it has fixed operating hours and bus stops.
Plan a trip and book tickets to Malaysia and Sunway Lagoon Park soon!

You may also be interested in reading – Gunung Mulu National Park – All You Need To Know