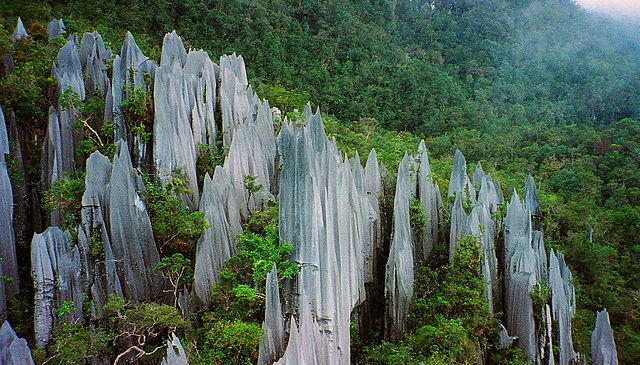 The Gunung Mulu National Park is one of Malaysia's most popular tourist attractions located in Miri Division of Sarawak. It is a UNESCO World Heritage Site named after Mount Mulu. The park is spread across 85000 hectares of land and encompasses some of the oldest rainforests and caves. Gunung Mulu National Park is a delight for all the adventure lovers and travellers looking to escape the dreary realities of life. It presents a beautiful natural world to wander into and explore.
Things to Do in Gunung Mulu National Park
From visiting the rainforests to engaging in physical challenges like trekking and climbing, Gunung Mulu National Park tour has a lot to offer to visitors. There are 15 different types of forests rich in wildlife species, some of which are yet to be discovered. The popular activities and adventures of the park include:
Deer & Lang
The Deer & Lang is a 3-hour deer cave exploration and bat exodus. It is one of the world's largest cave passages, housing over 3 million bats. It has an ancient riverbed whose water force carve the walls beautifully. Walking inside the cave, you will see the webs of threadworm larvae and experience showers of Adam and Eve's water columns.
Fastlane
Fastlane is an underground adventure limited to 6 people at a time. The cave has vast volumes of prehistoric sediments and flora & fauna. One can witness white crabs feeding in the pool, blue racer snakes waiting to catch bats, crickets following travellers movements, and spiders.
Pinnacles
The Pinnacle climb is a high-risk activity that appeals to the adventurous folks. The trail to the top is 2.4 km long and rises to 1200 meters. The descent takes over 5 hours for most people. The last section is almost vertical and has some intriguing limestone forest, mountain shrews, orchids, and pitcher plants.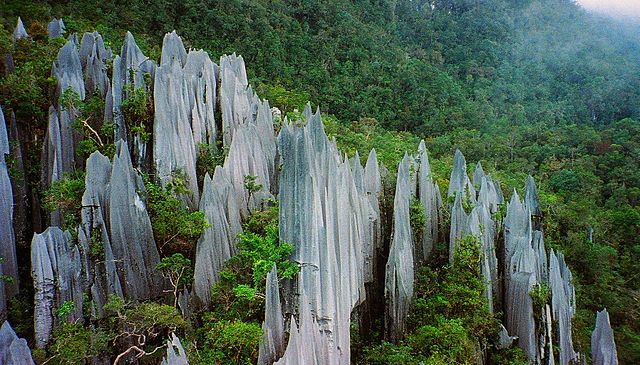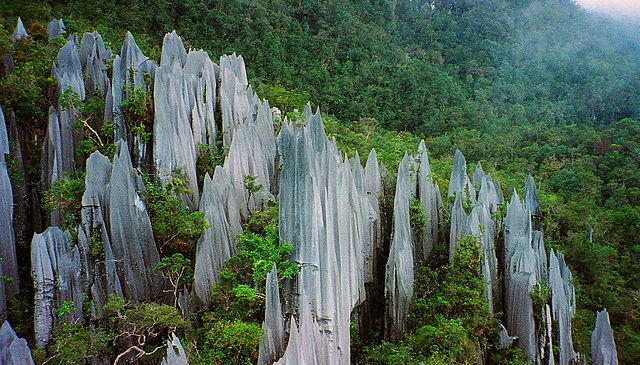 Canopy
The Mulu canopy is one of the largest tree-based canopies in the world. It is at a 25 meters height from the ground and is 480 meters long. You can enjoy strolling on this canopy surrounded by lush treetops and wonderful views. The vegetation and river floor beneath make the experience even more beautiful.
Night Walk
Mulu is a habitat for thousands of nocturnal species. These animals prefer the darkness to protect themselves from their predators. The forest echoes with their sounds at night but you have to be quiet and patient to discover these hidden creatures. Be sure to take a torch and rain gear with you on this expedition.
The Summit
It is perhaps the most exciting adventure at Gunung Mulu National Park. It is a 24 km extreme trek from Park HQ to Gunung Mulu that takes 4 days/3 nights.
The first day starts with 8-10 hours of climbing from Park HQ. The second-day climb is limited to 4 hours only as the summit is cloudy most of the afternoon. On day 3, you can advance to the summit to enjoy the views, followed by 5-6 hours of return trekking. On the fourth day, 6 hours of trek will bring you back to the Park HQ.
Tree Top Tower
If you are at Park HQ, a 10 minutes walk will take you to the Tree Top Tower. It is 30 meters long and offers a sneak peek in rainforest life. It is very popular during the fruiting season for birdwatching.
Accommodation in Gunung Mulu National Park
You can choose the Mulu world heritage area accommodation for accommodation options, which includes Bungalows, longhouses and rainforest lodge, or you can opt for hotels and homestays outside the park. The park accommodation is are luxurious and expensive compared to homestays. You can choose any of them as per your budget and preferences. It is recommended to book your accommodation in advance to enjoy a hassle-free trip to Gunung Mulu National Park.
How to Get to Gunung Mulu National Park
Gunung Mulu National Park is in Miri, Malaysia. There are many ways to travel to Miri, but buses are the most preferred option. Gunung Mulu National Park buses are cheaper and comfortable than other modes of transportation. You can take a bus from any location in Malaysia to Miri. For extra convenience, you can book a bus ticket online on redBus. redBus is a renowned and trusted travel service in Malaysia that offers online bus booking services. It has a user-friendly interface and will provide you with all the details related to bus travel. Apart from this, you can enjoy exciting discounts when you book online tickets for buses.
After reaching Miri, you need to take a flight or boat as Gunung Mulu National Park is an isolated land and can be accessed only through water and airways. You can board a daily flight from Miri to Mulu for your journey. Alternatively, you can take a weekly flight from Kuching or Kota Kinabalu to reach Mulu. Three weekly flights run directly on this route. Boats are another popular way to get here.
Best Time to Visit Gunung Mulu National Park
The Gunung Mulu National Park tour can be done all year round. Since it is a tropical rainforest, it rains almost every season. October to January and May to June observe the highest rainfall. May to April months have lesser rainfall. July to September are the driest months in comparison. So if you do not like rains, you can visit here in these months.
To visit, book your bus tickets online today!
You may also be interested in reading – Best Green Spaces To Visit in Malaysia With Family