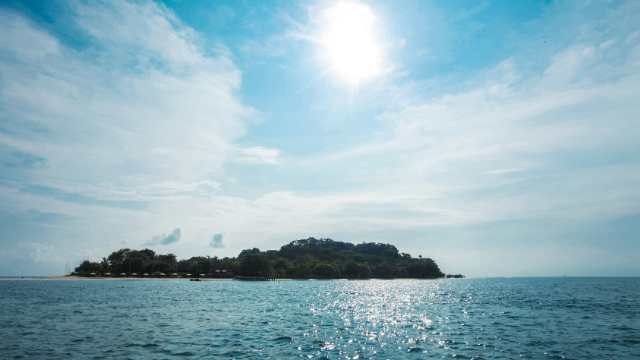 Travelling with family is fun, but it requires a lot of planning. As there are people of different age groups involved, people have to choose a destination that caters to the needs of everyone. It is challenging, especially when there are kids to consider. When you travel with kids, you have to choose a location where the environment is friendly towards kids and has options/activities to keep them entertained. One of the perfect spots for travelling with family is Bintan Island in Indonesia.
The Bintan Island has a lot to offer in terms of natural beauty for adventure and luxurious resorts to fascinate people of all ages. The best part about this island is that it is reachable from neighbouring countries, including Malaysia and Singapore. Let's find out more about the prospects of such a trip to help you decide when and how to reach here for your holidays.
How to reach Bintan Island with family?
The best way to reach Bintan island with family is by taking a ferry from Johor Bahru, Singapore, or Indonesia. These ferry rides make a perfect start to the trip for the whole family. The ferries are comfortable with basic and luxurious amenities to transport the passengers from one port to another.
The only port in Malaysia with ferry rides operating to Bintan is the Berjaya Waterfront Ferry terminal in Johor Bahru. There are a total of three ferries to this Island. The destination port is the Sri Bintan Pura Ferry Terminal at Tanjung Pinang, also known as the Tanjung Pinang Ferry Terminal. The ride duration is 180 minutes.
You can take a ferry from the Tanah Merah Ferry Terminal in Singapore to the Tanjung Pinang Ferry Terminal. The popular operator for this route is the Sindo Ferry. You can find various ferries from Sindo Ferry daily.
Getting Bintan Island Ferry tickets
The availability of online ferry tickets has made it very easy to plan trips. When you book tickets online, you do not have to worry about personally going to the counters to purchase them. It allows you to freely plan your family trip and get the tickets well ahead to have a worry-free vacation.
You can easily book ferry tickets online to the Tanjung Pinang Ferry Terminal on the redBus online platform. You can take a bus or taxi to reach the boarding terminal.
Things to do in Bintan Island with Family
Bintan and Batam are popular tourist destinations in Indonesia. Bintan is well known for its beautiful beaches, exotic locations, and activities around the water bodies. Unlike the other islands where shopping and other materialistic options precede natural beauty, Bintan is truly a natural paradise.
The Island is a perfect blend of natural resources and human-made structures that keep the visitors entertained and relaxed. The famous things to do in Bintan Island with family include –
Anmon Resort Bintan
Enjoy your vacation luxuriously at this desert-themed resort, where you can camp in modern tents and enjoy the pools there.
Crystal Lagoon
Crystal lagoon is the first human-made lagoon in Southeast Asia. It is beautiful with crystal clear turquoise water that attracts plenty of tourists. With the size of at least 50 Olympic-sized pools, it can accommodate many people.
Danau Biru
Danau Biru is a turquoise-coloured lake that arose as a result of active mining. Though this is not a popular tourist spot, it is one of the must-visit places in Bintan. Just remember to carry your food and snacks while visiting here.
Gurun Pasir Busung
The Gurun Pasir Busung is famous for the Sand Dunes that remind you of Arabia Nights. These dunes are leftovers of yesteryears' quarries, which have completely transformed the landscape into a picturesque view to be enjoyed by one and all.
Mangrove Forest
Bintan Island is blessed with mangrove forests that you can explore on a cruise, bringing you close to some wildlife during the day or the starry nights and flies at night.
Rumah Arang
Do you think igloos only exist in the Arctic? Well, you're wrong! You may find some igloos made of bricks at Rumah Arang. They used to be furnaces that burnt mangroves for charcoal. Now, they serve as backdrops for pictures to make you feel like stepping back into an ancient kingdom.
Treasure Bay Bintan
It is a one-stop entertainment for the whole family, including luxurious tents and water sports. There is a mangrove river for people to explore, and the ocean just a short distance away. You can also find AC and WiFi facilities inside the tents, apart from others.
If you are interested in underwater life, the Bintan Wake park allows you to explore it. There is also an exclusive pool for the kids to enjoy some water activities.
Trikora Beach
If luxurious resorts are not your cup of tea, you can always visit these white sandy beaches that are perfect for snorkelling. Snacks and drinks are available from the huts that adorn the beach.
Conclusion
Going to Bintan Island with family is an experience everyone should have at least once. Ferries offer a beautiful view of the ocean for the adults and a new travel mode for the kids to explore. Online ferry tickets to Bintan Island on redBus have made it easy to make travel arrangements well in advance.
Bintan has good connectivity within the nation and with the neighbouring countries. So, don't wait. Plan a trip to Bintan Island with family right away!
You may be interested in reading – Top Reasons to Hop on a Ferry to Batam