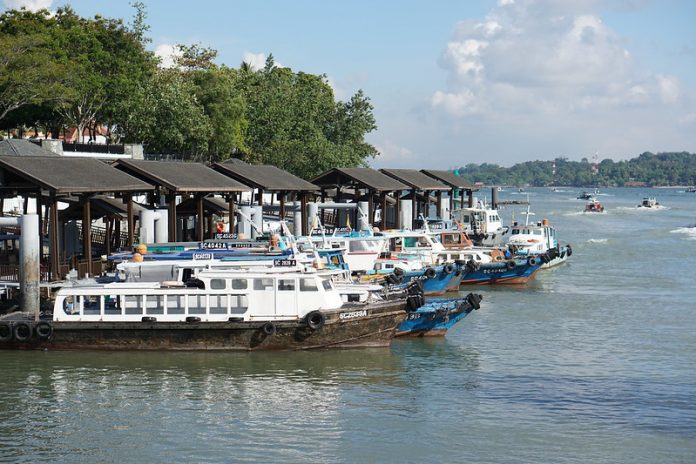 Discovering the beautiful shores in the island city-state of Singapore is an experience to cherish for a lifetime. People prefer a Singapore ferry or Singapore Batam ferry for exploring the coastal areas. This island city-state has exotic beaches and some great islands. Island hopping from Indonesia and Malaysia is witnessed in Singapore as tourists prefer to travel by sea. Ferry services via prominent operators are available on Singapore ports, and one can book them online conveniently via redBus. 
redBus, the world's leading bus service provider has now extended its services towards ferry ticket booking. Ferries from Sindo Ferry can be booked easily online using redBus. Sindo Ferry provides ferry services at the shoreline of Singapore, and one can also find ferry services from Indonesia to Singapore. Let us see more details about discovering the Singapore shoreline via a Singapore ferry.
Island Hopping in Singapore
Many small beautiful islands in Singapore are situated away from the mainland. People visit Singapore for its exotic islands like Pulau Ubin, Sentosa, St. John's Island, Pulau Semakau, Sister's Islands, Kusu Island, etc. One can find Sindo ferries from two different terminals/ports of Singapore. You can also travel from Indonesia via Sindo ferries to Singapore and can visit some of the best tourist attractions. Singapore has a lot of tourist attractions like Botanic Gardens, Supertree Grove, Jurong Bird Park, Marina Bay, Gardens by the Bay, and many more.
People also love water activities that are organised at the beaches & shorelines. You will find a lot of water sports and related activities in Singapore, like kayaking, windsurfing, flyboarding, surfing, jet-skiing, diving, etc. A lot of people visit Singapore every year & Singapore also boasts a good record of medical tourism. There are 63 beautiful islands in Singapore, and one cannot visit all of them, so booking a Singapore ferry and travelling across the shoreline of Singapore is the best way to explore this state. One will enjoy the tropical rainforest weather in Singapore and can take a break from the fast-paced life.
About Sindo Ferry
Sindo Ferry is the first operator to tie up with redBus to provide online ferry ticket services to people. They provide ferries from Batam, Indonesia to Singapore & also form Bintan Island of Indonesia. Within an hour you will arrive from Batam island to Singapore ferry terminals via a ferry Batam Singapore. You will get to enjoy your sea journey along with visiting beautiful islands.
Sindo Ferry was started in 2011 and is a part of a group of companies that invest in making better ferry services for people. It owns 16 different ferries with different seating capacities. The ferries are fully certified and follow all the travel laws and regulations for the safety of their passengers. One can book a ticket on any ferry or can book a ferry on charter. They are also the largest ferry operator in Singapore and are continuously working to modernise ferry services and make it affordable.
Ferries by Sindo Ferry
Sindo Ferry provides many ferries for exploring the shoreline of Singapore. They also boast a multinational presence as they provide ferry Batam Singapore services & Bintan ferry services. Sindo Ferry has Queen Star 3, a vessel that can carry around 300 people at once. They have ferries that have 266 seats like Queen Star 1, Queen Star 2, Queen Star 5, Queen Star 6, etc. The rest of the ferries owned by Sindo Ferry have a seating capacity of 150-220 passengers like Sindo 1, Sindo 6, Merbau Era, Sindo Empress, etc.
One can either book a ticket on these ferries or can charter a whole ferry for any special occasion. The simple interface of redBus will help you with booking online tickets for a ferry easily. One can also get a wheelchair, baggage deposition, private room, etc. on Sindo ferries. Sindo Ferry strictly follows the safety measures to be taken to ensure a safe travel experience for the passengers. You will not find the overloading of passengers in any of the Sindo ferries. You will also get a document courier service via Sindo ferries from the Singapore ferry terminal.
Ports in Singapore for Ferry Services
The two major Singapore ferry terminals are:
• Harbourfront Centre – It is situated in the Maritime Square Harbourfront Centre, and one can find ferry services for many other neighbouring islands like a Singapore Batam ferry, Bintan ferry, Tanjung Balai ferry, etc. One can reach Harbourfront in Singapore via bus or train. Sindo ferries operate from this route, and you will get ferry services to different terminals in Indonesia like Batam Centre, Sekupang, Waterfront, and Tanjung Balai. The fare and schedule of different ferries by Sindo Ferry from the Harbourfront ferry terminal can be found on redBus mobile application/website.
• Tanah Merah Ferry Terminal (TMFT) – This terminal is situated on the Tanah Merry Road, and one can find Sindo ferries from this terminal to Tanjung Pinang. One can reach this terminal in Singapore via bus or train. Return trip facilities are also provided by Sindo ferries.
Sindo Ferry Booking with redBus
One can easily book a Sindo Ferry ticket via redBus mobile application or by visiting the official website. You will have to enter your source & destination detail along with the date of journey in the interface & ferries by different operators will be shown to you. You will also be asked about the number of kids and adults via redBus for ferry ticket booking. Currently, only Sindo Ferry is providing ferry services on redBus at an affordable price. You can see the schedule, fare of different ferries and can choose accordingly. redBus also provides return trip services. Corporate booking facilities are also provided by Sindo Ferry. redBus does not apply any extra booking charges on its users which makes booking Singapore ferry services affordable and convenient.
Pros of Island Hopping in Singapore via Sindo Ferry redBus
The benefits of island hopping in Singapore via Sindo Ferry redBus are:
• Sindo ferries are sanitised after each trip, and staff members are equipped with masks. They follow all the safety measures against the Covid-19 scenario. Regular temperature checks of staff members are done to make sure they are free of infection. redBus also provides authentic services and is concerned about your safety during this pandemic.
• You can get a ride insurance facility by Sindo Ferry at a very nominal price. You can also pay a nominal cancellation fee at the time of booking your ticket, which will make 
you eligible for a 100% refund if you cancel your booking.
• You will get to compare the prices and schedule of different ferries and can book a ticket via redBus. There is no need to visit physical counters for ticket booking if you have redBus.
• If you are travelling in a large group with more than 10 people, you will be eligible for a discount from Sindo Ferry.
• Singapore is a beautiful island & you will love seeing the natural beauty along the shoreline of Singapore.
Singapore is a beautiful place to visit and is quite affordable too. One can either opt for water activities along the shoreline of Singapore or can travel in the sea via a ferry. A ferry is the best vehicle to enjoy your sea journey and for sightseeing across the shoreline of Singapore. Book your Singapore Ferry ticket now!