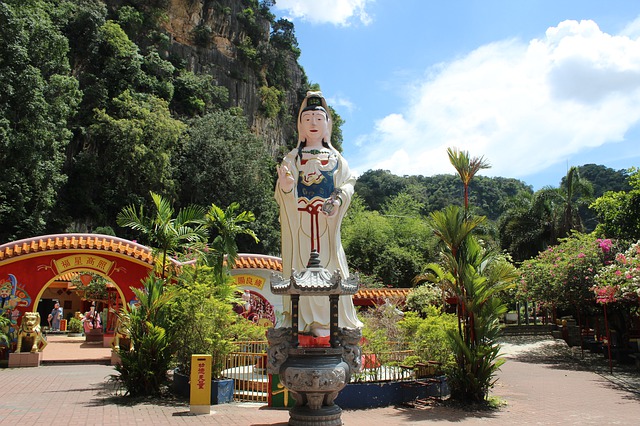 Ipoh is a city in western Malaysia and is the capital of state Perak in Malaysia. This third largest city in Malaysia is situated on the banks of the Kinta River. Many people visit Ipoh Malaysia as it has many tourist attractions/pilgrimage sites and is also referred to as the Hipster Capital of Malaysia. People come to the city by bus and car from different cities in Malaysia. Ipoh is connected to other cities via the Old Interstate Route & North-South Expressway. 
Ipoh also has a railway station and an airport. International tourism has declined in recent times due to the Covid-19 scenario. However, people prefer buses to Ipoh from various cities as buses are easily available and convenient. One can easily find a bus to Ipoh from various Malaysia cities on redBus, the world's largest online bus booking platform. Let us see more details about traveling to the city.
Ipoh weather & best time to visit
Ipoh has an equatorial temperature, and the temperature does not go above 34 degrees in any month. The lowest temperature in Ipoh also goes down to 22 degrees. Ipoh receives a lot of rainfall as it rains in all the months, with October being the wettest month. One should not visit Ipoh in October because there will be heavy rainfall, and you will not be able to explore tourist attractions. The best time to visit Ipoh would be between November to February, and it would be perfect if you visit Ipoh in January because it receives the smallest amount of rainfall as considering other months. The temperature remains moderate throughout the year in Ipoh.
Things to do in Ipoh
• One should visit the Kok Lok Tong Cave Temple in Ipoh Perak. This temple is around 100 years old and is spread across 12 acres. This temple is an important pilgrimage site for Buddhists. You can also visit the Zen Garden at this place and can walk on the reflexology footpath and can take a break from your fast-paced life.
• You can visit theme parks in Ipoh. The Ipoh Perak theme parks are a great way of recreation. You will find fun rides for kids and adults in the theme parks of Ipoh city. The hot spring Ipoh is also one of the popular attractions here. People also visit the lost world Ipoh theme park a lot.
• One should take a trip to Gaharu Tea Valley while in Ipoh. This valley is situated on the outskirts of Ipoh city and is spread across 300 acres. Local people believe that there is one Gaharu tree among the 2,00,000 Gaharu trees in the Gaharu Valley, twenty years old, and brings good luck if you hug that tree. One will also be amazed to see the cultivation of tea at such a large scale.
• Visit the Ling Sen Tong Temple as it is famous for its beautiful architecture. This temple is related to the Taoist community. This temple is beautifully made inside a cave and has a pond and a well-maintained garden. Also, visit the old town.
• You can do trekking as limestone hills surround Ipoh city. The most trekked trail of Ipoh is the Ulu Geroh Rafflesia Trail, which is famous for its Rafflesia flowers along the trail. Rafflesia flowers are the biggest flowers in the world with a not so pleasant smell. One can find local guides in Ipoh city who will guide you during your trekking.
• Do visit the Perak Tong Cave in Ipoh Malaysia, which has a beautiful 40 feet Buddha statue inside it. This cave is one of the most famous caves of the city, and its origin traces back to the year 1926. You will find amazing Chinese calligraphy scribbled on the limestone walls of the cave. It is an important pilgrimage site for Buddhists in Ipoh.
Ipoh bus via redBus
One can find an Ipoh bus on redBus. A lot of people prefer redBus buses because they provide you safe travel amidst the coronavirus outbreak. redBus launched a Safety+ feature recently in the wake of the Covid-19 scenario. The buses in the Safety+ category are deep cleaned and sanitized after every trip. Regular temperature checking and hand sanitizers are also available on Safety+ buses. Many service providers provide buses to Ipoh. The most prominent routes to Ipoh are:
• Kuala Lumpur to Ipoh – Kuala Lumpur is Malaysia's capital city, and many people come from Kuala Lumpur to Ipoh. The distance between these two cities is 205 KM, and it takes 2-3 hours to cover this route by bus.
• Penang to Ipoh – This route is also a prominent route with frequent buses. This route's distance is 156 KM, and it takes around two hours to cover this route by bus.
• Johor Bahru to Ipoh – The distance of this route is 538 KM, and you can find the complete schedule of Johor Bahru to Ipoh buses on redBus. It takes around 5-6 hours to cover this route by a bus depending upon the bus type & operator.
Note – There are many other bus routes to Ipoh city, and you can find that on the redBus mobile application/website. redBus will also provide you an excellent bus tracking feature via their mobile application via which you can track your bus at any point throughout your journey/trip. One can cancel or reschedule their rides if they have booked their bus ticket online via redBus. You can find the timings of buses to Ipoh in advance and can plan your Ipoh trip accordingly.
Ipoh Malaysia, is a great city with a lot of tourist attractions. You will also find abundant accommodation facilities and eateries in Ipoh city. The fun activities in adventure parks, water parks, theme parks like lost world Ipoh of Ipoh will give you a wonderful experience. One can also visit hot spring Ipoh. You can also get to know about different cultures and their history by visiting various pilgrimage sites in Ipoh. The Ipoh old town on the Kinta river's west bank is also a great place to visit. This was all about traveling to Ipoh city in Malaysia. Grab your Ipoh bus tickets now!