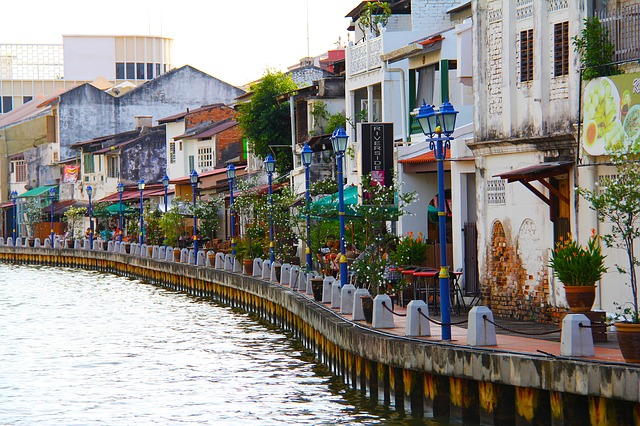 Kuala Lumpur is the beautiful metropolitan capital of Malaysia and a popular tourist destination as well. Kuala Lumpur is a city that does not fail to disappoint its visitors from its beautiful and well-lit skyline to its various activities and attractions. Being the Malaysian capital, Kuala Lumpur has an extensive network of buses plying to and from the city, connecting it easily and affordably to other locations.
Melaka, located in the south of the Malay peninsula, is a petite town about two hours away from Kuala Lumpur. This makes bus travel from KL to Melaka much easier. Often travelers prefer booking a bus from Kuala Lumpur Sentral to Melaka due to its convenience. Marked as a UNESCO world heritage site, this little town has much to offer to its visitors and is the perfect destination to visit for a day trip or for a visit over the weekend from Kuala Lumpur. The town is easy to explore using a trishaw or even on foot and boasts beautiful locations for tourists and visitors to explore. It is a wonderful display of what is known as the Peranakan culture and cradles Malaysian history along with its culture and heritage.  
Traveling from KL to Melaka for a day trip is something that would require travelers to be informed about all the locations they can hit within the town. The bus from Kuala Lumpur to Melaka covers a distance of over 140 km, with many operators plying buses on this route.  
Let me walk you through all the locations you can visit after getting off the Kuala Lumpur to Melaka bus. 
Christ Church
Located near Melaka's Chinatown area, this location is one of the most popular tourist attractions in the town. After ousting the Portuguese from Melaka, Built by the Dutch, this red structure marked with a huge white cross atop it cradles a cathedral over a hundred years old. Within the church are fanlights and various plaques meant to honor the Dutch soldiers and locals.
Opposite to Christ Church, the Historical as well as the Ethnographical Museum, are present. The location is surrounded by a beautiful display of the Baba Nyonya culture. There are also a large number of Nyonya restaurants to visit. 
A'Famosa
Built in the 1500s, these ruins are a popular location or stop for travelers looking to take nice pictures. The structure used to spread across the entire hillside, but now the only part remains is its gate. It is known to be among the oldest European architectural ruins in Asia. It is known to have sheltered the whole of the Portuguese administration.
Cheng Hoong Teng Temple
With beautifully structured prayer rooms and a striking entrance, the Cheng Hoong Teng Temple is the oldest temple in Malaysia. It is a beautiful spiritual place with the smell of incense and the sound of footsteps of worshipers floating in the air. Travelers who visit the temple have experienced strong spiritual energy that is not overwhelming but relaxing. It is a must-visit location due to how much it adds to the traveler's education about Malaysian culture.   
Melaka Sultanate Palace
A wooden lookalike of Sultan Mansur Shah's palace in the 1500s, this palace was built in the late 1900s with a large amount of effort, using traditional building methods and materials. The original seven-tiered structure was said to have been built without the use of a single nail and had a copper and zinc roof. Within this beautifully made replica lies a large portion of Malay artifacts that depict the Sultanate's history and heritage. It is a beautiful tourist spot to visit solely for its ability to educate tourists in a great amount of detail about Malay history. 
Melaka Butterfly and Reptile Sanctuary
Also going by the name Taman Rama-Rama & Reptilia Melaka, this sanctuary is a very popular tourist spot. It is home to many butterflies and reptiles like lizards, snakes, crocodiles, etc. It's a nice place to visit with family and kids.
Baba Nyonya Heritage Museum
To escape from the claws of the Manchu rule, a large number of Chinese traders and entrepreneurs came to Melaka and married Malay women. Their descendants went on to become extremely wealthy and were called Peranakans. These straight-born Chinese merchants then went on to add to the city's wealth and purchased Duch made houses as a symbol of their riches. The Peranakan culture is mostly known for its unique cuisine. 
This Museum is an amalgamation of three houses, displaying the beautiful Chinese-Palladian architectural style, which was restored so that they look like a classic Baba Nyonya home. The residence's top level is decorated with a small canopy of tiles atop the portico framing the Venetian windows. Within the house lies a collection of various black wood furniture of Dutch and Chinese styles and several chandeliers boasting a Victorian style.   
Jonker Street
Last but not least, on the list of places to visit on a day trip is Jonker street. This is the best way to end the trip. Once known for its large number of antique shops, this location is now a very popular tourist destination with a large number of shopping outlets and restaurants. This location is best visited in the night and allows visitors to experience unique cuisines. Many street musicians and the beautifully lit street at night add to this location's ambiance and make this location a favorite among visitors. 
Even though Melaka is not a very commonly suggested place to visit and is left out on most Malaysian itineraries, this location is a must-visit for its beautiful display of both Portuguese and Dutch culture closely woven with Malay culture. Hence Melaka is a place worth visiting during your travels in Malaysia and is also a perfect location to explore if one wants to take a break from the fast-moving Kuala Lumpur city life.