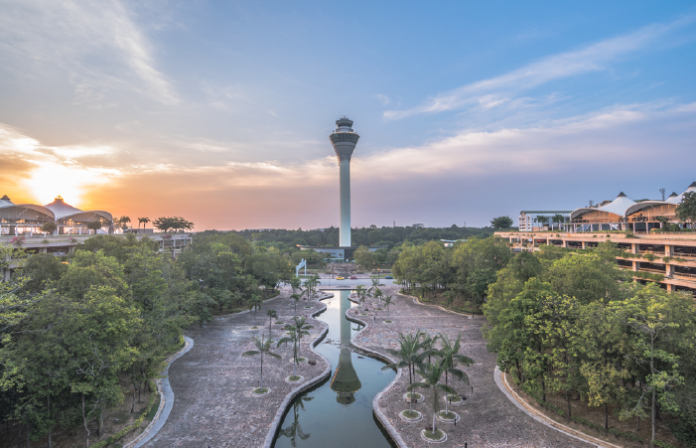 History
KLIA- Kuala Lumpur International Airport is located at Selangor, Malaysia and serves Kuala Lumpur, Malacca, and Negeri Sembilan. The airport features in the list of modern-age airports with facilities and architecture introducing a new age of airports. The construction of KLIA airport began in 1993, but it wasn't until 1997 that the airport was open for business. The famous Japanese architect Kisho Kurokawa designed the Kuala Lumpur Airport. He was known for his sustainable and eco-friendly designs and went on to win awards for the brilliant architecture of the KLIA airport.
The airport's design is known for its fusion of traditional and modern technologies in design. The airport is ranked as one of the most beautiful airports in the world. The airport includes an internal rainforest as a part of its design, which is one of the unique parts of this airport. The old airport that was known as Subang International Airport was unable to keep up with the carriers and traffic, which then led to the planning and construction of KLIA by Khazanah Nasional.
The rainforest inside an airport concept by Kisho Kurokawa is what makes this airport universally acclaimed. The Jungle Boardwalk is a beautiful experience for all travelers and such a sight to sore eyes! As you walk, you will see lush green trees, a pathway through the trees, and hear the calming sound of water from the waterfall. As you walk, you can take a look at the plants and read about their species as well. What an amusing thing to do at an airport, right?
You may like: 5 reasons you should travel by bus in Malaysia
Major Airlines
Kuala Lumpur is a travel hub in Asia, and the KLIA recorded 399,827 aircraft movements in the year 2018. AirAsia, AirAsia X, Malindo Air, MASkargo, UPS Airlines, and Malaysian Airlines have their hub at KLIA. While the airport caters to many passenger airlines, the more prominent network is the cargo airlines that ship goods to all of Malaysia, China, Singapore, and other Asian cities.
Traveling To and From KLIA
Kuala Lumpur is about 60 km away from the KLIA airport and takes about 45 minutes to travel by road. There are many ways to travel to KLIA and from KLIA, including bus, train, or taxi. A lot of buses run from KLIA to Malacca, Johor Bahru, KL Sentral, Puduraya, and other cities. You can find tickets on redBus for making your booking in advance. Buses from KLIA to Kuala Lumpur are as cheap as MYR 10-14 per person. Aerobus and Star Shuttle Express operate this route with standard, economy, and luxury seats to choose from.
Taxis are readily available from KLIA and charge around MYR 4-5 per km. Another convenient way to travel is taking the train from KLIA to KL Sentral via the KL Ekspres, which takes 33 minutes to reach the city center. You can also take the transit train with multiple stops if you don't wish to go to the city center. The train is fully equipped with luggage holding spaces, so you don't have to worry about carrying your luggage on the train. The KLIA transit fare for the train to KL Sentral is around MYR 55. You can also take discounts using family packages, multiple trip tickets, and more.
Facilities at the Airport
The KLIA is designed with large light open spaces and well-connected terminals to take on passenger traffic of all sorts. The inter-terminal aerotrain takes you within terminals for transfers at ease. The Main Terminal at KLIA is equipped with a wide range of restaurants offering a long list of cuisines, luxury lounges for those who have long transit hours, clean washrooms, and children's play areas to keep your child occupied and plenty of retail stores to shop at.
Be it chocolates, liquor, souvenirs, books, travel accessories, or last-minute pharmacy runs- you can find everything before you make it to your next flight/ depart from the airport. KLIA has payphones available for you to make calls for which you will need local currency. You can reach out to the Bureau de Change for currency exchange. There are multiple bank desks, ATMs for you to access money, and Master Card/ VISA credit cards are widely accepted across KLIA so you can make transactions without hassles.
Your time at KLIA moves like a breeze, given the multitude of services available to travelers. If you're looking to shop you will find the following at KLIA:
Books and Magazines
Beauty Health and Wellness
Chocolates and Confectionery
Cigars
Duty-Free
Emporiums
Jewelry
Gifts and Souvenirs
Toys
Convenience Stores
Luxury Boutiques
Fashion Outlets
Dining at KLIA is a wonderful experience because you can choose from a variety of cafes, bars, Grab and go, food courts, fast food, or specialty cuisine restaurants for a scrumptious meal.
redBus makes traveling to and from KLIA easy with budget buses, frequent carriers, and comfortable seats that you can book at your convenience even hours before the bus or well in advance.